Shoshana Bryen
last updated: February 8, 2012
Please note: The Militarist Monitor neither represents nor endorses any of the individuals or groups profiled on this site.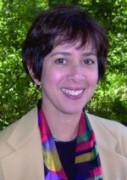 Affiliations
Jewish Policy Center: Senior Director
Jewish Institute for National Security Affairs: Former Senior Director for Security Policy; Former Director; Former Executive Director (1981-1991)
Aleethia Foundation: Advisory Board
Naval Academy Jewish Chapel: Board
Shoshana Bryen is a "pro-Israel" hawk who has worked in Washington for decades. She directed the neoconservative Jewish Institute for National Security Affairs (JINSA) from 1981 to 1991, taking over from her spouse Stephen, one of JINSA's cofounders. She remained at the organization until early 2012, when she was forced out, and subsequently took up the post of senior director at the Jewish Policy Center.
Bryen's 32-year career at JINSA came to an acrimonious end when she was fired in January 2012 amid organizational struggles and personal disagreements between Bryen and the group's leadership. "Bryen's blunt analysis of the Middle East gave her a reputation as a hawkish straight shooter, short on nuance and willing to take on the conventional wisdom," reported the Forward. But this style "got Bryen in trouble. Accounts provided to the Forward … portrayed a tense relationship between Bryen and JINSA's president, David Ganz, a successful Boston businessman who is also the group's largest single donor. The two have sparred over issues relating to JINSA's future and the focus of its programs. Officials involved with the group said that Ganz viewed Bryen's direct style and her open opposition to decisions made by the board as problematic."[1]
The Forward report added that the rift created by Bryen's firing also led to the resignation of at least 10 JINSA board members, including neoconservative heavyweights Michael Ledeen, James Woolsey, and Richard Perle.
Following her departure from JINSA, Bryen joined the Jewish Policy Center, a think tank associated with the Republican Jewish Coalition.[2]
Her "blunt analysis" of U.S. Middle East policy has included characterizing the idea that U.S. interests have been negatively impacted by Washington's one-sided support for Israel "a fraud of the highest order."[3] She has been equally outspoken in her rhetoric about Israel's regional, often arguing against diplomatic efforts. She has opposed U.S.-Iran negotiations, writing: "Don't 'talk' with a powerless 'president' or clerics who believe they are on the right side of history. Push back where alliances are possible and adopt an energy policy based on national security."[4]
JINSA
According to journalist Mark Milstein, during Shoshana Bryen's tenure as head of JINSA the organization evolved from being a small networking group to "the mouse [that] finally learned how to roar." She was instrumental in establishing relations between JINSA and a number of other influential political actors in Washington. Wrote Milstein: "With Bryen at the helm, JINSA sent out the likes of former AIPAC [American Israel Public Affairs Committee] Executive Director Morris J. Amitay, now a lobbyist and director of the rightist pro-Israel Washington political action committee, attracted well-known military commentators like Admiral Elmo Zumwalt, and produced influential papers … that many credit for keeping the joint U.S.-Israeli Arrow missile project afloat. 'This is how it works,' said Russell Warren Howe, author of The Power Peddlers, a book on lobbying in Washington. 'They don't actually go into someone's office and ask them to do this or that. Instead, they make friends with them, suggest ideas, educate them, and hope they'll make decisions in keeping with JINSA's philosophy.'"[5]
Founded in 1976 by a group of mainly neoconservative elites who worried that the United States might not aid Israel in the event of a war with its neighbors, JINSA aims to ensure "strategic cooperation" between the United States and Israel. The group specializes in connecting former U.S. military brass with their counterparts in Israel through organized trips and meetings. David Steinmann is chairman of JINSA's board, which has included a number of hardline and neoconservative figures, such as Anne Bayefsky, Phyllis Kaminsky, Max Kampelman, Jack Kemp, Michael Ledeen, Joshua Muravchik, Richard Perle, and James Woolsey. The group's agenda includes pushing U.S.-Israeli weapons contracts, nurturing military-to-military relations between the two countries, and pushing a hardline on Mideast peace. As journalist Jason Vest writes, "JINSA relishes denouncing virtually any type of contact between the U.S. government and Syria and finding new ways to demonize the Palestinians."
Bryen has been a vocal supporter of Likudnik policies regarding the Palestinians and of U.S. military intervention in the Middle East. Commenting on the Israeli government's decision in September 2003 to expel Yasser Arafat, Bryen said: "As long as Yasser Arafat is in control of the Palestinian Authority—in control of the politics, in control of the weapons and the forces—nobody who's named prime minister will be able to accomplish what the United States wants that person to accomplish."[6]
During the lead up to the Iraq War, Bryen served as a mouthpiece for a number of objectives long on the neoconservative wish list. She argued that a U.S. invasion was "probably going to spell the end of OPEC" and championed the cause of installing Ahmed Chalabi, the controversial Iraqi exile and close associate of Richard Perle, as head of Iraq after the ouster of Saddam Hussein, saying in an interview, "Chalabi is the one that we know the best."[7]
In a September 2006 JINSA "Viewpoint" posted on the group's website, Bryen addressed the fallout from the Summer 2006 war between Hezbollah in Lebanon and Israel. In contrast to other neoconservative pundits, like the Hudson Institute's Meyrav Wurmser, Bryen argued that it was too early to declare the war a failure from the Israeli point of view. Instead, she argued: "The Summer War was, in fact, a battle in the larger war against terrorists and the states that harbor and/or support them. There was no possibility of a final military victory in August; long-term success or failure in the process remains at issue." She added: "Hezbollah is an arm of Iran via the Syrian pipeline, running a state-within-a-state in Lebanon from among a generally-but-not-totally-supportive Lebanese civilian population that receives little help from the Beirut government. Israel is an integral part of the economic, political, and social fabric of the West, threatened at several levels by violent Islamic radicalism and nationalist irredentism orchestrated and funded by Iran."[8]
Bryen also contributes her to rightist media outlets like the American Thinker, Pajamas Media, the National Review, and the Rupert Murdoch-owned New York Sun.
Bryen has donated to the Morris Amitay's Washington Political Action Committee and in 2003 gave $500 to then-Rep. Curt Weldon's (R-PA) "Weldon Victory Committee" campaign.[9] Weldon lost the 2006 mid-term election in part because of a corruption scandal involving his connections to Finmeccanica, an Italy-based defense contractor for which Bryen's husband has served as a president.[10]
Additional Experience
According to her bio page on the website of the Jewish Policy Center: "[Bryen] has worked with the Strategic Studies Institute of the U.S. Army War College and the Institute for National Security Studies in Tel Aviv, and lectured at the National Defense University in Washington. … Since 1982, Mrs. Bryen has done travel programs in the Middle East for military professionals, allowing more than 450 American military officers to engage in professional discussions of issues that both unite and divide the United States, Israel and Jordan. In 1988, she created a program to take the cadets and midshipmen of America's service academies to Israel for a three-week work/study program that has been incorporated as a formal internship in all three service academies and permitted hundreds of future officers to have a positive, in-depth experience in Israel. She has also taken Turkish and Israeli military officers to speak at the academies and has lectured in the service academies as well. She is a Member of the Advisory Board of the Aleethia Foundation that provides opportunities for wounded veterans of the Iran and Afghanistan wars, and is a Member of the Board of the Naval Academy Jewish Chapel."[11]