Andrew C. McCarthy
last updated: September 9, 2016
Please note: The Militarist Monitor neither represents nor endorses any of the individuals or groups profiled on this site.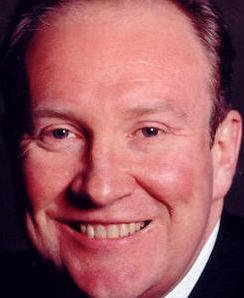 Affiliations
Ted Cruz 2016 Presidential Campaign: Member of "National Security Coalition"
National Review Online: Contributor
Center for Law and Counterterrorism: Former Co-chair
National Review Institute: 2011 Fellow
Foundation for Defense of Democracies: Former project co-chair
Government
Defense Department: Special Assistant to the Deputy Secretary of Defense (2004)
U.S. Attorney's Office, New York: Assistant U.S. Attorney for the Southern District of NY (1993-1996)
U.S. Attorney's Office, New York: Chief Assistant for the Southern District of NY (1999-2003)
U.S. Marshall Service: Former Deputy Marshal
Education
Columbia College
New York Law School
Andrew C. McCarthy, a former federal prosecutor known for his anti-Islamic views and promotion of hawkish U.S. foreign policies, is a political pundit who writes for the National Review.[1] McCarthy previously served as co-chair for the Center for Law and Counterterrorism at the neoconservative Foundation for Defense of Democracies (FDD).
McCarthy was an outspoken proponent of the 2016 presidential campaign of Sen. Ted Cruz (R-Texas), calling the the senator a "champion of conservative ideals who is probably as able, articulate and bright a champion as we've had certainly in recent memory." In March 2106, Cruz included McCarthy on his campaign's foreign policy advisory team, called the "National Security Coalition. Others on the team included Frank Gaffney, Michael Ledeen, and Elliott Abrams.[2]
A fierce critic of Donald Trump, McCarthy has lambasted the real estate mogul for "gutting" the Republican Party. Calling Trump a clever demagogue who will champion big government if elected, McCarthy wrote in a July 2016 piece for the National Review that Trump "is uninformed on many topics, ill-informed on others, untrustworthy, and pathologically vindictive. I will never be able to say I want him to win — only that I'm certain I want Hillary Clinton to lose."
McCarthy often focuses his writing on "Islamic supremacists" and what he regards as the failure of the Washington establishment to confront jihadists. A key target of his criticism has been President Barack Obama, whom McCarthy has accused of coddling terrorists and other enemies of America. In an April 2016 article, in which McCarthy repeated the widely ridiculed idea that Iran had a "contributory role" in the 9/11 attacks, he argued that Obama was placing his "legacy hunt" in front of U.S. national security, writing: "He is determined to be remembered by the global Left – the only audience that matters – as the president who shut down Bush's Gitmo gulag; and if Congress won't cooperate by transferring anti-American jihadists to stateside prisons, then he will simply empty Gitmo by transferring the jihadists back to the jihad."
McCarthy often reveals a distinct aversion to the religion of Islam. For instance, during controversial congressional hearings on the purported radicalization of the Muslim-American community, he wrote: "What 'radicalizes' Muslims is Islam—the mainstream interpretation of it. The 'radicals' propagating it do not need the 'captive audience' provided by the prison environment. The 'radicalization' is happening in plain sight."[8]
Conspiracy Monger
McCarthy has promoted a number of far-fetched conspiracy theories, including the idea that Obama was born in the United States.[12] According to McCarthy, the president is a "bridge figure between the Left and the Islamists" whose relationship to the Muslim world is "cagey."[13] He has also called Obama a radical leftist, arguing that he is "an Alinskyite," referring to Chicago-born community organizer Saul Alinsky, and a "fifth-column radical" who intends to overthrow the capitalist order.[14]
Describing Obama's handling of foreign policy, McCarthy has argued: "Barack Obama is a wolf in 'pragmatist' clothing: Beneath the easy smile and above-it-all manner—the 'neutral' doing his best to weigh competing claims—is a radical leftist wedded to a Manichean vision that depicts American imperialism as the primary evil in the world."[15]
Early Track Record
McCarthy worked as an assistant U.S. attorney for the Southern District of New York for 18 years. From 1993 through 1996, he helped lead the prosecution against the organization of Omar Abdel Rahman, which resulted in the conviction of a dozen people on charges related to terrorist plots, including the 1993 World Trade Center bombing and plots to bomb other landmarks. He also worked on the prosecutions of the bombers of the U.S. embassies in Tanzania and Kenya. Following the 9/11 attacks, he supervised the Justice Department's Command Post near Ground Zero in New York City.[16]
In 2004, the George W. Bush administration tapped McCarthy to serve as a special assistant to the deputy secretary of defense.[17]
McCarthy's views on legal justice have shifted over the years. Hehas criticized the military commissions system and private lawyers assisting detainees at Guantánamo Bay, Cuba. He called for creation of a national security court rather than trying terrorism suspects in the civilian justice system.[18]
In addition to writing for the National Review, McCarthy is a frequent guest on conservative broadcast networks. He has also published several books, including The Grand Jihad: How Islam and the Left Sabotage America (Encounter Books, 2010); Willful Blindness: A Memoir of the Jihad (Encounter Books 2008), and How the Obama Administration Has Politicized Justice (Encounter's "Broadsides" series, 2010).[19]
He has taught law at New York Law School and Fordham University's School of Law.[20]