Carol Adelman
last updated: May 1, 2012
Please note: The Militarist Monitor neither represents nor endorses any of the individuals or groups profiled on this site.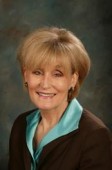 Affiliations
Hudson Institute: Director of Center for Global Prosperity, Senior Fellow
Atlantic Council of the United States: Former Vice Chair, Executive Committee Member
Council on Foreign Relations: Member
Capital Partners for Education: President, Board of Directors
Council for a Community of Democracies: Member, Board of Directors
Pan American Health Organization: Former Chair, Centennial Symposium Inaugural Panel
Center for International Private Enterprise (U.S. Chamber of Commerce): Former Board Member; Member of Editorial Advisory Board of Economic Reform Today, 1999

Government
U.S. Department of Health and Human Services: Office of Economic Opportunity Program Officer
U.S. Agency for International Development: Contributed to USAID Report "Foreign Aid in the National Interest," 2002; Assistant Administrator heading U.S. foreign aid programs in Asia, Middle East, and Europe, 1988-1993; Nutrition Adviser for Near East Bureau, 1978-1981; Program Analyst for Office of Nutrition, 1975-1977; Assistant Program Officer, 1972-1975; Special Assistant to the Assistant Administrator of the Africa Bureau, 1971-1972; Program Analyst for Office of Development Planning, 1971
Consultant: To U.S. Government and private sector on international health and nutrition, 1983-1988
HELP Commission: Vice Chair

Business
McManis International Services: Director
Inter-American Development Bank: Special Interviewer, contracted through McManis, 1999
Consultative Group on Development
Movers and Shakespeares: President

Education
University of Colorado/Bonn University: Bachelor's degrees in political science and German
Georgetown University: Master's in foreign service, 1970
Johns Hopkins: Master's in public health, 1979; Ph.D. in public health, 1984
Carol Adelman is a senior fellow at the neoconservative Hudson Institute, where she directs the Center for Global Prosperity, which purports to support "free societies, including capital markets, rule of law, government transparency, free trade and press, human rights, and private property-prerequisites for economic health and well being." According to her Hudson bio, Adelman's experience includes working with the U.S. Agency for International Development during 1971-1981, serving as a presidential appointee on U.S. international development initiatives during 1988-1993, and during 1993-1998 directing two "international services for two different consulting companies, one private and one publicly held, where she identified investment opportunities and capital for private U.S. companies in overseas hospitals, insurance companies, and healthcare systems." Adelman has been at the Hudson Institute since 1998.[1]
Although generally not regarded as a foreign policy hardliner in the same vein as her husband, former Reagan administration official Ken Adelman, Carol Adelman has promoted rightist foreign policy objectives, particularly those dealing with international aid efforts. She has also supported the work of neoconservative-led projects, including the Council for Community of Democracies, whose work has been funded by Freedom House , the National Endowment for Democracy , the Smith Richardson Foundation , and several national governments.[2]
Among her notable views, Adelman has opposed loosening restrictions on patents—thereby placing herself at loggerheads with poorer countries seeking to develop affordable drugs—and she stridently defends U.S. spending on international aid efforts, which are among the lowest in terms of GNP of all developed countries. Though U.S. government aid as a percentage of GNP is low, U.S. private giving is another matter, Adelman says, one that should be taken into consideration when citing figures regarding U.S. aid. The Center for Global Prosperity launched in April 2006 the first "Index of Global Philanthropy," which "details the source—and magnitude—of U.S. private international giving, and demonstrates that the most effective philanthropic bridge between industrialized countries and developing nations is built on private philanthropy, volunteerism, and public-private partnerships, not exclusively government foreign aid."[3]
"The conventional assumption that foreign aid counts only when it comes from governments is caught in the time warp of the Marshall Plan era, when private investment and charity abroad were minimal," wrote Adelman after the index's publication. "There is a new world of giving, which sees poor people as active partners, not as helpless pawns waiting for the next cash installment."[4]
Those seeking to couple the power of markets to their donations are what Adelman calls "philanthro-capitalists": a "new breed with 'soft heart, hard head' approaches, they are bringing business techniques, accountability, transparency, and results to remote villages in need. Corporations and churches are moving beyond relief projects to create lasting institutions in developing countries."[5]
"In 2004, [Americans] gave at least $71 billion to poor people abroad," Adelman wrote in the 2006 index introduction.[6] Yet this number includes approximately $47 billion in remittances abroad—which includes money sent home from foreign nationals inside the U.S. borders, a nit that economist/political scientist Daniel Drezner once picked with Adelman's previous work on private giving. In a 2003 Foreign Affairs article, Adelman wrote that when it comes to aid from America, "It is the private money that is making the difference."[vii] But Drezner concluded: "I don't think Adelman is incorrect in her core thesis. But lumping remittances in with charity flows exaggerates the generosity of Americans as a people."[8]
Soon after its publication, the figures from the index were already being cited by the Bush State Department.[9] Ruth Wedgwood and James Woolsey are among the figures who have participated on the index's advisory board.
According to a 2003 Washington File report about Adelman's contribution to a USAID report: "Adelman presented some of her research findings that seemed to contradict frequent international criticism of Americans as being 'stingy on foreign aid.' She said her data shows that Americans, rather than being 'stingy,' are 'the most generous people in the world' when contributions beyond official U.S. government foreign aid are taken into account."[10]
In later assessments, such as 2012's Index of Global Philanthropy and Remittances, Adelman distinguished more clearly between private philanthropy and remittances but still counted remittances toward a country's total foreign giving. "In 2010, the most recent year for which data are available," said the April 2012 press release announcing the study's findings, "philanthropy and remittances from the developed to developing world were nearly twice as much as government aid ($246 vs. $128 billion). … While U.S. official aid increased to a high of $30.4 billion, it remains only 9% of U.S. total economic engagement with the developing world."[11]
Adelman and her husband have a side business, Movers and Shakespeares, which trains high-powered CEOs from firms like Northrop Grumman in management and communication strategies by using Shakespeare as a learning tool. According to People magazine: "The Adelmans have long looked to the Bard as an aid in navigating the labyrinths of politics, business, and family life. And since 1998 they have offered his wisdom to CEOs and bigwigs-to-be through their company Movers and Shakespeares.[12] Their workshops—which last from 90 minutes to several days and cost from $4,000 to $18,000—are taught at such institutions as Harvard's Kennedy School of Government and the U.S. Naval Academy in Annapolis, MD. The idea: to use the playwright's words to teach managerial skills. Each workshop ends with students donning Elizabethan garb to act out what they've learned. 'I've gotten more VIPs into tights and codpieces than anyone in this country,' says Carol."[13]