Charles Horner
last updated: May 17, 2012
Please note: The Militarist Monitor neither represents nor endorses any of the individuals or groups profiled on this site.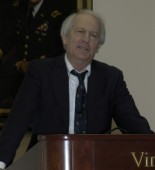 Affiliations
Hudson Institute: Senior Fellow (1996-current)
Center for Security Policy: Member of National Security Advisory Council
Georgetown University School of Foreign Service: Former Adjunct Professor; Associate of Landegger Program in International Business Diplomacy
International Institute for Strategic Studies: Member
Madison Center: Former President
Fulbright Foreign Scholarship: Former Member of Board
Washington and Lee University: Former Adjunct Professor

Government
U.S. Institute of Peace: Former Member of Board of Directors
U.N. Conference on the Law of the Sea: Former Deputy Representative
U.S. Department of State: Former Deputy Assistant Secretary of State for Science and Technology
U.S. Information Agency: Former Associate Director for Reagan and George H.W. Bush
U.S. Secretary of State Advisory Committee on International Communications and Information Policy: Former Member
U.S. Secretary of Commerce Advisory Committee on the National Oceanic and Atmospheric Administration: Former Member
Voice of America Advisory Committee: Former Member
U.S. Merchant Marine Academy: Member of Advisory Board
Senator Daniel P. Moynihan: Former Senior Legislative Assistant
Senator Henry M. Jackson: Former Staff Member
Charles Horner is a senior fellow at the neoconservative Hudson Institute, where he specializes in China, international science and technology relations, and international treaties, particularly the international sea treaty.[1] Horner has also worked with other rightist policy groups—including the Center for Security Policy, where he served on National Security Advisory Board, and the Madison Center—and served as a diplomat and adviser in both the Ronald Reagan and George H.W. Bush administrations.[2] In 2003 President Bush selected Horner, along with neoconservative ideologue Daniel Pipes, to join the board of directors of the U.S. Institute of Peace.[3]
Not to be confused with Charles A. Horner (the retired Air Force general and former head of the Air Force Space Command who was a member of the controversial Rumsfeld Space Commission), Horner recent work includes the 2009 book Rising China and Its Postmodern Fate (University of Georgia Press), which appears to have been generally well accepted by experts in the field.[4] According to one reviewer, the book "addresses the hot topic of China's claim to 'peaceful rise.' Unlike other similarly titled books, it is more interested in analyzing what China's rise means for Chinese than what it means for Western militaries and economies. Horner examines how 'China is seeking to assemble a set of lessons from the country's past that can serve as a guide … for China's return to prominence… in the world.' … In Horner's analysis, the most un-Chinese period of Chinese history is the People's Republic. Marxist-Leninist-Maoism was so Western and 'so radical a departure from everything that had come before' that 'China and the PRC are not the same thing.' The abandonment of Maoist radicalism along with the doctrine of People's War makes the path of peaceful rise a 'possibility.'"[5]
In a joint 2010 op-ed piece for the Wall Street Journal Asia with fellow Hudson scholar Eric Brown, Horner speculated that China's domestic and foreign policies would inevitably draw it into conflict with the Islamic world. "[T]he more Beijing projects itself into the Muslim world, the more China encounters the Ineffable and the Other—the cultural, racial and religious power of Muslim civilization. One must wonder, based on Beijing's now persistent incapacity to deal effectively and wisely with its own Muslim subjects, how it will fare further afield. As for the Islamic world, the antipathy of some to 'Western imperialism' has become so conditioned a reflex that there is no actual thought in it at all. Now, the Muslim world is just getting to know Chinese power; we cannot yet assess how the East Asian arriviste will be received."[6]
Before joining the Hudson Institute, Horner was president of the Madison Center, which in 1990 merged with the Institute for Educational Affairs (IEA) to become the Madison Center for Educational Affairs (MCEA). The IEA was founded by Irving Kristol, William Simon (former Treasury Secretary for presidents Nixon and Ford and president of the Olin Foundation), while the Madison Center was founded by William Bennett. Media Transparency reports that the MCEA "provides funds for right-wing research and conservative student newspapers." MCEA not only gets its funding from Olin, but also the Scaife, Smith Richardson, and J.M. Foundations.[7]
According to his Hudson bio, "In the administrations of President Reagan and the first President Bush, Horner served consecutively as Deputy Representative to the United Nations Conference on the Law of Sea, Deputy Assistant Secretary of State for Science and Technology, and Associate Director of the United States Information Agency. He is a recipient of the Department of State Superior Honor Award. From 1980 to 1982, Horner was Adjunct Professor in Georgetown University's School of Foreign Service, and also an associate of its Landegger Program in International Business Diplomacy. During the l970s, Horner served on the staff of the late Senator Henry M. Jackson (D.-Wash.) and then as Senior Legislative Assistant for Foreign Affairs and National Security policy to the late Senator Daniel P. Moynihan (D.-N.Y.) A graduate of the University of Pennsylvania, Horner also did graduate work in Chinese history at the University of Chicago and, overseas, from 1967 to 1970, at National Taiwan University and Tokyo University."[8]