David Friedman
last updated: October 24, 2019
Please note: The Militarist Monitor neither represents nor endorses any of the individuals or groups profiled on this site.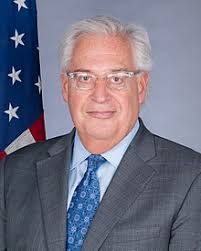 AFFILIATIONS
Kasowitz, Benson, Torres & Friedman, (Partner, 1994-  )
American Friends of Bet El Yeshiva, (President, ?-2017)
GOVERNMENT
Co-Chair, Donald Trump Israel Advisory Committee (2016)
U.S. Ambassador to Israel (2017- )
EDUCATION
Columbia University, B.A., anthropology, 1978
New York University School of Law, J.D., 1981
David Friedman, a bankruptcy lawyer whose long association with Donald Trump led to his being appointed to the post of U.S. Ambassador to Israel, has a history of making of making outlandish and provocative statements about Israel and the Palestinains, declaring that Israel is on "the side of God" and maligning opponents of his views as anti-Semites and "kapos."[1]
Friedman was a controversial choice for ambassador. His position as president of an organization that supported an extremist settlement in East Jerusalem raised questions about both his and Trump's pre-conceived notions about resolving Israel's occupation of Palestinian territory. Speaking at an October 2018 gathering of U.S. Jewish leaders in Tel Aviv, Friedman said, "I will bet that there are people in this room who disagree with me on Israel policy—I am an unapologetic right-wing defender of Israel. I'm a security hawk. That's who I am."[2]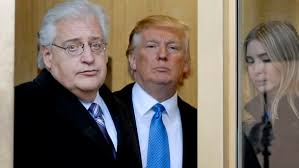 As ambassador, Friedman has had ample opportunity to press forward his one-sided view of U.S.-Israeli relations. In late 2019, for example, after Israeli elections that saw Benjamin Netanyahu fail to secure enough support to form a government, Friedman touted that the U.S. was prepared to present a "deal of the century" to resolve the conflict with Palestinians as soon as Israel formed a stable government. Jason Greenblat, then the U.S. Middle East peace envoy, echoed this sentiment, saying in October 2019 that it would not be "wise" to provide any details of the plan until a new coalition government was formed. that Responding to questions about whether the plan should worry Israeli settlers in occupied Palestinian areas, Friedman said "The deal will not include any clause on the evacuation of anyone from his home, neither settlers nor Palestinians. We oppose the expulsion of people from their homes and consider it immoral."
Previously, in 2017, Friedman interceded with the State Department to protect Israel from scrutiny under U.S. laws that call for the enforcement of human rights laws with countries that receive U.S. military aid or buy arms from the United States. Members of Congress had asked State to examine this question—something which happens from time to time. Friedman objected, telling State in a memo, that he did "not believe we should extend the new [guidelines] to Israel at this time. Israel is a democracy whose army does not engage in gross violations of human rights," adding that Israel "has a robust system of investigation and prosecution in the rare circumstance where misconduct occurs." Besides, he added, "it would be against [U.S.] national interests" to take a step that could limit Israel's access to military equipment—"especially in a time of war."[3]
Friedman's mention of "new guidelines" apparently referred to legislation commonly called the "Leahy Law," named for Senator Patrick Leahy (D-VT), which prohibits military units that have committed gross human rights violations using with U.S.-made weapons. Friedman was apparently unaware that the law was first used as an amendment to cover all military sales in 1998, was made permanent law in 2006, and substantially revised in 2011, It is neither "new" nor a "guideline."
In September 2018, Friedman told the Israeli daily, Israel Hayom, that "Israel shouldn't have to ask permission from the U.S." to build in the West Bank, ignoring the fact such construction is illegal under international law, and that this would be seen by Israel, the Palestinians, and the rest of the world as a green light for Israel to build wherever and in whatever volume it desired.[4]
In October 2018, Friedman became the first U.S. ambassador to Israel to attend a function in a West Bank settlement while in office. Dylan Williams of the dovish, pro-Israel lobbying group, J Street, commented, "By making an official public appearance at an event in an Israeli West Bank settlement, Ambassador Friedman once again crossed a major, longstanding red line of bipartisan US policy. … With unprecedented actions like these, the Trump administration is driving home the point that they have no real interest in promoting a two-state solution to resolve the Israeli-Palestinian conflict—now or in the future."[5]
Pre-existing bias
As part of his association with the settlement of Beit El, Friedman was also a regular columnist for Arutz-7, which is housed in Beit El.[6] In that column, Friedman espoused many controversial views. He accused President Barack Obama and Secretary of State John Kerry of engaging in "blatant anti-Semitism," and said supporters of the liberal pro-Israel group, J Street were "worse than kapos."[7] When given the opportunity to walk back his statement about J Street—which had caused considerable outrage among a wide swath of the Jewish community, well beyond J Street's supporters—Friedman doubled down. "[Jeffrey] Goldberg then raised the kapos comparison and asked if he stood by it. Mr. Friedman did not back away. 'They're not Jewish, and they're not pro-Israel,' he said, according to the people in the room."[8]
Friedman had long supported moving the U.S. embassy from Tel Aviv to Jerusalem and was a driving force behind Trump's decision to break with decades of U.S. strategy and do so.[9]
That decision was the culmination of increasing tensions between the United States and the Palestinian Authority (PA) and led the PA to suspend official contacts with the U.S. and to recall its ambassador from Washington.[10] Despite this breach, in June 2018 reports said that the relocated U.S. embassy would exercise direct control over the U.S. consulate in Jerusalem, which had traditionally handled most dealings with the Palestinians. This meant that Friedman had been granted greater authority over interactions with the Palestinians, which, given his acrimonious relationship with them, seemed to invite further conflict.[11]
Friedman, an Orthodox Jew, was reported to have made the decision to invite Pastor Robert Jeffress to speak at the opening of the embassy in Jerusalem. Jeffress, who has made several public statements considered anti-Semitic and homophobic,[12] was a controversial speaker for many in both Israel and the United States, including a broad cross-section of the Jewish community.[13]
Friedman has alienated many Democrats as well, telling the Times of Israel, "Just because you want to make something bipartisan doesn't mean that it becomes bipartisan… Democrats can say, 'We want to be bipartisan on Israel,' and I wish them every success in doing so. But there is a large Democratic constituency right now that is not pro-Israel. They have to acknowledge it, and they have to fix it, or try to fix it."[14] Senator Ben Cardin (D-MD)—well known for being among the hawkish Democrats in the Senate and for being very close to the American Israel Public Affairs Committee (AIPAC)[15]—responded to Friedman, saying his words were "wrong, insensitive, and demonstrate his ill-preparedness to be a suitable diplomat to one of our most important allies and friends in the world."[16]
The Settlers' Ambassador
Friedman is a supporter of the Israeli right and supports the expansion of settlements in the West Bank and East Jerusalem. He was the head of American Friends of Bet El, a U.S. charity that supports a yeshiva (Orthodox Jewish school) in the settlement of Bet El in East Jerusalem. That yeshiva also runs the far-right Israeli news site, Arutz Sheva, where Friedman has published many columns supportive of far-right views and opposing the creation of a Palestinian state.[17]
Friedman has maintained that he believes the settlements are legal. "I don't believe the settlements are illegal. I think I've been clear on that for years," he told the Times of Israel. "President Reagan was very clear that he would never suggest Israel would go back to the 1967 borders. They were called the suicide borders; they were considered indefensible. So the notion that Israel's presence over the Green Line is illegal is something the United States has through many leaders rejected, which is why that UN resolution in 2016 was so offensive to so many people."[18]
In fact, the United States has never repudiated a 1978 finding by the State Department legal adviser that settlements were "inconsistent with international law."[19] Yet in September 2017, Friedman said that "the settlements are part of Israel." He went on to state, "There is important nationalistic, historical [and] religious significance to those settlements, and I think the settlers view themselves as Israelis and Israel views the settlers as Israelis." The statement enraged Palestinians and forced the State Department to distance itself from the words of its own ambassador.[20]
In February 2018, Friedman was reported to have told a delegation from the Conference of Presidents of Major Jewish Organizations (COPJ) that Israel would risk civil war if it evicted significant numbers of Jews from West Bank settlements. He also defended the status quo of Israel's occupation—contradicting U.S. policy which, even under Trump, is aimed at resolving the conflict—reportedly saying that "the claim that a peace agreement is needed to preserve Israel as a Jewish and democratic state is a stale one…For 25 years people have said that the situation cannot continue, but what happened in those years? Israel has only grown and developed." The State Department, as well as COPJ's Vice Chairman Malcolm Hoenlein claimed that Friedman's remarks were "taken out of context," but this was only one of many times that Friedman's comments needed to be walked back, and no alternative interpretation was offered.[21]
Friedman's tenure as U.S. ambassador to Israel has been marked by controversy. In June 2018, he lashed out at media coverage, both inside and outside of Israel, of the "Great March of Return" protests in Gaza, where activists who were overwhelmingly non-violent were met with what most observers considered excessive force from Israeli soldiers. In the protests, according to World Health Organization figures, more than 123 people had been killed and over 13,900 injured as of June 3.[22] Friedman considered the coverage of these events—where only four Israeli soldiers had been lightly injured[23]—to be imbalanced and lashed out, saying reporters should "just keep your mouths shut until you figure it out. Because otherwise, all you're doing is creating impressions that have no basis in fact. They fit a narrative. They fit an opinion. They fit an agenda. But it's not reporting, because it's not based on hard, factual analysis."[24]
Responding to Friedman, Israeli journalist Rogel Alpher wrote, "U.S. State Department spokeswoman Heather Nauert backed Friedman and stressed his right to freedom of expression. How absurd, callous and jarring. In the name of freedom of expression, Friedman is permitted to deny Israeli journalists the freedom to criticize their own government…In a democracy, no one has the right to tell journalists to 'shut your mouths.' When the ambassador of a foreign power does so, it is a dangerous and grievous act."[25]
Friedman was a key driver of President Trump's decision to move the U.S. embassy from Tel Aviv to Jerusalem. That decision, after months of tense relations between the Trump administration and the Palestinians, prompted the Palestinians to break off contact with the administration and recall their ambassador from Washington.[26]
Defending that decision, Friedman said, "I think the move is going to permit the parties to focus on the issues that are first of all important and second of all solvable. What the president did when he made this decision was to remove from the Palestinians the right to veto recognition by the United States and other countries of Jerusalem as the capital of Israel."[27]
As time passed and the breach between the Palestinians and the U.S. did not heal, Friedman stirred the pot further by implying that the United States could bypass Palestinian President Mahmoud Abbas. According to Israeli journalist Barak Ravid, Friedman said, ""Time doesn't stand still…and if [Abbas] is not interested is negotiating—I am sure somebody else will. Vacuums tend to be filled. If he creates a vacuum I am sure somebody will fill it. And we will move forward (on the peace process). The U.S. wants to help the Palestinian people—if the leadership is not on the same page then so be it, but we will not abandon the desire to improve the life of Palestinians."[28]
Freidman soon said that he was misquoted but did not elaborate as to what his actual statement purportedly was. Friedman tweeted, "I was misquoted in various reports stemming from an interview that published today. The United States is not seeking 'to replace' Mahmoud Abbas. It is for the Palestinian people to choose its leadership."[29]
After an Israeli settler was murdered in a drive-by shooting in January 2018, Friedman blamed the Palestinians for the ongoing conflict, tweeting, "An Israeli father of six was killed last night in cold blood by Palestinian terrorists. Hamas praises the killers and PA laws will provide them financial rewards. Look no further to why there is no peace."[30] In response, the Palestinian Authority released a statement which read, in part, "the American ambassador in Tel Aviv is known for his predetermined positions, which reflect a total bias in favor of the occupation and settlement." Columnist Nathan Guttman pointed out that, "Unlike past ambassadors to Israel, Friedman was a prominent right-wing supporter of the Jewish state before he took office."[31]
Opposition to Long-Standing U.S. Policy
Immediately after Trump nominated Friedman for the post of ambassador to Israel, objections were raised from many quarters. In an extraordinary action, five former U.S. ambassadors to Israel wrote an open letter to the Senate Foreign Relations Committee (SFRC) questioning Freidman's qualifications for the position.
"[Mr. Friedman] has argued that two states for two peoples is 'an illusory solution in search of a non-existent problem,'" the ambassadors wrote. "Mr. Friedman has been active in supporting and financing the settler movement. He has said that he does not believe it would be illegal for Israel to annex the occupied West Bank. We urge the Committee to address the question of whether Mr. Friedman, as ambassador, would defend the established American view that annexation of West Bank territory, outside the context of an international resolution, would be counterproductive and a violation of international law."[32]
Amnesty International also questioned Friedman's qualifications for the position. They urged the SFRC to "…closely examine Mr. Friedman's competency, ethics, business dealings and charities to guarantee he is qualified and there are no conflicts-of-interest."
Amnesty further argued, "Friedman not only supports moving the [United States'] embassy to Jerusalem, which could lead to widespread violence and human rights violations, but has said that he considers settlements 'legal,' in contravention of international law…Friedman has also publicly advocated forcibly annexing occupied territory in contravention of international law and U.S. policy. This, again, is another action that is not only illegal, but would lead directly to human rights violations and the likelihood of violence.
"Friedman is not only a strong supporter of settlements but serves as president of American Friends of Beit El Institutions, an organization that raises about $2 million a year for the illegal Israeli settlement and its extremist yeshiva. The settlement is well known as extremist in its ideology of expansion into the Occupied Palestinian Territory, and the yeshiva, which combines Jewish learning with army service, is headed by a militant rabbi who advocates disobeying orders in the name of an extremist interpretation of Judaism. Trump himself made a $10,000 donation to Beit El in Friedman's honor. David Friedman appears to be actively complicit in illegal Israeli settlements that have been the cause of widespread human rights violations, death and dispossession. These serious areas of concern need to be clarified, and the Senate hearing is the place to do the clarification."[33]
In an August 2016 opinion piece, Freidman stated that the two-state solution was "an illusion that serves the worst intentions of both the United States and the Palestinian Arabs." He claimed that the U.S. State Department had "a hundred-year history of anti-Semitism," and that it "promotes the payoff of corrupt Palestinians in exchange for their completely duplicitous agreement to support a two-state solution."[34]
An Attacking Style
Far from moderating his language once his position as an advisor to then-presidential candidate Donald Trump became public, Friedman doubled down on his fiery rhetoric.
In a June 2016 op-ed, Friedman explicitly stated that President Barack Obama and Secretary of State John Kerry engaged in "blatant anti-Semitism." He said that supporters of the liberal, pro-Israel group, J Street are "are far worse than kapos—Jews who turned in their fellow Jews in the Nazi death camps. The kapos faced extraordinary cruelty and who knows what any of us would have done under those circumstances to save a loved one? But J Street? They are just smug advocates of Israel's destruction delivered from the comfort of their secure American sofas – it's hard to imagine anyone worse."[35]
At his confirmation hearing, Friedman tried to walk back the comments about Obama, Kerry, and J Street. "I regret use of such language," Friedman said during his first hearing before the Senate Foreign Relations Committee. "The inflammatory rhetoric during the presidential campaign is entirely over. If confirmed my language would be measured," he added.
But journalist Amir Tibon found that Friedman's behavior after the election demonstrated that his apology was insincere. "Almost a full month after Trump's election victory, at a time when there were already rumors that Friedman could have a role in his administration, Friedman spoke before the annual Saban Forum in Washington, and refused to apologize or walk-back his inflammatory language, including the reference to J Street being worse than kapos," wrote Tibon.[36]
A year later, Friedman again brought his apology into question when he stated that J Street's motto—"pro-Israel, pro-peace"—was "blasphemous." Addressing the annual policy conference of the American Israel Public Affairs Committee (AIPAC), Friedman said, "If you support Israel, then you must by definition support peace with its neighbors," Friedman said. "It is no less than blasphemous to suggest that any Jew or any Christian is against peace."[37]
In December 2015, Friedman advocated for special procedures for Muslim immigrants to the United States. "Muslim immigrants (and any immigrant fitting a profile for terrorist activity) should be required, as part of their application, to consent to complete transparency with respect to all internet and telecommunication activity. Any activity on Facebook, Google, Twitter or other social media or communication portals, including under anonymous or alternative identities, must be available for inspection. There can be no encrypted communications that evade review, or secret activity on the dark web.'"[38]
Background
Prior to being named ambassador to Israel, Friedman was a prominent bankruptcy attorney, who, according to the State Department's web site, frequently represented high-profile clients in "large and significant cases and has published articles and lectured on novel and complex areas of law. Ambassador Friedman has played a lead role in negotiating multilateral disputes in some of the nation's most complex business and financial restructurings."[39]
According to the New York Times, Friedman "has done legal work for Mr. Trump since at least 2001, when he handled negotiations with bondholders on Mr. Trump's struggling casinos in Atlantic City. Mr. Friedman represented Mr. Trump's personal interests in the bankruptcies of the casinos in 2004, 2009 and 2014. Their relationship was cemented in 2005, friends said, when Mr. Trump traveled three hours in a snowstorm to pay a condolence call on Mr. Friedman after the death of his father, a prominent Long Island rabbi."[40]
SOURCES
[1] Isabel Kershner and Sheryl Gay Stolberg, "David Friedman, Choice for Envoy to Israel, Is Hostile to Two-State Efforts," New York Times, December 16, 2016, https://www.nytimes.com/2016/12/16/world/middleeast/david-friedman-us-ambassador-israel.html
[2] Raphael Ahren, "US envoy says he's an 'unapologetic right-wing defender of Israel,'" Times of Israel, October 24, 2018, https://www.timesofisrael.com/us-envoy-says-hes-an-unapologetic-right-wing-defender-of-israel/
[3] Nahal Toosi, "Trump ambassador blocks scrutiny of Israel," Politico, June 17, 2018, https://www.politico.com/story/2018/06/16/trump-ambassador-israel-scrutiny-military-human-rights-david-friedman-650383
[4] "Ambassador Friedman: Israel Shouldn't Have to Ask U.S. Permission to Build in West Bank," Haaretz, September 8, 2018, https://www.haaretz.com/israel-news/friedman-israel-shouldn-t-have-to-ask-permission-to-build-in-w-bank-1.6464206
[5] Press Release, "Ambassador's Settlement Visit breaks with US Policy—Shows Support For Israeli Right's Agenda," J Street, October 16, 2018, https://jstreet.org/press-releases/ambassadors-settlement-visit-breaks-with-us-policy-shows-support-for-israeli-rights-agenda/#.W_wOZWhKg2w
[6] Giulio Meotti, "US media, leave Beit El and Arutz Sheva alone," Arutz 7/Israel National News, December 23, 2016, https://www.israelnationalnews.com/Articles/Article.aspx/19945
[7] Isabel Kershner and Sheryl Gay Stolberg, "David Friedman, Choice for Envoy to Israel, Is Hostile to Two-State Efforts," New York Times, December 16, 2016, https://www.nytimes.com/2016/12/16/world/middleeast/david-friedman-us-ambassador-israel.html
[8] Amir Tibon, "Friedman Claimed 'Kapos' Rhetoric Was Due to Election Fever. We Checked – He Kept at It," Haaretz, February 16, 2017, https://www.haaretz.com/israel-news/.premium-how-truthful-was-friedman-s-apology-for-kapos-rhetoric-1.5436837
[9] Jack Moore, "Here's Who Is Advising Trump on the Jerusalem Embassy Move," Newsweek, December 6, 2017, http://www.newsweek.com/heres-who-advising-trump-jerusalem-embassy-move-739343
[10] Jacob Magid, "Marking new low in ties, Abbas recalls Palestinian envoy from US," Times of Israel, May 15, 2018, https://www.timesofisrael.com/marking-new-low-in-ties-abbas-recalls-palestinian-envoy-from-us/
[11] "Ambassador David Friedman reportedly to gain more control over US relations with Palestinians," Jewish Telegraphic Agency, June 1, 2018, https://www.jta.org/2018/06/01/news-opinion/ambassador-david-friedman-reportedly-to-gain-more-control-over-us-relations-with-palestinians
[12] Zack Ford, "Robert Jeffress Defends Anti-Semitic, Anti-Gay Positions After Tim Tebow Fallout," Think Progress, February 26, 2013, https://thinkprogress.org/robert-jeffress-defends-anti-semitic-anti-gay-positions-after-tim-tebow-fallout-81adbd3c4f91/
[13] "Friedman responsible for pastor address at US embassy opening, says State Dept," I24 News, May 16, 2018, https://www.i24news.tv/en/news/international/174867-180516-friedman-responsible-for-pastor-address-at-us-embassy-opening-says-state-dept
[14] Raphael  Ahren and David Horovitz, "Ambassador David Friedman: Republicans support Israel more than Democrats," Times of Israel, May 31, 2018, https://www.timesofisrael.com/ambassador-david-friedman-republicans-support-israel-more-than-democrats/
[15] Eric Cortelessa, "Ben Cardin Is a Hawk. Will Maryland Voters Punish Him for It?" The Nation, May 10, 2018, https://www.thenation.com/article/ben-cardin-is-a-hawk-will-maryland-voters-punish-him-for-it/
[16] Amir Tibon, "Democrats Chide Ambassador David Friedman for Playing Partisan Politics With Israel," Haaretz, June 3, 2018, https://www.haaretz.com/us-news/.premium-democrats-chide-david-friedman-for-playing-partisan-politics-1.6138584
[17] Josh Nathan-Kazis, "David Friedman Does More Than Write for Far-Right News Site," Forward, December 19, 2016, https://forward.com/news/357523/david-friedman-does-more-than-write-for-far-right-news-site/
[18] Raphael  Ahren and David Horovitz, "Ambassador David Friedman: Republicans support Israel more than Democrats," Times of Israel, May 31, 2018, https://www.timesofisrael.com/ambassador-david-friedman-republicans-support-israel-more-than-democrats/
[19] Mitchell Plitnick, "American Funding of Israeli Settlements," Facts on the Ground, September 1, 2015, https://fmep.org/blog/2015/09/issue-brief-american-funding-of-israeli-settlements/
[20] I24 News, "State Department says Friedman settlements comments do not reflect US policy," September 28, 2017 https://www.i24news.tv/en/news/israel/156541-170928-friedman-says-israeli-expansion-into-w-bank-was-always-an-expected-notion
[21] Arutz Sheva Staff, "Eviction could lead to civil war," Israel National News, February 20, 2018, https://www.israelnationalnews.com/News/News.aspx/242164
[22] Health Cluster, Occupied Palestinian Territory, Gaza, "Situation Report," World Health Organization, May 30-June 3, 2018, http://www.emro.who.int/images/stories/palestine/documents/WHO-Health-Cluster-Special-SitRep-4-June_final.pdf?ua=1
[23] United Nations Office for the Coordination of Humanitarian Affairs, "Humanitarian snapshot: casualties in the context of demonstrations and hostilities in Gaza," June 8, 2018, https://www.ochaopt.org/content/humanitarian-snapshot-casualties-context-demonstrations-and-hostilities-gaza-30-march-7-june
[24] Raphael Ahren, "US envoy to reporters: 'Keep your mouths shut' on criticizing Israel over Gaza," Times of Israel, June 4, 2018, https://www.timesofisrael.com/us-envoy-to-reporters-keep-your-mouths-shut-on-criticizing-israel-over-gaza/
[25] Rogel Alpher, "David Friedman Is a Menace," Haaretz, June 11, 2018, https://www.haaretz.com/opinion/.premium-david-friedman-america-s-ambassador-to-israel-is-a-menace-1.6158737
[26] Julia Manchester, "Palestinian envoy recalled from Washington over Israeli embassy move," The Hill, May 15, 2018, http://thehill.com/policy/international/387825-palestinian-envoy-recalled-from-washington-over-israeli-embassy-move
[27] Scott Neuman, "Ambassador: Recognizing Jerusalem As Capital Removes 'Right Of Veto' In Talks," National Public Radio, https://www.npr.org/sections/thetwo-way/2018/05/14/610920629/ambassador-recognizing-jerusalem-as-capital-removes-right-of-veto-in-talks
[28] Barak Ravid, "U.S. ambassador to Israel: If Abbas won't negotiate, someone else will," Axios, March 28, 2018, https://www.axios.com/friedman-on-palestinians-abbas-trump-peace-deal-0f39f733-ed24-4ced-8e73-19b3ff3aa22f.html
[29] David Friedman, Twitter, May 29, 2018, https://twitter.com/USAmbIsrael/status/979289948368011266
[30] David Friedman, Twitter, January 10, 2018, https://twitter.com/USAmbIsrael/status/950991665216532480
[31] Nathan Gutman, "It's Palestinians' Fault There's No Peace, U.S. Ambassador Says After Attack," Forward, January 10, 2018, https://forward.com/fast-forward/391814/its-palestinians-fault-theres-no-peace-us-ambassador-says-after-attack/
[32] Ambassador Ed Walker, "Amb. Friedman on 242 – oops," Ambassador Blog, September 29, 2017, http://www.ambassadorblog.com/ambassador-blog/2017/9/29/amb-friedman-on-242-oops
[33] Amnesty International "Three Concerns the Senate Committee Should Raise With David Friedman," https://www.amnestyusa.org/three-concerns-the-senate-committee-should-raise-with-david-friedman/
[34] David Friedman, "End the two-state narrative," Arutz 7/Israel National News, August 2, 2018, https://www.israelnationalnews.com/Articles/Article.aspx/18368
[35] David Friedman, "Read Peter Beinart and you'll vote Donald Trump," Arutz 7/Israel  National News, June 5, 2016, https://www.israelnationalnews.com/Articles/Article.aspx/18828
[36] Amir Tibon, "FACT CHECK: How truthful was Friedman's apology for inflammatory rhetoric?" Haaretz, February 16, 2017, https://www.haaretz.com/us-news/LIVE-friedman-at-senate-confirmation-hearing-two-state-solution-remains-best-path-to-peace-1.5436305
[37] Ron Kampeas, "US Ambassador To Israel David Friedman Decries J Street's Motto As 'Blasphemous,'" New York Jewish Week, March 6, 2018, http://jewishweek.timesofisrael.com/us-ambassador-to-israel-david-friedman-decries-j-streets-motto-as-blasphemous/
[38] David Friedman, "Here's a compromise: Ban assault rifles and screen assaulting Muslims," Arutz 7/Israel National News, December 14, 2015, https://www.israelnationalnews.com/Articles/Article.aspx/18066
[39] U.S. Department of State, "David Melech Friedman," https://www.state.gov/r/pa/ei/biog/271645.htm
[40] Isabel Kershner and Sheryl Gay Stolberg, "David Friedman, Choice for Envoy to Israel, Is Hostile to Two-State Efforts," New York Times, December 16, 2016, https://www.nytimes.com/2016/12/16/world/middleeast/david-friedman-us-ambassador-israel.html