Jason Greenblatt
last updated: October 31, 2019
Please note: The Militarist Monitor neither represents nor endorses any of the individuals or groups profiled on this site.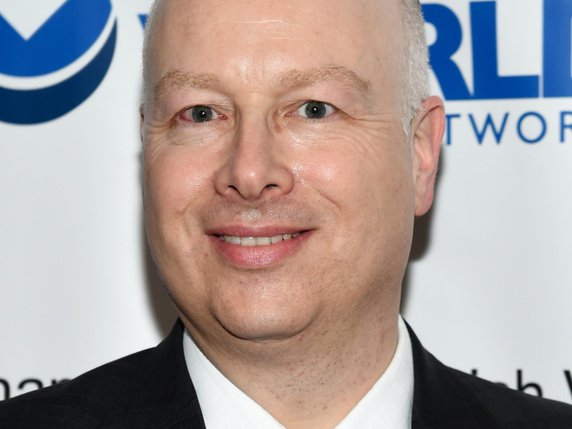 AFFILIATIONS
Trump Organization: Executive VP, chief legal officer (1997-2016)
GOVERNMENT
Special Representative for International Negotiations: (2017- 2019)
EDUCATION
Yeshiva University: BA
New York University: JD
Jason Greenblatt served as the special representative for international negotiations in the Donald Trump administration, spearheading U.S. efforts on Israel-Palestinian issues. He had no political or diplomatic experience prior to his appointment, nor did he have any expertise in the Israel-Palestine conflict. Greenblatt stepped down from the post in October 2019, citing personal reasons.
Before stepping down, Greenblatt was an architect of the Trump administration's widely touted "deal of the century" supposedly aimed at resolving the Israeli-Palestinian conflict. However, details of the plan were not revealed before Greenblatt's departure because of the failure in Israel to form a stable government after Prime Minister Benjamin Netanyahu's loss in an election in late 2019. Greenblatt said in October 2019, "We don't think it's wise to unveil the peace plan now, but our hope is that at the right time and when conditions are right to unveil it, the White House will unveil it. Sadly, I won't be here for that, but I do hope to support the effort from the outside."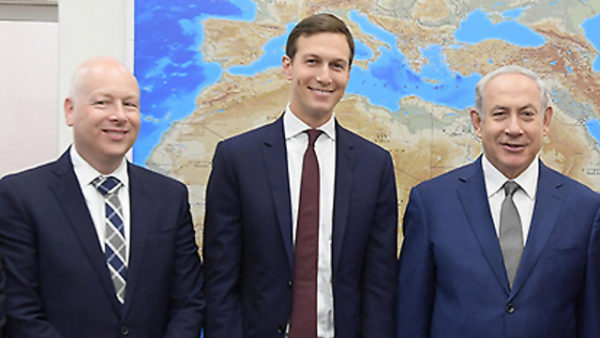 Greenblatt is an unabashed "pro-Israel" hardliner. Shortly before leaving the Trump administration, he said in an interview with CNN that he never criticized Netanyahu or other Israelis officials because he never "found anything to criticize."
In April 2019, Greenblatt penned an op-ed in the New York Times casting all blame for the desperate situation in Gaza on Hamas, the militant group which controls the small, densely populated piece of land. "Hamas has driven the people of Gaza into lives of misery in a bid to stay in power," Greenblatt wrote. "A recognition of its dismal failure and an honest assessment of reality could pave the way to reconnect Gaza to the world that wants to help. The situation was not caused by the United States; it was caused by Hamas. The United States does not want this situation to continue — but we cannot fix it."[1]
Ahmed Yousef, a former adviser to Hamas leaders, responded, "Although Greenblatt's article does not officially suggest a dialogue with Hamas, the movement is ready to start a dialogue with the US on condition of transparency and credibility through an Egyptian, Arab or European mediator. Hamas does not reject talks with anyone who could help its cause. Yet, we feel that Trump's administration is more biased toward Israel than any former US administration."[2]
Greenblatt spent much less time in the spotlight than other members of Trump's team working on the Israel-Palestine track. U.S. Ambassador to Israel, David Friedman and Trump's special envoy and son-in-law Jared Kushner drew more press attention and Greenblatt often appeared and travelled with Kushner, a much higher profile figure than Greenblatt.
Like the president, Greenblatt tends to do much of his communicating through Twitter. This led to clashes with some high-profile Palestinian figures that played out under the public spotlight. After Trump announced that he would move the United States' embassy in Israel from Tel Aviv to Jerusalem, and that this was meant to acknowledge the "reality" that Jerusalem would be Israel's capital in any agreement—despite stating that this move was not meant to decide the final status of Jerusalem—the Palestinian Authority cut off all contact with the Trump administration. The result was that much of the communication between U.S. representatives and Palestinian leaders occurred indirectly, through conventional and social media. The impersonal nature of these contacts only exacerbated tensions, which were already fraught due to the secrecy surrounding the Trump team's "peace plan," fueling speculation that it would be unacceptable to the Palestinians.
Most believe Greenblatt and Kushner jointly led the effort to devise the "deal of the century." They repeatedly visited Arab states, especially the oil-rich Persian Gulf states, to try to get backing for the economic aspects of their plan without revealing, even to their closest allies, the political terms they had outlined.[3]
Diplomacy by Tweet
In January 2019, leading Palestinian official remarked that the Trump administration had "zero credibility." Greenblatt took to Twitter to respond, writing, "Dr. Hanan Ashrawi: you may dislike our policies & decisions, but to say we have 'zero credibility' is simply not factual. [The president] has kept his commitments, such as recognizing Jerusalem as the capital of Israel and moving our Embassy to Jerusalem."[4]
Palestinians took the dual reference to Jerusalem—a U.S. decision almost universally derided as unilaterally determining by fiat one of the most sensitive issues between Israel and the Palestinians, and one that numerous administrations had agreed to resolve by negotiation—as an insult. Ashrawi responded, "'Zero credibility' is my polite way of saying that you have unilaterally destroyed the chances of peace by taking illegal unilateral measures to prejudice/predetermine the outcome of the basic requirements of peace."[5]Ashrawi also echoed the view of many observers in saying that the Palestinians had "negotiated in every possible way until our own credibility was undermined by constant Israeli violations & non-compliance," referring to the perception that the PA leadership could not credibly remain at the table when such unilateral actions were being taken.
Greenblatt closed the exchange by blaming the Palestinians for the impasse and—despite his position as a new diplomat and Ashrawi's as a Palestinian leader for well over three decades—saying, "Keep trying to see what might be possible or just keep blaming others and ignoring the truth. I want to keep trying. What about you?"[6]
Two weeks later, Greenblatt got into another heated Twitter exchange, this time with Palestinian lead negotiator Saeb Erekat. The exchange went on for five days. Greenblatt triggered the hostile words by blasting another Palestinian negotiator for criticizing a U.S. law that forced the Palestinians to forego tens of millions of dollars in much-needed aid. Accepting the aid would have opened the Palestinians up to numerous and costly lawsuits in U.S. courts under the newly-passed Anti-Terrorism Clarification Act.
Greenblatt accused the Palestinians of wanting support but no responsibilities. Erekat responded that the Palestinians had refused to accept the aid to protect themselves from lawsuits. Ashrawi then re-entered the fray, chastising Greenblatt for conducting diplomacy on important matters over Twitter. "Twitter diplomacy/policy is the triumph of narrow minds, anemic intellects & minuscule attention spans, precluding thorough & responsible analytical/critical interactions that are honest, contextual & insightful," wrote Ashrawi.[7]
Middle East Neophyte
In April 2016, Greenblatt was asked how he stays informed about events in Israel, and he said that he got his information from "daily email alerts, American Israel Public Affairs Committee (AIPAC) materials and a weekly Jewish radio program featuring Malcolm Hoenlein, the CEO of the Conference of Presidents of Major American Jewish Organizations." Yet then-candidate Trump said "I do rely on him as a consultant on Israel. He's a person who truly loves Israel. I love to get advice from people that know Israel, but from people that truly love Israel."[8]
Greenblatt had worked for nineteen years as a real estate lawyer and executive. He was fiercely loyal to Trump and was not concerned about his own lack of experience or his lack of any familiarity at all with the Palestinians. "There are lots of experts, over decades, who have lived in the policy world, have lived in the world of diplomacy and government," Greenblatt told Politico. "Not to diminish their role, but are we any closer to achieving the peace process? Are we any closer to achieving peace?"
Republican policy experts expressed concerns about Greenblatt from the beginning. "To me it's almost degrading to say, just because you're Jewish, you know this," said Lisa Spies, who ran Jewish outreach for Mitt Romney in 2012. "This is degrading to people who actually do this professionally." Another Trump opposing Republican active in pro-Israel circles added, "They're unserious in every dimension of policy. Why would Israel policy be different?"[9]
Greenblatt was known to be a supporter of a two-state solution, although his vision of one did not include removing any of Israel's settlements in the West Bank. Still, this meant that some saw him as a moderate among Trump's advisers on Israel.[10] Some reports even had him in the role of urging Trump to push for conciliatory gestures toward the Palestinians, advice Trump rejected.[11]
But after two years in his role, Greenblatt eschewed the two-state formulation, saying  "there is no reason to use the term 'two-state solution."[12]
For some observers, this statement was unsurprising. One journalist noted in April 2018 that "Perhaps Greenblatt's most destructive role has been throughout the recent Gaza protests. Traditionally, before periods of expected violence, senior U.S. officials have used their unique status to call for calm. However, Greenblatt has been only egging on the Israeli military. Even before the demonstrations began last month, Greenblatt wrote, 'Hamas is encouraging a hostile march on the Israeli-Gaza border.' If Greenblatt were to truly understand Palestinian needs, as pundits have claimed, he would have urged restraint from both parties similar to the European Union's recent statement. However, with 15 Palestinians already killed, by the second round of protests, he issued another detailed statement preemptively assigned blame squarely on the Palestinians for the upcoming violence."[13]
It was, perhaps, unreasonable to expect Greenblatt to understand the Palestinians. By his own admission, he had not met any Palestinians since his days as a student in a religious Jewish school in a West Bank settlement, where, like all students, he occasionally did a tour on guard duty.[14]
[1] Jason Greenblatt, "Care About Gaza? Blame Hamas," New York Times, April 22, 2019, https://www.nytimes.com/2019/04/22/opinion/gaza-hamas-israel.html
[2] Adnan Abu Amer, "US envoy's NYT piece about Hamas stirs speculation," al-Monitor, April 29, 2019, https://www.al-monitor.com/pulse/originals/2019/04/us-peace-plan-greenblatt-hamas-violence-gaza.html
[3] Steve Holland, "In leaky White House, Trump team keeps Middle East peace plan secret," Reuters, April 10, 2019, https://www.reuters.com/article/us-israel-palestinian-trump/in-leaky-white-house-trump-team-keeps-middle-east-peace-plan-secret-idUSKCN1RM2GQ
[4] Jason Greenblatt, Twitter, January 20, 2019, https://twitter.com/jdgreenblatt45/status/1086988551198261251
[5] Hanan Ashrawi, Twitter, January 20, 2019, https://twitter.com/DrHananAshrawi/status/1087027347163963392
[6] "Trump envoy, top PLO official feud on Twitter over US peace plan," Times of Israel, January 21, 2019, https://www.timesofisrael.com/trump-envoy-top-plo-official-feud-on-twitter-over-us-peace-plan/
[7] Herb Keinon, "Greenblatt, PA Officials Face-Off In Form Of Twitter Diplomacy," February 5, 2019, https://www.jpost.com/Middle-East/Greenblatt-PA-officials-face-off-in-form-of-Twitter-diplomacy-579744
[8] Uriel Heilman, "No experience necessary: Meet the Orthodox lawyer advising Trump on Israel," Jewish Telegraphic Agency, April 18, 2016, https://www.jta.org/2016/04/18/politics/no-experience-necessary-meet-the-orthodox-lawyer-advising-trump-on-israel
[9] Katie Glueck, "Donald Trump's man on Israel," Politico, April 4, 2016, https://www.politico.com/story/2016/08/donald-trump-israel-jason-greenblatt-226651
[10] Joanne Palmer, "Meet Trump's Israel adviser," Jewish Standard, April 21, 2016, http://jewishstandard.timesofisrael.com/meet-trumps-israel-adviser/
[11] Ofer Zalzberg, "Israel's Upcoming Elections And The Israeli-Palestinian Conflict," Lobelog, April 6, 2019, https://lobelog.com/israels-upcoming-elections-and-the-israeli-palestinian-conflict/
[12] Hagay HaCohen, "Special US Envoy Greenblatt: No Reason To Use 'Two-State' Solution," Jerusalem Post, April 22, 2019, https://www.jpost.com/Israel-News/Special-US-Envoy-Greenblatt-No-reason-to-use-two-state-solution-587397
[13] Aaron Magid, "Debunking The Myth: White House Envoy Jason Greenblatt Is No Moderate," Lobelog, April 19, 2018, https://lobelog.com/debunking-the-myth-white-house-envoy-jason-greenblatt-is-no-moderate/
[14] Uriel Heilman, "No experience necessary: Meet the Orthodox lawyer advising Trump on Israel," Jewish Telegraphic Agency, April 18, 2016, https://www.jta.org/2016/04/18/politics/no-experience-necessary-meet-the-orthodox-lawyer-advising-trump-on-israel