Donald Kagan
last updated: July 26, 2013
Please note: The Militarist Monitor neither represents nor endorses any of the individuals or groups profiled on this site.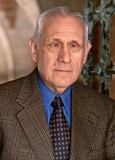 Affiliations
Project for the New American Century: Signatory to PNAC's 1997 Founding Statement of Principles
Hudson Institute: Trustee Emeritus
Yale University: "Sterling Professor" of History and Classics (1969-2013), Dean of Yale College (1989-1992)
Cornell University: Professor of History, 1960-1969

Education
Brooklyn College: A.B., History, 1954
Brown University: M.A., Classics, 1955
Ohio State University: Ph.D., History, 1958
Donald Kagan, the father of leading neoconservative writers Robert and Frederick Kagan, is a prominent historian of ancient Greece who taught at Yale for decades. He retired in 2013. Alongside scholars like Victor Davis Hanson, Kagan is one of several rightist hawks who specialize in classical literature.
Kagan is best known for his multivolume history of the Peloponnesian War and for his controversial insistence on the primacy of Western Civilization in higher education. "The world has been more shaped by the experience of the West than by any other," he told the Chronicle of Higher Education in May 2013. "And therefore the products of Western civilization are of broader consequence and significance than those of other great civilizations."[1]
In his farewell lecture upon his retirement from Yale in April 2013, Kagan lamented that students' "belief in the excellence of the tradition and institutions of Western Civilization and of this nation" had been replaced in the modern university with "a sort of relativism verging on nihilism, a kind of individualism that is really isolation from community." Charging modern students with taking "the uniquely good elements" of Western society for granted and being otherwise too willing to criticize it, Kagan complained that "Our society is judged not against the experience of human societies in other times and places, but against the Kingdom of Heaven. There is great danger in this, because our society, no less than others now and in the past, requires the allegiance and devotion of its members if it is to defend itself and make progress toward a better life."[2]
The centrality of Western civilization was a major preoccupation of Kagan's career at Yale, including his 1989-1992 tenure as dean of Yale College. A vocal critic of "multiculturalism" and coauthor of the widely used textbook The Western Heritage, Kagan spearheaded an effort to develop an interdisciplinary Western civilization program at Yale financed by a $20-million contribution from former student Lee Bass. Amid controversy over the direction of the program, however, Yale returned Bass' money in 1995 and the project was cancelled.[3]
In recent years, Kagan has pressed for a more militaristic U.S. foreign policy, often in line with other writers associated with the Hudson Institute, where Kagan is a trustee emeritus. He has famously argued that the United States must learn from the mistakes of the British Empire by aggressively confronting a supposed new crop of Hitlers. A signatory to the neoconservative Project for the New American Century's founding statement of principles, Kagan vigorously promoted the U.S. invasion of Iraq and has dubbed support for U.S. wars a patriotic duty.
At a 2007 Yale event commemorating the September 11 attacks, for example, Kagan delivered a keynote address proclaiming support for the U.S. government a "moral responsibility" and chastising opponents of the war in Iraq for "rush[ing] to declare America defeated. "America has been a beacon of liberty to the world since its creation," said Kagan. "Few countries have been subjected to as much questioning … as our own. There should be a presupposition in favor of patriotism." Kagan's presence at the event sparked considerable criticism from Yale community members who thought the event should be apolitical, including the campus Democrats, who withdrew their traditional sponsorship of the memorial service in protest.[4]
Kagan told the Wall Street Journal in April 2013, "We're a certain kind of culture which makes it hard for us to behave rationally when the rational thing is to be tough. We can do it when we're scared to death and there seem to be no alternatives. When it's time to nail down something, we very often sneak away." Kagan blamed this in part on "the liberal era," which he said has ensured that "Everything is negotiable. Everything is subject to talk." He also took a swipe at the pacifist tendencies of what he called "unsubtle Christianity," quipping, "If you're gonna turn the other cheek, go home. Give up the ball."[5]
Criticizing possible cuts to the U.S. military budget in the aftermath of the Iraq and Afghanistan wars, Kagan concluded, "We do it every time. Failing to understand the most elementary childish fact, which is: If you don't want trouble with somebody else, be sure he has something to be afraid of."[6]
Academic Career and Writings
Born in Lithuania in 1932, Kagan moved at age two to Brooklyn, where his view of the importance of violence in human relations was shaped at an early age. "When I walked to school, I had to worry over whether I'd be attacked," he later reminisced. "And I sometimes was."[7]
After receiving a bachelor's degree from Brooklyn College and a master's from Brown University, Kagan secured his doctorate in ancient history from Ohio State University. Like other figures associated with neoconservatism, including Leo Strauss[8], Kagan has demonstrated a tendency to apply the lessons of ancient history, as spelled out by the likes of Thucydides, to current affairs. During the Cold War, for example, he saw the war between Athens and Sparta as a key to understanding the struggle between the United States and the Soviet Union—and the ultimate defeat of democratic Athens—as a warning to America about the stakes of the conflict.
After receiving his Ph.D. in 1958, Kagan began teaching at Cornell University in 1960. At Cornell, he considered himself a liberal Democrat, albeit one with no patience for pacifists or left-wing fellow travelers. He credited his move to the right to the 1969 takeovers of university buildings by black student activists. In a typical analogy, he quipped that university administrators reacted with "all the courage of Neville Chamberlain." Kagan left Cornell for Yale that same year, and taught there for the remainder of his career.[9]
Kagan's reputation as a noted historian rests in part on his four-volume history of the Peloponnesian War, which consists of The Outbreak of the Peloponnesian War (1969), The Archidamian War (1974), The Peace of Nicias and the Sicilian Expedition (1981), and The Fall of the Athenian Empire (1987). His analysis draws heavily on Thucydides, and generally reinforces the master's account, though Kagan provides some revealing disagreements. One divergence concerns the Sicilian Expedition, the disastrous Athenian invasion of Sicily in 415 B.C.E. that has been compared in recent decades to the U.S. fiascos in Vietnam and Iraq. Mackubin T. Owens, a right-wing military analyst who used to write for the National Review Online, noted in a review that Kagan argues, against Thucydides, that the invasion of Sicily was not doomed to failure, and that instead the blame must be laid on the "failure of strategy and will" of the Athenian general Nicias.[10] Kagan would reprise similar themes in his support for U.S. wars in Vietnam and Iraq.
Kagan has written on contemporary politics. In 2000, he wrote a chapter for Present Dangers, an advocacy volume edited by his son Robert and William Kristol that advocated a hawkish response to a variety of purported threats at the time, ranging from China and Russia to Iraq, Serbia, and North Korea.
Also in 2000, he and son Frederick published While America Sleeps: Self-Delusion, Military Weakness, and the Threat to Peace Today. The book argues that the post-Cold War United States was in the same position as the post-World War I British Empire, and that the lessons of Britain in the 1920s and 1930s must inform contemporary U.S. foreign policy. Chief among these lessons, the Kagans argue, is the need for greater military spending in preparation for the emergence of another totalitarian adversary. Terrorism is scarcely mentioned as a possible threat, and the Kagans are vague about what the next successor to the Nazis might be, but Iraq is clearly on their mind; one chapter even declared that the settlement of the 1991 Gulf War was "another [Treaty of] Versailles."[11]
In a review of the book, University of Chicago scholar Bruce Cumings wrote: "It would indeed be one of the great ironies of modern times if 1991—the year the United States emerged from the Cold War as the only remaining superpower, outspending all conceivable adversaries combined on defense and launching an information revolution that would sweep the globe—was really the beginning of the end of American dominance. But the United States can still save itself, say the authors, if it spends more on defense and acquires loads of new weapons. This last message, which dominates the latter third of the book, seems to have been perfectly timed for the 2000 presidential campaign. … There is one good thing about While America Sleeps: No one who reads it is going to run out and buy a flak jacket, teach kindergartners to 'duck and cover,' or restock a backyard bomb shelter. This is a book to assign to students who want to know what professors mean when they say 'a little history is a bad thing.'"[12]
It was not the first time that Donald Kagan had fixated on the need to finish off Saddam Hussein; in 1995, he mourned in an article attacking Colin Powell that "though we fought and won in the Persian Gulf, our foreign policy is still bedeviled by the attitudes of the general [Powell] who first opposed the war and helped end it too soon."[13]
In 2003, Kagan published a single-volume history of the Peloponnesian War intended for a popular audience, and that same year he received the National Humanities Medal. (Under George W. Bush, the prize was also awarded to other conservative luminaries like Gertrude Himmelfarb, Midge Decter, Harvey Mansfield, Hilton Kramer, Thomas Sowell, Bernard Lewis, and Fouad Ajami—many of whom do not even work in the humanities.)
In 2009, Kagan published his most recent book, Thucydides: The Reinvention of History.