Haim Saban
last updated: November 19, 2018
Please note: The Militarist Monitor neither represents nor endorses any of the individuals or groups profiled on this site.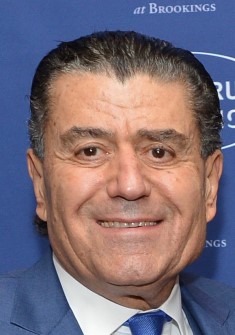 Business
Saban Entertainment: Owner
Affiliations
Brooking's Saban Center: Funder
American Israel Public Affairs Committee: Supporter
Brian Hook is the director of policy planning and senior policy advisor to Secretary of State Mike Pompeo. He held several senior positions in the George W. Bush administration, including assistant secretary of state for international organizations and senior advisor to the U.S. ambassador to the United Nations.[1]
In August 2018, Pompeo tapped Hook to lead the newly created Iran Action Group (IAG), intended to coordinate Trump administration policy on Iran.[2]
Hook was named director of policy planning by Trump's first secretary of state, Rex Tillerson. The hiring was surprising because Hook had previously expressed fierce opposition to Trump. Politico described him in 2016 as "one of a small, die-hard set of the Republicans who have been wandering outside this season, getting wet, locked out of their own house."
"Even if you say you support him as the nominee," Hook said of candidate Trump, "you go down the list of his positions and you see you disagree on every one."[3]
Hook is the co-founder of the John Hay Initiative, a group of former Mitt Romney foreign-policy advisors who organized a prominent open letter signed by 121 GOP national security luminaries refusing to support Trump's candidacy because he would "act in ways that make America less safe." Hook was not among the signatories.[4]
During his time under Tillerson, Hook developed close relationships with Trump inner circle members Jared Kushner and Stephen Miller. This, along with a very strong reputation in right wing foreign policy circles, seemed to be the key factors in his survival.[5]
State Department Purge
Soon after Hook was named Director of Policy Planning, he "purged" career State Department officials perceived as insufficiently loyal to Trump. Hook took action after former House Speaker Newt Gingrich sent him an article from an obscure right-wing publication that was critical of an Iranian-American State official named Sahar Nowrouzzadeh. She became one of the "Obama holdovers" pressured out of key positions at State.
Hook initially called the reports "ludicrous," but as journalist Nahal Toosi reported in Politico, leaked emails "show that State Department and White House officials repeatedly shared … misleading information about Nowrouzzadeh, deriding her as an Obama cheerleader and strong advocate for the nuclear deal with Iran, which Trump had repeatedly denounced."[6]
After the critical stories of her came out, Nowrouzzadeh reportedly approached Hook to reassure him of her professionalism. The leaked the emails, however, revealed that Hook remained suspicious of her. He transferred her out of the policy planning office. Efforts by congressional representatives to investigate the affair were ignored by the White House.[7]
Iran Action Group
In August 2018, Secretary of State Mike Pompeo named Hook as the head of the Trump administration's newly created Iran Action Group. Al Jazeera reported, "Hook said Iran's 'malign activities' were 'wide-ranging' and Washington's new strategy was addressing all manifestations of 'the Iranian threat.' … The new Iran Action Group will be focused on implementing that strategy."[8]
Hook quickly demonstrated his hawkish approach. Less than a week after his appointment, he responded to a relatively small $21 million aid package the European Union had granted Iran by saying, "Foreign aid from European taxpayers perpetuates the [Iranian] regime's ability to neglect the needs of its people and stifles meaningful policy changes. More money in the hands of the Ayatollah means more money to conduct assassinations in those very European countries."[9]
SOURCES
[1] U.S. Department of State, Brian Hook Biography, https://www.state.gov/r/pa/ei/biog/bureau/271414.htm
[2] Mike Pompeo, "Remarks on the Creation of the Iran Action Group," Department of State, August 16, 2018, https://www.state.gov/secretary/remarks/2018/08/285183.htm
[3] Julia Ioffe, "On the Lonely Island of 'Never Trump,'" Politico, May 17, 2016, https://www.politico.com/magazine/story/2016/05/never-trump-hillary-clinton-foreign-policy-establishment-213898
[4] John Hudson, "Trump Critic Poised for Senior State Department Job," Foreign Policy, February 23, 2017, https://foreignpolicy.com/2017/02/23/trump-critic-poised-for-senior-state-department-job/
[5] Nick Waldhams, "A Tillerson Ally Survives the Purge With Help From Friends," Bloomberg, March 16, 2018, https://www.bloomberg.com/news/articles/2018-03-15/a-tillerson-confidant-survives-the-purge-with-help-from-friends
[6] Nahal Toosi, "Emails reveal conservative alarm over 'Obama holdovers' in Trump administration," Politico, March 15, 2018, https://www.politico.com/story/2018/03/15/emails-trump-administration-alarm-over-obama-holdovers-465528
[7] L.V. Anderson, "A Whistleblower Says The State Department Purged People For Being Disloyal To Trump," Digg, March 16, 2018, http://digg.com/2018/state-department-political-reassigments-whistleblower
[8] Ted Regencia, Al Jazeera News, and news agencies, "Pompeo forms Iran Action Group for post-nuclear deal policy,' Al Jazeera News, August 18, 2018, https://www.aljazeera.com/news/2018/08/pompeo-forms-iran-action-group-post-nuclear-deal-policy-180816184453565.html
[9] Times of Israel staff and news agencies, "Washington slams EU for sending 'wrong message' with Tehran aid package," Times of Israel, August 25, 2018, https://www.timesofisrael.com/us-slams-eu-for-sending-wrong-message-with-iran-aid-package/