Robert Menendez
last updated: September 14, 2015
Please note: The Militarist Monitor neither represents nor endorses any of the individuals or groups profiled on this site.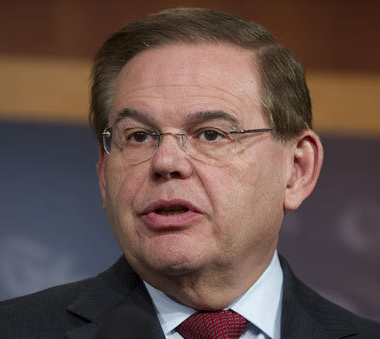 Government
U.S. Senate (D-NJ):

2006-

U.S. House of Representatives (D-NJ):

1993-2006

New Jersey Senate:

1991-1993

New Jersey Assembly:

1988-1991

Mayor of Union City, New Jersey:

1986-1992

Education
Rutgers University: JD
St. Peter's College: BA
Robert "Bob" Menendez is a controversial Democratic senator from the state of New Jersey who has been the focus of a long Justice Department corruption investigation. Since 2013, he has chaired the Senate Foreign Relations Committee, assuming leadership of the panel after Sen. John Kerry (D-MA) left the Senate to become secretary of state.
On most issues, Menendez is a fairly conventional pro-business Democrat. He supports same-sex marriage, abortion rights, and the Affordable Care Act, and he is one of the Senate's leading advocates for comprehensive immigration reform.[1] On foreign policy, however, he has emerged as one of his party's most hawkish legislators.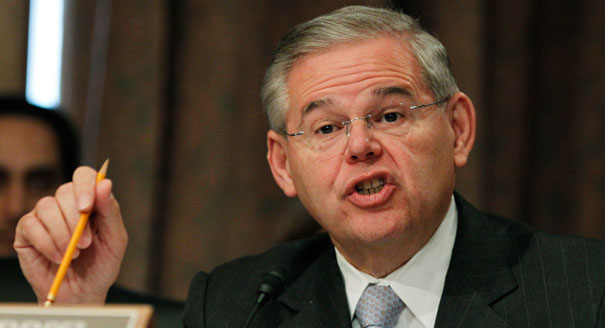 Although not an across-the-board hawk—he voted against authorizing the invasion of Iraq as a member of the House and has advocated a U.S. withdrawal from Afghanistan "as soon as possible"[2]—Menendez has nonetheless been described as "close to Republicans on several foreign policy issues," particularly his fervent support for sanctioning Iran, his "pro-Israel" voting record, and his staunch opposition to normalizing U.S. ties with Cuba. "I think he'll give folks in the [Obama] administration something to think about before they cross him, frankly," said American Enterprise Institute fellow Roger Noriega, praising Menendez's rise to the chairmanship in late 2012.[3]
Menendez was indicted on federal corruption charges in April 2015 for what the New York Times characterized as a "brazen pattern of gifts and favors exchanged by Mr. Menendez, one of the most powerful Democrats in Washington, and Dr. Salomon Melgen, a Dominican-born eye surgeon who invested heavily in Mr. Menendez's political career and was never shy about calling in favors."[4] Menendez and Melgen were indicted in a New Jersey District Court for one count of conspiracy, one count of violating the travel act, eight counts of bribery, and three counts of honest services fraud. Menendez was additionally indicted on one count of making a false statement.[5]
The 68-page indictment against Menendez garnered widespread media attention and spurred calls for him to relinquish his Senate seat. The New York Time's editorial board opined that Menendez "would be doing a disservice to New Jersey by clinging to power as a disgraced politician."[6] For his part, Menendez has fiercely contested the allegations, saying after the indictment was made that the Justice Department does not "know the difference between friendship and corruption and have chosen to twist my duties as a senator and my friendship into something that is improper."[7] Nevertheless, following the public revelation of the corruption charges Menendez stepped down from his post as ranking member of the Senate Foreign Relations Committee.[8]
Menendez's indictment led many commentators on the right, like the Wall Street Journal's Bret Stephens, to question whether the charges where related to Menendez's opposition to President Obama's negotiations with Iran.[9] Fox New's Howard Kurtz has said that such pundits "don't know what they're talking about." He added: "The Justice Department has a solid case against Robert Menendez, despite the conspiracy theories that the indictment amounts to political payback."[10]
According to the New York Times, Menendez raised $1.6 million for his legal defense in spring 2015, a significant portion of which came from "America's most prominent pro-Netanyahu billionaires." The Time identified these donors as Sheldon Adelson, Haim Saban, and "members of the American Israel Public Affairs Committee."[11] A July 2015 Politico report also stated that Menendez's legal defense backers included "pro-Israel hawks and political heavyweights" such as "New Jersey power broker George Norcross and New York Daily News owner Mort Zuckerman."[12]
Menendez is one of the Senate's most vocal and active proponents of sanctioning Iran over its nuclear enrichment program, which Menendez has insisted—against the judgment of the U.S. intelligence community—is explicitly designed to produce nuclear weapons. He has also been an important ally of the controversial People's Mujahedin of Iran (Mojahedin-e Khalq-e Iran, or MEK), an Islamic- and Marxist-inspired militant organization that advocates the overthrow of the Islamic Republic of Iran and for years was listed by the State Department as a terrorist organization. The Intercept has reported that between 2013 and 2015, Menendez was the largest recipient of money from donors affiliated with the MEK, having received more than $25,000 during the period.[13]
With Sen. Mark Kirk (R-IL), a fellow hardliner caricatured by one critic as "AIPAC's million-dollar baby,"[14] Menendez co-authored a 2011 sanctions package that effectively cut Iran's central bank off from the rest of the world, making it exceedingly difficult for the country to sell its oil abroad and leading to a rapid downturn in the Iranian economy.[15] In a 2013 speech to the annual American Israel Public Affairs Committee's annual policy conference, Menendez—who is the author of several other sanctions bills—bragged that the sanctions he had designed with Kirk were "the most crippling in world history."[16]
Menendez opposed the nuclear negotiations between Iran and the P5+1 and the comprehensive agreement reached in July 2015. In late 2013, he sparred openly with the Obama administration over the issue, trying to pass new sanctions on Iran even as the administration was attempting to negotiate an interim deal for Tehran to restrict its enrichment in exchange for partial sanctions relief. "A so-called Iranian charm offensive is simultaneously matched by an actual offensive to cross the nuclear weapons threshold," Menendez claimed in a November 2013 op-ed in USA Today. "Tougher sanctions will serve as an incentive for Iran to verifiably dismantle its nuclear weapons program."[17]
When a White House spokesman warned in December 2013 that new sanctions would lead Iran to conclude that Washington had been negotiating in "bad faith,"[18] potentially sinking the whole deal, Menendez complained about the administration's "fear-mongering" rhetoric. Even after an interim deal was reached, Menendez—working again in collaboration with Kirk and AIPAC[19]—vowed to seek new sanctions as an "insurance policy" in case Iran reneged on the deal, which experts said was unlikely.[20]
Menendez was also the co-author, with leading Senate hawk Lindsey Graham (R-SC), of an early 2013 joint resolution calling for stronger sanctions enforcement against Iran. In addition to sanctions—a longtime preoccupation for Menendez—the resolution included language calling on the United States to "provide diplomatic, military, and economic support to the Government of Israel" if Israel "is compelled to take military action in self-defense" against Iran. Graham clarified that the "self-defense" clause was designed to apply even to a "preemptive" Israeli strike on Iran, leading critics to deride the resolution as a "backdoor to war" that would "serve as an official announcement of U.S. policy to support any Israeli strike, whether the Obama administration had been previously consulted or not."[21]
During the lead up to the November 24, 2014, deadline for reaching a comprehensive nuclear deal between Iran and the P5+1, Menendez and Sen. Mark Kirk (R-IL) threatened "to work" with their "colleagues in Congress to act decisively" if a deal emerges that does not meet their standards, which includes "stringent limits" on Iran's nuclear program that will last "for decades."[22]
In January 2015, Menendez and Kirk introduced a bill that would impose additional sanctions on Iran if diplomats failed to reach a nuclear deal by the June 30 deadline of that year. In the face of opposition to his bill from the White House, which stated the legislation would scuttle the on-going diplomacy between Iran and the P5+1, Menendez argued the administration was repeating "talking points that come straight out of Tehran."[23]
Menendez was one of just four Democratic Senators who came out in opposition to the July 2015 nuclear deal. He misleadingly framed the deal as enabling Iran to build a nuclear weapon, declaring in August 2015: "I have looked into my own soul and my devotion to principle may once again lead me to an unpopular course, but if Iran is to acquire a nuclear bomb, it will not have my name on it. It is for these reasons that I will vote to disapprove the agreement and, if called upon, would vote to override a veto."[24]
Menendez also stated in August 2015 that the United States should support Israel if it decided to launch military strikes against Iran. "We should authorize now the means for Israel to address the Iranian threat on their own in the event that Iran accelerates its program and to counter Iranian perceptions that our own threat to use force is not credible," he proclaimed.[25]
On other foreign policy issues, Menendez has been noticeably closer to the Obama administration, particularly when the administration has opted for hawkish policies. Although he later criticized the White House for lacking "a strategy as to Syria,"[26] for example, Menendez emerged in 2013 as one of the administration's chief congressional supporters for launching a strike on the country after the Syrian regime was accused of deploying chemical weapons against civilians in its grinding civil war against numerous rebel factions. "I support the president's decision to use military force in the face of this horrific crime against humanity," Menendez said in September 2013, warning that "the consequences of inaction are greater and graver still."[27] Earlier that year, even before the imbroglio over chemical weapons, Menendez had introduced legislation that would have authorized the United States to send arms to the Syrian rebels, despite warnings that such weapons could end up in the hands of terrorists.[28]
Menendez—who was the Senate's top recipient of "pro-Israel" campaign donations in the 2012 cycle[29] and whose home state is home to the influential NORPAC lobby—is a staunch advocate for a "pro-Israel" U.S. Middle East policy. "There can never be any daylight between the United States and Israel," Menendez told the 2013 AIPAC policy conference. "Not ever." Praising the lobby for its influence on U.S. foreign policy, Menendez said, "Sometimes I know you wonder whether your advocacy makes a difference. It does," he added, pointing to his own hawkish record on Iran before criticizing the Palestinian Authority for seeking member state recognition by the United Nations. "Palestinian membership in any U.N. organization, whether it's the IAEA or the World Health Organization or any other U.N. organization could have a ripple effect that will only serve to set back the peace process and potentially do grave damage to America's role in the U.N. system," Menendez claimed. "The only way to achieve a true, lasting peace for the Palestinian people is through comprehensive negotiations and dialogue with the state of Israel."[30]
The son of pre-revolutionary Cuban emigrants, Menendez is also a staunch opponent of any measure to normalize, however incrementally, U.S. relations with Cuba. In the 1990s, he was reportedly instrumental in getting Democratic President Bill Clinton to approve the controversial Helms-Burton Act, a bill passed by the GOP-led Congress that formalized the U.S. commitment to regime change in Havana and tightened the U.S. embargo on the island[31]—a role for which he was praised by AEI's Roger Noriega, who helped to draft the legislation. Later, during the Obama administration, Menendez spoke out against provisions in an appropriations bill to allow Cuban-Americans to visit their relatives in Cuba once a year and to loosen trade restrictions on food and medicine, pressuring the White House to interpret the statute as narrowly as possible.[32]
Menendez also strongly opposed the Obama administration's December 2014 announcement that the United States would seek to normalize ties with Cuba. He said at the time that the decision had "vindicated the brutal behavior of the Cuban government."[33]