Jay Garner
last updated: June 30, 2014
Please note: The Militarist Monitor neither represents nor endorses any of the individuals or groups profiled on this site.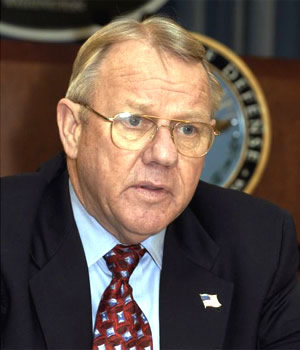 Affiliations
Jewish Institute for National Security Affairs(JINSA): Letter signatory, Travel participant

Government
Office for Reconstruction and Humanitarian Assistance in Iraq: Director, 2003
Commission to Assess United States National Security Space Management and Organization ("Rumsfeld Space Commission"): Member, 2000-2001
U.S. Army: 1962-1997

Business
Athlone Global Security Ltd.: Member, Board of Directors
Elbit Systems of America: Member, Board of Directors
Digital Fusion: Member, Board of Directors
Cirrus Technology: Member, Board of Directors
Vast Exploration: Former Chairman, Board of Directors
Longford Energy Inc.: Former Member, Board of Directors
Dacha Strategic Metals Inc.: Former Member, Board of Directors
Forbes & Manhattan: FormerAdviser
Eurocontrol: Former Board Member
L-3 Communications: Former Board Member
SY Coleman Technology, Inc.: Former President

Education
Florida State University: B.A. in History
Shippensburg University, Pennsylvania: M.A. in Public Administration
Jay Garner is a retired U.S. Army lieutenant general best known for his brief stint as the head of the Office for Reconstruction and Humanitarian Assistance (ORHA), the short-lived agency charged with reconstructing and administering Iraq after the U.S. invasion. Garner helmed the office for scarcely a month before being replaced by L. Paul Bremer, who took over the newly constituted Coalition Provisional Authority (CPA).
After serving for more than three decades in the U.S. military—a career that included two tours in Vietnam, a period at the helm of the Reagan administration's "Star Wars" missile defense program, and a stint in Iraqi Kurdistan after the first Gulf War—Garner launched a lucrative career in the private sector drawing on his extensive connections in government. One commentator described Garner's career trajectory as "a classic example of the military-industrial complex at work."[1]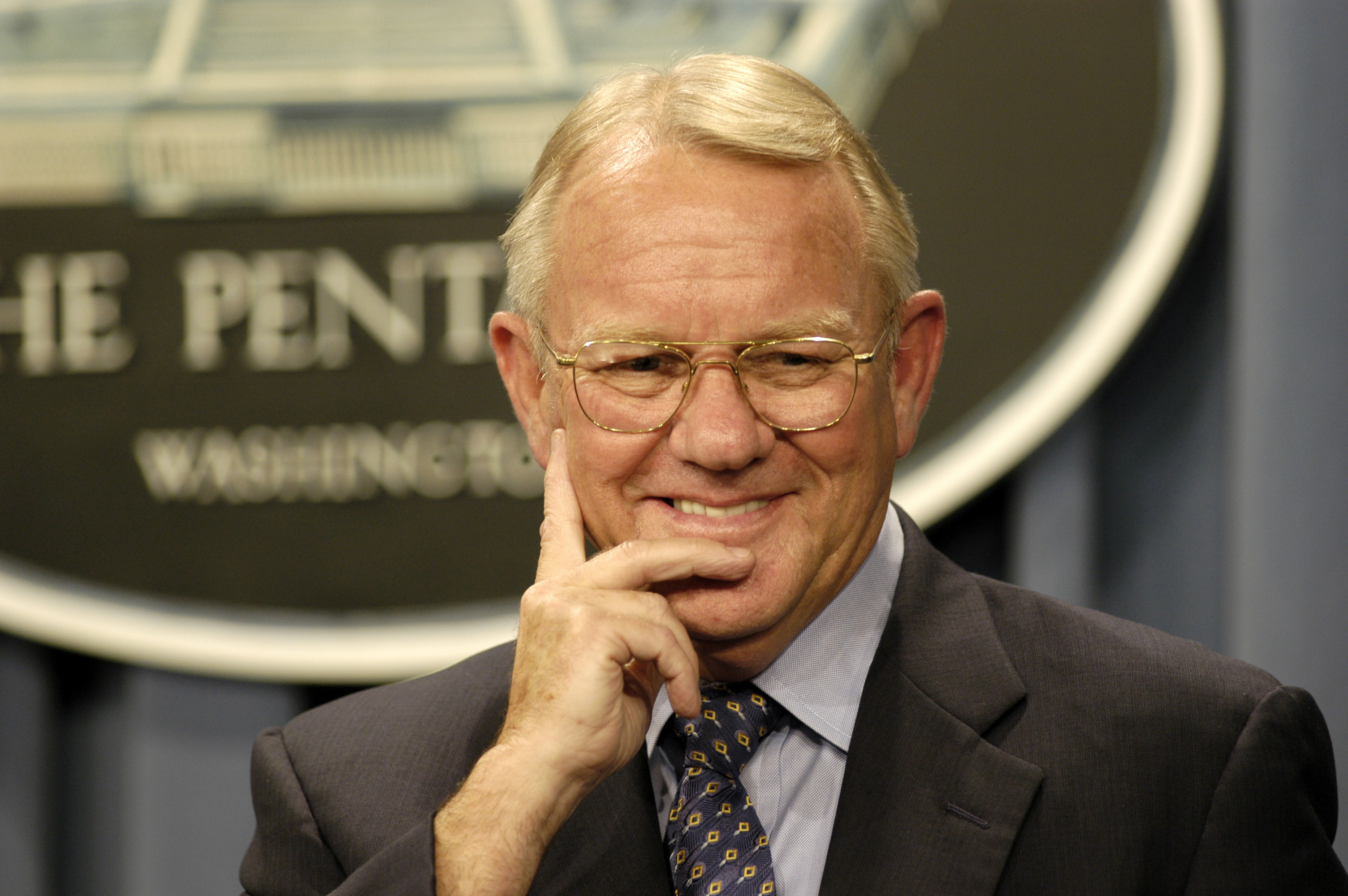 Tenure in Iraq
Garner's 2003 appointment to head the Iraqi reconstruction effort led many critics to scrutinize his ties to hawkish advocacy groups and military contractors.
Calling Garner "a man with a dubious past and ideological credentials worthy of a Bush appointee," Ian Williams described him at the time as "an ideological soulmate of Dick Cheney, Donald Rumsfeld, and Paul Wolfowitz." Williams recalled that Garner had attended junkets to Israel sponsored by the neoconservative Jewish Institute for National Security Affairs (JINSA) and later signed onto a controversial JINSA statement supporting the Israeli military's actions during the Second Palestinian Intifada. Pointing to Garner's longtime connections to the missile defense industry, Williams quipped, "The Iraqis themselves may be unhappy, if not surprised, to hear that their to-be satrap's former company has contracts to help build Patriot missile systems for [Iraq's enemies] Israel and Kuwait."[2]
A writer for Middle East Online added, "David Kirp, a professor of ethics at Berkeley, said that Garner was a 'charming example' of American indifference toward the Iraqi people and showed the lack of foresight by the U.S. administration."[3]
Garner's tenure as head of the Office for Reconstruction and Humanitarian Assistance (ORHA) proved to be brief and controversial. Despite his longstanding connections to key hawks in the Bush administration, his dismissal after less than a month of service appears to have been related to policy disagreements with many of those same figures, especially Secretary of Defense Donald Rumsfeld. Reported the Guardian, "Despite being a protégé of Mr. Rumsfeld, Gen. Garner was the subject of what was alleged to be a White House whispering campaign, describing him as weak."[4]
In an interview with the BBC after his dismissal, Garner suggested that the White House had shut down his plan to hold Iraqi elections within 90 days of taking power. "My preference was to put the Iraqis in charge as soon as we can, and do it with some form of elections," he said.[5] Other sources suggested that Garner's proposed timeline for elections would have interfered with the administration's plan to auction off Iraq's oil concessions.[6]
According to some accounts, Garner had proffered cost estimates that were poorly received by Rumsfeld, who had labored under the delusion that the invasion and occupation could be done on the cheap. "On the eve of the invasion," reported the New York Times, "it began to dawn on a few officials that the price for rebuilding Iraq would be vastly greater than they had been told." Reportedly, "Mr. Garner presented Mr. Rumsfeld with several rebuilding plans, including one that would include projects across Iraq. 'What do you think that'll cost?' Mr. Rumsfeld asked of the more expansive plan. 'I think it's going to cost billions of dollars,' Mr. Garner said. 'My friend,' Mr. Rumsfeld replied, 'if you think we're going to spend a billion dollars of our money over there, you are sadly mistaken.'"[7] Analysts later pegged the ultimate cost of the war at upwards of $2 trillion.[8]
An inspector general's report also recounted a number of problems related to Garner's efforts to set up ORHA's command structure, including several run-ins with Rumsfeld and his various aides, like Paul Wolfowitz and Douglas Feith, who appeared to want to micro-manage Garner's decision-making. The report related one particular incident in which Feith attempted to convince Garner that he should declare Ahmed Chalabi—a close associate of leading neoconservatives like Richard Perle who would later be accused of collaborating with Iranian forces in Iraq—leader of the country, effectively undermining Garner's presumed role in Iraq.[9]
On the Iraq War
In the years following his dismissal, Garner became a harsh critic of the war effort. In 2014, he defied many of his erstwhile neoconservative allies by arguing that the United States should not intervene to roll back an offensive against the Iraqi government by the Islamic State of Iraq and Syria (ISIS), an al-Qaeda offshoot formed during the Iraq War that had launched full-blown insurgencies against both the Iraqi and Syrian governments.
Garner blamed Iraq's disintegration in large part on its Shiite prime minister, Nouri al-Maliki, whom he described as an "Iranian puppet" who had "disenfranchise[d] the Kurds" and "persecute[d] the Sunnis."[10] The United States has "no responsibility to Maliki," he concluded. Calling ISIS "a far bigger problem for the Iranians than it is for us," Garner told the BBC, "The Iranians should solve this problem, not us."[11]
"This is a bed we've been making for the last 11 years," he told CNN. "I think what we're seeing right now is an Arab-on-Arab war. We're seeing a religious war, and I don't think we need to get in the middle of that."[12] He added specifically, "I don't think air strikes are a good idea for us,"[13] and pushed back against the Obama administration's deployment of 300 military "advisers" to Baghdad. "When you send 300 there, that's not enough; you have to send a few more, then a few more," he said. "That is how you get mission creep."[14]
However, Garner did not advocate a wholly non-interventionist course. Instead of doubling down on Maliki's government, Garner said that the United States should prop up the kingdom of Jordan and arm the Iraqi Kurds. "We need to ensure the survival of Kurdistan," he insisted. "They're democratically elected—they had elections 10 years before the [rest of the] Iraqis. They have a constitution. They're the most pro-American people in the world, and they sit on huge mountains of oil reserves. And they're strategically located."[15] Garner is a longtime supporter of the Kurds, dating back to his stewardship of Iraqi Kurdistan after the first Gulf War and his subsequent investments in Kurdish oil prospects.
Despite his skepticism about subsequent U.S. intervention in Iraq, Garner complained that the 2011 withdrawal of U.S. troops from the country had jeopardized all the "gains and the good work we had done." He also described the Obama administration's reluctance to intervene in neighboring Syria's civil war as "cowardly," adding that he "wholeheartedly" supported arming Syria's rebels.[16]
Business Interests
One of Garner's last military assignments before retiring in 1997 was to serve as commanding general of the U.S. Army Space and Strategic Defense Command (1994-1996), which oversees the U.S. missile defense system. It was a role that appears to have served as a convenient foundation for his later corporate work with missile defense contractors.[17]
"His move to high-tech firms was a natural one for Garner, who directed the Reagan administration's Star Wars program in the 1980s," reported PBS. "Garner also worked on the Patriot missile-defense system during the 1991 Gulf War. After that war, Garner defended the system when reports surfaced that it had offered only limited success in downing Iraqi Scud missiles," leading one critic to charge that he was "part of a group of senior officers who were lying about Patriot's performance."[18]
Garner's war-is-business mentality may have played a role in his appointment to the congressionally established "Rumsfeld Space Commission," which was set up in 1999 to pressure the Clinton administration to invest in space weaponization programs. Observers criticized the commission, which warned of a "Space Pearl Harbor" for the United States unless expensive precautions were taken,[19] as the embodiment of the "military-industrial-think-tank complex" because of its inclusion of representatives from right-wing think tanks, retired military brass, and defense contractors.[20]
From 2008-2012, Garner was an adviser to the Canadian oil company Vast Exploration, which has oil prospects in Kurdish areas of Iraq.[21] A 2010 New York Times report included Garner and other figures like former UN ambassador Zalmay Khalilzad on "a growing list of former American diplomats and military officials now chasing business opportunities in the oil-rich Kurdish region or acting as advisers to its government," leading critics to charge that they were "cashing in on a costly and contentious war they played a role in."[22]
Commenting on the Times article, journalist Anthony Fenton wrote: "The Times didn't mention that Garner is also an advisor to Forbes & Manhattan, the Toronto-based merchant bank headed by Stan Bharti that manages Vast Exploration. Thanks to Garner's Iraqi ties, another member of the F&M group of companies that won an oil block in the Kurdistan Region is Longford Energy. Both Bharti and Canada's former Foreign Minister Pierre Pettigrew, who sits on both the Vast and Longford boards of directors, accompanied Garner to the Kurdish region last April."[23]
In an earlier article about Garner's work in Iraq, Fenton reported that Garner's success with Vast Exploration "evidently encouraged him and his associates to pursue more opportunities in Iraq. He and [retired Lt. General Ron Hite] are on the board of Eurocontrol, a company that designs oil theft technology. Eurocontrol's CEO, Bruce Rowlands, says the company is exploring opportunities in Iraq, and that Garner and Hite are helping to facilitate contracts there. Garner and Hite's ability to interpret Iraq's 'political sub-plots' and their understanding of the 'U.S. industrial military complex' is, Rowlands says, 'invaluable.'"[24]
Before taking up his post as head of ORHA in 2003, Garner was president of the missile defense contractor SYColeman, a post he had held since 1997. Before being bought out in 2002 by Pentagon contractor L-3 Communications, the company helped design guidance systems used in the Patriot missile system as well as in Israel's Arrow defense system. Biff Baker, a retired lieutenant colonel of the Army Space Command, accused Garner of improperly using his influence at the Pentagon to win SY Technology some $100 million worth of noncompetitive contracts. "I do not go to my friends for business," Garner famously retorted in sworn testimony. … "I get business from my friends, but it's not solicited by me. It's given to us because of the quality of our company." Garner eventually sued Baker for defamation, and the case was settled out of court.[25]