Jeb Bush
last updated: February 29, 2016
Please note: The Militarist Monitor neither represents nor endorses any of the individuals or groups profiled on this site.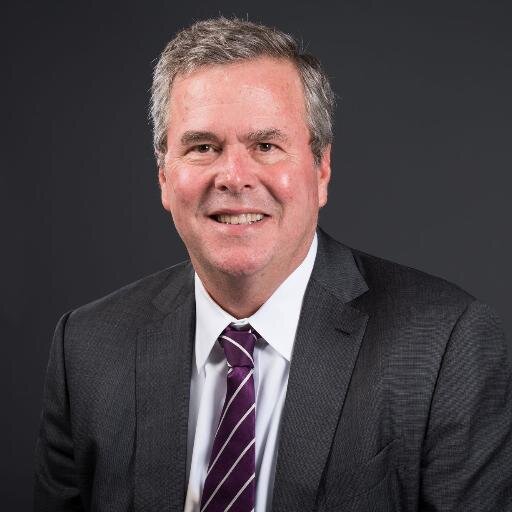 Affiliations
2016 Republican Candidate
Project for the New American Century: Founding Signatory
George Bush Presidential Library Foundation: Board Member
Drug Free America Foundation: Former Advisory Board Member
Government
State of Florida: Governor (1998-2007); Secretary of Commerce (1987-1988)
Dade County Republican Party: Chairman (1984-1986)
Business
Codina-Bush Group: Cofounder (1980-1998)
Texas Commerce Bank: Banker (1974-1980)
Barclays: Former Paid Adviser
Education
University of Texas-Austin: Bachelor's in Latin American Studies (1973)
Jeb Bush served as governor of Florida during 1998-2007. He unsuccessfuly ran for the 2016 Republican Party presidential nomination.
The brother of President George W. Bush and son of President George H.W. Bush, John Ellis "Jeb" Bush is part of a conservative political dynasty that stretches back more than half a century to the first President Bush's father, Sen. Prescott Sheldon Bush, a Republican who represented Connecticut in the U.S. Senate from 1952 to 1963.[1]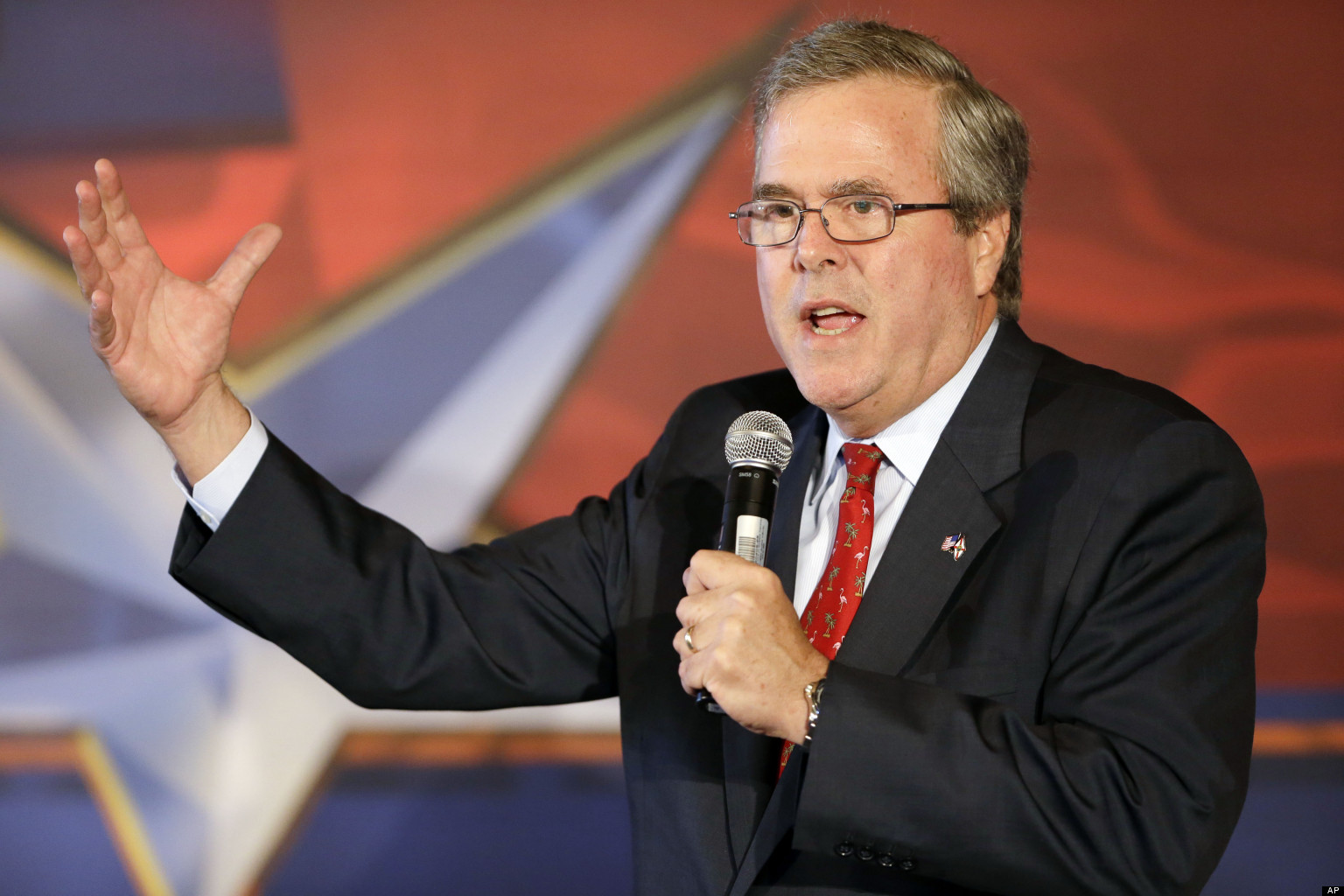 Although he sometimes criticizes the views of far-right factions in the Republican Party, Bush has promoted a conservative domestic agenda as well as hawkish U.S. foreign policies, including threatening military action against Iran to curb its alleged nuclear ambitions. Bush has been a favorite political figure among many neoconservatives since the mid-1990s, when he supported the launching of the Project for the New American Century. More recently, he has relied on advice and support from a host of conservative "pro-Israel" donors and activists, including mega-donors Melvin Sembler, Paul Singer and Sheldon Adelson, as well as several former elected politicians and George W. Bush officials like Eric Cantor, Paul Wolfowitz, Stephen Hadley, Michael Chertoff.
2016 Presidential Campaign
In June 2015, Bush officially announced his candidacy for the Republican Party's 2016 presidential nomination. After failing to win any of the early primaries and with his polling numbers flagging, Bush dropped out of the race in late February 2016.
Shortly before the first primary elections in February 2016, a New York Times article noted that it "may be too late" for Bush to "save his candidacy," citing his "terrible poll numbers."[3] According to one Republican strategist, "The main trouble for Jeb is he's become perceived as unelectable, perceived as a guy whose campaign is falling apart."[4]
Buzz about Bush's potential 2016 presidential campaign began in early 2014, shortly after the Washington Post reported that Sheldon Adelson was looking for an "electable" 2016 nominee (Adelson had pumped over $100 million into a host of failed GOP campaigns and campaign Super PACs in 2012, including Newt Gingrich's presidential bid), reports emerged that other high-dollar GOP donors were pressing Bush to run. According to the Post, "One bundler estimated that the 'vast majority' of [Mitt] Romney's top 100 donors would back Bush in a competitive nomination fight."[5]
In December 2014, Bush announced that he had "decided to actively explore" a bid for the White House.[6] Opined FiveThirtyEight: "While Bush has not yet formed a presidential exploratory committee, he's 'running' for president by any practical definition of the term. If he proves to perform poorly in the 'invisible primary,' failing to gather support among donors and influential Republicans, he could withdraw later on, before the first votes are cast in Iowa."[7]
Soon after expressing his interest in running, Bush stepped down from a number of posts he held in the corporate and non-profit world. "Separating himself from those interests now could also be a strategic attempt to prepare for the added scrutiny of a hotly contested campaign for the Republican nomination," noted the Washington Post.[8]
Among the businesses with which he severed ties was Barclays Bank, which had reportedly paid Bush more than a million dollars a year for serving as an adviser. Bush's relationship with Barclays—which once settled criminal charges for violating the U.S. embargo against Cuba—gained attention after he voiced opposition to President Obama's December 2014 announcement that the United States would seek to normalize ties with Havana.[9]
Foreign Policy Views and Clues
Bush has appeared to embrace neoconservatives who supported his brother's administration, inviting them to serve as his advisers, parroting their complaints about the Obama administration, promoting their current policy objectives, and defending many of their past debacles, like the Iraq War.
He has said that he does not think that "the military option should ever be taken off the table" with respect to Iran and that Obama administration policies on Iran had "empower[ed] bad behavior in Tehran."[10]
Bush assailed the July 2015 nuclear deal reached between Iran and six world powers including the United States, saying soon after the agreement was reached: "The Iran deal is horrific and it creates far more dangers and problems than it solves."[11] Bush also stated that the agreement is "appeasement," a term widely used by neoconservative critics.[12]
Shortly after the landmark deal was reached, however, Bush pushed back on comments by some GOP presidential candidates—most notably Wisconsin Governor Scott Walker—who said they would revoke the deal on their first day in office. "At 12:01 on January, whatever it is, 19th [2017], I will not probably have a confirmed secretary of state; I will not have a confirmed national security team in place; I will not have consulted with our allies. I will not have had the intelligence briefings to have made a decision," Bush has said.[13]
Bush has also called for the United States to take a more aggressive role in the Syrian conflict. In November 2015, he declared that the U.S. "in conjunction with our NATO allies and more Arab partners—will need to increase our presence on the ground."[14]
During a foreign policy address at the Council on Foreign Relations in January 2016, Bush also called for a "no-fly zone, or a series of no-fly zones" over Syria, along with the imposition of "safe zones" on the ground. He said that "we need to embed our troops with the Iraqi military" while also bypassing the Iraqi government in order to "arm the Kurds directly."[15]
Bush also used his Council on Foreign Relations speech to press a controversial policy with respect to Israel. He argued for moving the U.S. embassy "to Jerusalem from Tel Aviv," a move that would overturn decades of U.S. policy and potentially enflame tensions across the region.[16]
Bush has repeatedly defended the decision to invade Iraq. He told CNN in March 2013: "A lot of things in history change over time. I think people will respect the resolve that my brother showed, both in defending the country and the war in Iraq."[17]
In May 2015, when asked by Fox News pundit Megyn Kelly if he would have authorized the Iraq War "knowing what we know now," Bush replied: "I would have [authorized the invasion], and so would have Hillary Clinton, just to remind everybody. And so would almost everybody that was confronted with the intelligence they got."[18] This statement spurred widespread criticism, including among conservatives. Radio host Laura Ingram, arguing that Bush's weakness on this issue could be exploited by an election opponent, quipped: "We can't stay in this re-litigating the Bush years again. You have to have someone who says look I'm a Republican, but I'm not stupid." She added: "You can't still think that going into Iraq, now, as a sane human being, was the right thing to do. If you do, there has to be something wrong with you," she added.[19]
Many writers have argued that Bush's national ambitions will inevitably suffer from his association with his brother, whom Jeb has pointedly refused to criticize. Saying he didn't believe "there's any Bush baggage at all," Jeb Bush predicted in March 2013 that "history will be kind to George W. Bush." This led The Daily Beast's Peter Beinart to quip, "Unfortunately for Jeb, history is written by historians," who have generally given the Bush administration poor reviews. "That's why Jeb Bush will never seriously challenge for the presidency," Beinart concluded, "because to seriously challenge for the presidency, a Republican will have to pointedly distance himself from Jeb's older brother. No Republican will enjoy credibility as a deficit hawk unless he or she acknowledges that George W. Bush squandered the budget surplus he inherited. No Republican will be able to promise foreign-policy competence unless he or she acknowledges the Bush administration's disastrous mismanagement in Afghanistan and Iraq. … Jeb Bush would find that excruciatingly hard even if he wanted to."[20]
Bush has made several explicit gestures indicating his commitment to continue his brother's track record, particularly on foreign policy. In February 2015, his campaign announced 21 foreign policy experts who will guide him on foreign policy issues. The vast majority were veterans of the George W. Bush administration, like Paul Wolfowitz, Stephen Hadley, Michael Chertoff, John Negroponte, Otto Reich, and Michael Hayden.[21] George W. Bush Deputy National Security Adviser Meghan O'Sullivan has been mentioned as a possible "top foreign-policy aide."[22]
"Former Florida Gov. Jeb Bush … is seeking to distinguish his views on foreign policy from those of his father and brother, two former presidents," reported the Washington Post, "but he's getting most of his ideas from nearly two dozen people, most of whom previously worked for George H. W. Bush and George W. Bush."[23]
In a January 2016 interview, however, Bush said that his approach to foreign policy would be similar to his father's. "It was a very successful foreign policy and one that I think one could envision a bipartisan consensus emerging around and one the American people could support," he said.[24]
Many observers have surmised that Bush's emphatic support for his brother is the result of him attempting to win the support of Sheldon Adelson. Bush is believed to have received the ire of Adelson after he included in his list of foreign policy advisers former Secretary of State James Baker, a realist who has been critical of Israel on several occasions.
"The bad blood between Bush and Adelson is relatively recent," wrote the conservative National Review in May 2015, "and it deepened with the news that former secretary of state James Baker, a member of Bush's foreign-policy advisory team, was set to address J Street, a left-wing pro-Israel organization founded to serve as the antithesis to the hawkish American Israel Public Affairs Committee (AIPAC)."[25]
The National Review piece went on: "Adelson sent word to Bush's camp in Miami: Bush, he said, should tell Baker to cancel the speech. When Bush refused, a source describes Adelson as "rips***"; another says Adelson sent word that the move cost the Florida governor 'a lot of money.'"[26] (At around the same time the rupture with Adelson was reported, Bush publicly disavowed Baker, saying that he would not be a part of his foreign policy team.[27])
During the April 2015 Republican Jewish Coalition-hosted "Adelson primary" in Las Vegas, Salon reported, Adelson "devoted a night to honoring Bush's brother George W. for all he'd done for Israel and the Middle East." Salon added: "The Las Vegas mogul and Israel hawk thus took Bush's biggest political problem—his brother—and made him an asset."[28]
In May 2015, at a meeting with wealthy investors hosted by "pro-Israel" billionaire Paul Singer, Bush unequivocally expressed his attention to follow his brother's advice on issues related to Israel and the Middle East. "If you want to know who I listen to for advice, it's him," Bush said at the event.[29]
In March 2014, Bush and several other potential candidates were also received by Adelson at a Republican Jewish Coalition gathering at a Las Vegas hangar owned by Adelson's Sands Corporation, which papers dubbed the "Adelson primary." According to attendees, Bush gave a speech largely focused on domestic issues but also criticized the Obama administration's foreign policy—a key issue for Adelson, who is fiercely "pro-Israel." In his foreign policy remarks, Bush warned about the dangers of "American passivity" and, according to Time, "cautioned the Republican party against 'neo-isolationism' … a line universally understood as a shot at [libertarian-leaning Sen. Rand] Paul. Bush also pushed back on Democratic attacks that whenever a Republican calls for a more activist foreign policy that they are 'warmongering.'"[30]
The remarks—which the Washington Post described as "muscular if generic"[31]—appeared to be well received by the attendees and seemed to demonstrate that Bush identified more with the party's interventionist wing than with its rising libertarian faction on foreign policy.[32]
At one point in the late 1990s, Bush seemed to have been considered a potentially more influential political ally than his brother by the neoconservatives who founded the Project for the New American Century (PNAC). Commenting on the signatories to PNAC's 1997 founding statement of principles, Jim Lobe and Michael Flynn wrote: "Ironically, virtually the only signatory who has not played a leading role since the letter was released has been Florida Gov. Jeb Bush, who in 1997 apparently looked to [William] Kristol and [Robert] Kagan more presidential than his brother George."[33]
In July 2015, Bush appeared to push back on the neoconservative doctrine of exporting democracy, which was emphatically adopted by his brother's administration. In an interview with the Daily Caller, Bush said such talk must "be tempered with the realization that not every country is immediately going to become a little 'd' democratic country. Iraq would be a good example of that I think." He added: "I think ultimately security will lead towards democracy and having an engaged America will help make that so, but you cannot have democracy without security."[34]
Challenges with the Rightwing
Bush has had a tumultuous relationship with many right-wing factions over the years, particularly over immigration reform. For instance, shortly after President Barack Obama was re-elected to a second term in 2012, commentators began mentioning Bush as a possible contender for 2016, in part because of his purported ability to attract Latino voters. However, the former governor's confusing statements on immigration reform threatened to undermine his appeal and drew flak from the Republican Party's conservative base. In a 2012 op-ed on immigration coauthored with Clint Bolick, Bush claimed that "Amnesty promotes illegal immigration," and in a book published shortly thereafter, the two argued that permanent residency for undocumented migrants—even if legally granted—"should not lead to citizenship." On other occasions, however, Bush has argued that he would support a path to citizenship "in a heartbeat," adding, "If you can craft that in law where you can have a path to citizenship where there isn't an incentive to come illegally—I am for it!"[35]
Bush's topsy-turvy stance on undocumented immigrants was further demonstrated in January 2015, when he suggested that undocumented immigrants be deported. "A great nation needs to control its border," said Bush at a San Francisco event, "not just at the border, which is hugely important, but also the 40 percent of the people that have come here illegally with a legal visa and overstayed their bounds. We ought to be able to figure out where they are and politely ask them to leave."[36]
Bush has also appealed to conservative activists to moderate their tone on cultural and economic issues, which are widely regarded as having cost the party votes among younger voters, people of color, and the working class in past national elections. "All too often we're associated with being 'anti' everything," Bush told the Conservative Political Action Conference in March 2013. "Way too many people believe Republicans are anti-immigrant, anti-woman, anti-science, anti-gay, anti-worker, and the list goes on and on and on. Many voters are simply unwilling to choose our candidates even though they share our core beliefs, because those voters feel unloved, unwanted and unwelcome in our party. … Never again can the Republican Party simply write off entire segments of our society because we assume our principles have limited appeal. "[37]
Some analysts have argued that Bush has attempted to overcompensate for his "centrism" on domestic issues by supporting hawkish policies abroad. "Quite a few movement conservatives are willing to forgive all kinds of heterodox views on many other issues so long as the 'moderate' candidate fully embraces hawkish interventionism," quipped Daniel Larison of the American Conservative.[38]
Trajectory
After working on his father's first failed presidential bid in 1980, Jeb Bush moved to Florida and joined a real estate company, the Codina Group. His political career began in earnest in 1984, when he was appointed chairman of the Dade County Republican Party. However, his influence stretched beyond state borders. According to the Guardian, in 1985 Jeb Bush played a behind-the-scenes role in the Iran-Contra affair, acting "as a conduit on behalf of supporters of the Nicaraguan contras with his father, then the vice president, and helped arrange for International Medical Centers to provide free medical treatment for the contras."[39] He also gained popularity with the Cuban exile community through his years in Florida. Bush's ties with the community included serving on the Dade County Republican Party with Camilo Padreda, a former intelligence officer with the Batista dictatorship that was overthrown by Fidel Castro and who was later indicted for embezzlement. Bush also managed the campaign of Ileana Ros-Lehtinen (R-FL), the first Cuban-American in Congress.[40]
Jeb Bush ran for the Florida governorship in 1994, losing by a small margin to the Democratic incumbent. Four years later, in his second bid for governor, which he won, Bush ran on a platform that emphasized traditionally Democratic Party issues such as education and Medicaid funding. Some argued that to win the governorship, Bush was trying to imitate then-President Bill Clinton, to which he responded: "I didn't emulate Bill Clinton … but I do admire his awesome listening skills which is something that I have had to learn. That's not something that God gives you. It's really important to listen to people."[41]
Among Bush's more well-known initiatives during his eight years as governor were his efforts to reform the state education system by implementing a controversial voucher program allowing some students to transfer to private schools, his ending of affirmative action in university admissions and state contracting, and his policies aimed at shrinking state government, which led to politically costly public disputes. Reported the New York Times in June 2001, "Mr. Bush has variously alienated unions, trial lawyers and consumer groups with policies that eliminated job security for thousands of state workers, made it tougher to sue companies for product defects and gave the governor's office more control over judicial appointments and the governing of state universities."[42]
Despite his sometimes divisive polices, as well as the controversial recount during the 2000 presidential vote, which saw many black voters turned away at the polls after being cut from voter rolls, Bush ended his second term with high approval ratings, leading some conservatives to encourage him to seek the presidency. During the 2007 Conservative Summit in Washington, Bush was introduced by Ed Gillespie of the Republican National Committee, who said, "For those who are worried if you can put forward a vigorous conservative policy agenda in a state like Florida and still get elected and still be popular: Our keynote speaker left office with approval ratings above 60 percent." Bush used the opportunity to burnish his rightist credentials, saying, "Don't take offense personally if I get mad at Congress. It's important for us to realize we lost [in the 2006 midterm election], and there are significant reasons that happened, but it isn't because conservatives were rejected. But it's because we rejected the conservative philosophy in this country. … If the promise of pork and more programs is the way Republicans think they'll regain the majority, then they've got a problem."[43]
Although not well known for his views on foreign affairs, Jeb Bush has been a supporter of hawkish factions in the United States, including the neoconservative PNAC. In 1997, just before his successful run for governor, Bush was one of more than two dozen prominent political figures to sign PNAC's founding statement of principles, which promoted a "Reaganite" vision of "American global leadership." Pointing to what it called "the essential elements of the Reagan administration's success"—"a strong military" ready to meet "present and future challenges"—the statement argued, "A Reaganite policy of military strength and moral clarity may not be fashionable today. But it is necessary if the United States is to build on the success of this past century and ensure our security and greatness in the next."[44] Among PNAC's 25 charter signatories were several people who would become senior members of President George W. Bush's administration, including Dick Cheney, Donald Rumsfeld, Paul Wolfowitz, I. Lewis Libby, Zalmay Khalilzad, Peter Rodman, Paula Dobriansky, and Elliott Abrams.
Jeb Bush has consistently aligned himself with Israel's hardline Likud Party. The day before Florida's 2002 gubernatorial primary, then-Israeli Prime Minister and former Likud Party president Ariel Sharon appeared with Jeb Bush at a rally in Miami. "Israeli consular officials in Miami said today that Mr. Sharon's appearance had nothing to do with the re-election campaign of President Bush's brother," the New York Times reported. "But Florida Democratic leaders denounced the appearance as the latest instance of what they described as White House intervention on behalf of Governor Bush's campaign." In 2004, Bush again appeared with Sharon during a ceremony celebrating Israel's 56th Independence Day, during which the governor expressed support for President Bush's endorsement of Sharon's so-called land for peace initiative in the West Bank and Gaza. He said, "This new United States policy, I think, will bring about the chance of lasting peace far better than the current status quo. And if there's any attempt to impose a different vision, the United States is committed to intervene and provide support to the state of Israel."[45]
Jeb Bush and his wife Columba have both served on the advisory board of the Drug Free America Foundation (DFAF), an anti-drug advocacy organization founded by Melvin Sembler, a major Republican Party donor and a prominent backer, along with Sheldon Adelson, of the hardline pro-Iraq War group Freedom's Watch. DFAF is a successor to the controversial adolescent drug treatment program Straight Incorporated, which was founded by Sembler in the mid-1970s and closed down after a string of allegations and lawsuits over the improper treatment of children at its facilities.[46]