John Bolton
last updated: January 3, 2020
Please note: The Militarist Monitor neither represents nor endorses any of the individuals or groups profiled on this site.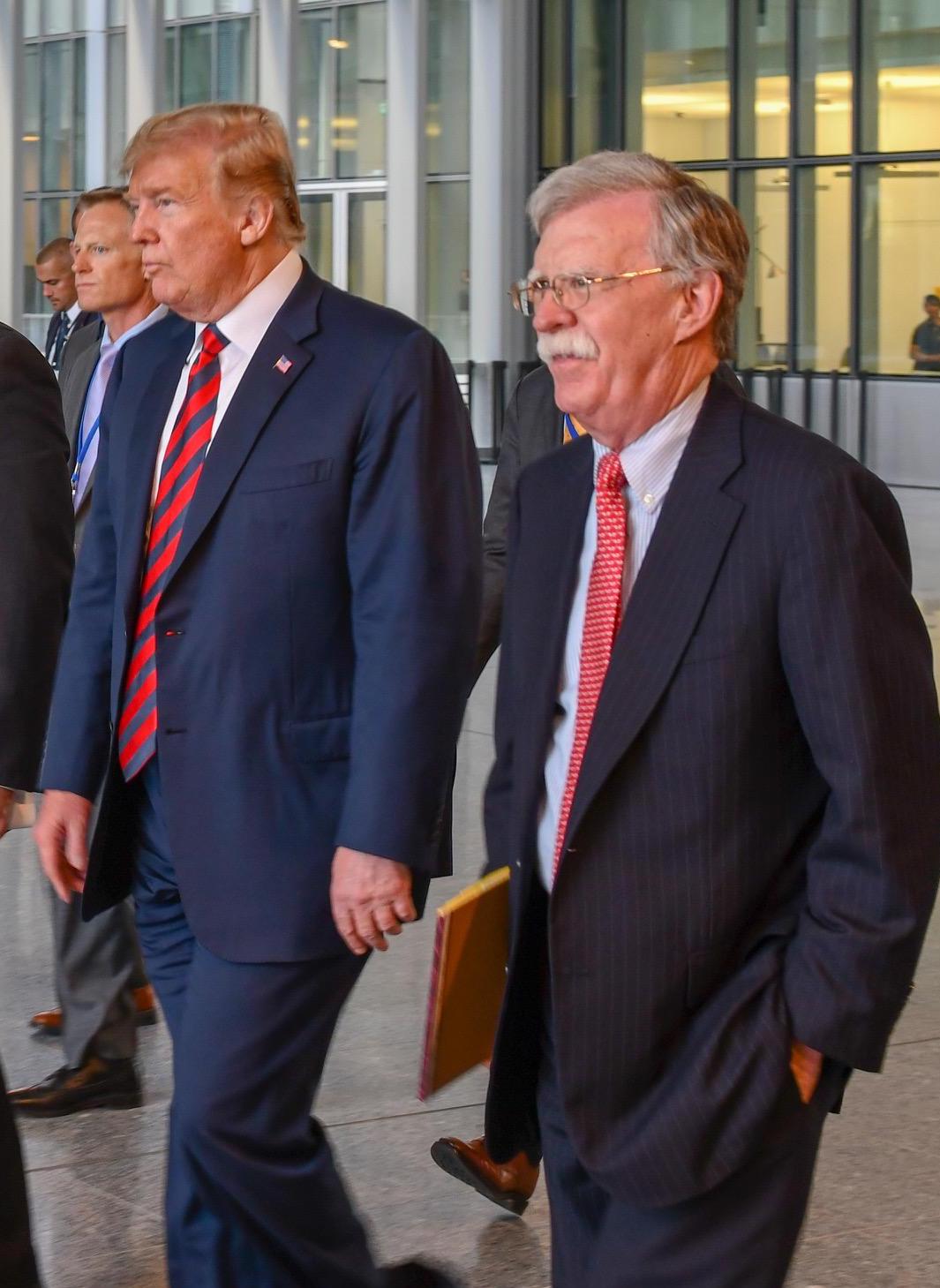 GOVERNMENT
National Security Adviser (2018-2019)
State Department: U.S. Representative to the United Nations (2005-2007); Undersecretary of State for Arms Control and International Security Affairs (2001-2005); Assistant Secretary for International Organization Affairs (1989-1993)
U.S. Commission for International Religious Freedom: Commissioner (1999-2001)
Justice Department: Assistant Attorney General (1985-1989)
U.S. Agency for International Development: Assistant Administrator for Program and Policy Coordination (1982-1983); General Counsel (1981-1982)
AFFILIATIONS
John Bolton PAC and Super PAC: Founder
Foundation for American Security and Freedom: Founder
Gatestone Institute: Chairman (2013 – 2018)
American Enterprise Institute: Senior Fellow (2007- ); Senior Vice President for Public Policy Research (1997-2001)
Project for the New American Century: Member, Board of Directors (1998-2001); Letter Signatory (1998-2000)
Jewish Institute for National Security Affairs: Former Advisory Board Member
Republican National Committee: Former Executive Director, Committee on Resolutions
Committee for Peace and Security in the Gulf: Member (1998)
National Policy Forum: President (1995-96)
Manhattan Institute: Senior Fellow (1993)
BUSINESS
Covington & Burling: Associate (1974-1981)
Lerner, Reed, Bolton & McManus: Partner (1993-1999)
EDUCATION
Yale University: B.A. (1970)
Yale Law School: J.D.
John Bolton is a longtime hardline foreign policy apparatchik of the Republican Party who briefly served as President Donald Trump's third national security adviser and as ambassador to the UN in the George W. Bush administration. Bolton has also been an enduring figure in the neoconservative think tank world, having served in posts at the American Enterprise Institute, the Jewish Institute for National Security Affairs, among others.
Bolton left the Trump administration in early September 2019 amidst a public spat with President Trump over the direction of U.S. foreign policy. Trump said that he fired Bolton in part over disagreement with his policy suggestions, saying that "others in the administration" also disagreed with his ideas."[1] Bolton, however, claimed that "he had resigned rather than being fired."[2]
Not long after he was removed from the NSC, Bolton became embroiled in the impeachment trial of President Trump. Testimony from his former colleague in the NSC, Fiona Hill, placed Bolton close to conversations between Trump officials concerning the alleged "quid pro quo" effort by Trump aimed at pressuring the Ukrainian government to investigate former Vice President Joe Biden's son. According to Hill, Bolton advised her to report concerns about any pressure campaign and its subversion of U.S. foreign policy. Bolton referred to the campaign as a "drug deal" that was being cooked up.[3]
However, Bolton refused to testify during the House of Representatives' impeachment trial of President Trump, threatening to pursue legal action if called that would tie up any decision over his testimony in the courts. House Intelligence Chairman Adam Schiff (D-CA), who led the trial, criticized the former national security adviser, saying that Bolton should have the "courage" to testify and arguing that if he opted not to testify Bolton would have to explain to the public why he waited to tell his story in a forthcoming book instead of "when it mattered."[4]
Prior to his Trump appointment, Bolton was a senior fellow at the neoconservative American Enterprise Institute and the chairman of the anti-IIslamic Gatestone Institute. An extreme national security hawk, Bolton is a former board member of the Project for the New American Century and a past adviser to the Jewish Institute for National Security Affairs. He was a frequent contributor to Fox News, the Wall Street Journal, the Washington Times, the Weekly Standard, and other right-wing media outlets.
Bolton's government career dates back to the early 1980s, when he was tapped to serve in the Reagan administration, where he held a series of posts at USAID before joining a team of Federalist Society lawyers under Attorney General Edwin Meese.[5] He later worked in several high-level positions in the George W. Bush administration, including as the State Department's chief diplomat on arms control and as ambassador to the United Nations.
When Bolton was appointed national security adviser in March 2018, it prompted alarm across a broad spectrum of the political universe. Bolton was one of the primary actors in perpetrating the myth that Iraq, in 2003, was amassing weapons of mass destruction, and he remains unapologetic about bringing about a war that had enormous consequences for Iraq, the United States, and the entire Middle East.
Reacting to Bolton's appointment, François Heisbourg of the International Institute for Strategic Studies and former French military analyst who worked with Bolton during the administration of George W. Bush said, "He's not a neoconservative and has no interest in democracy promotion. He is a man of the Trumpian world—no allies, no multilateralism." In contrast, Naftali Bennett, the far-right Education Minister of Israel in 2018, called Bolton "an extraordinary security expert, experienced diplomat and a stalwart friend of Israel."[6]
Bolton's appointment coincided with a scandal involving his super PAC working with Cambridge Analytica, a research firm accused of using tens of millions of people's data without their permission to craft targeted political campaign ads.
Bolton has long dismissed the legitimacy of the United Nations and other international institutions. In a 1994 speech at the World Federalist Association, Bolton declared, "If the UN secretary building in New York lost ten stories, it wouldn't make a bit of difference."[7] He has also dismissed international treaties as nonbinding "political obligations"[8] and was a leading opponent of the International Criminal Court, which he once claimed would turn the "senior civilian and military leaders responsible for our defense and foreign policy" into "potential targets of the politically unaccountable Prosecutor in Rome."[9]
A pro-Trump neocon?
During the 2016 election campaign, Bolton broke with neoconservative pundits like Robert Kagan and Bill Kristol in praising Donald Trump's foreign policy positions. He commended Trump for saying that Islamic militants are waging an "ideological war" on the West, for calling the planned withdrawal of troops from Iraq "reckless," and for urging more military action against ISIS.[10]
Shortly after Trump's election, press accounts reported that he was eyeing Bolton for secretary of state. He subsequently became a contender to replace the controversial retired Gen. Michael Flynn, who was forced out of his position as national security adviser (NSA) only weeks after Trump's inauguration because of his controversial contacts with Russian officials. The idea of Bolton as NSA, overwhelmingly opposed by Democrats, divided Republicans, with the hawkish Sen. Ted Cruz (R-TX) pushing the candidacy[11] and libertarian Sen. Rand Paul (R-KY) calling him a "bad choice" who could end up promoting "secret wars."[12]
In March 2018, Bolton's name again surfaced as a candidate for the NSA position. H.R. McMaster was rumored to be seeking an exit from the Trump administration, and Bolton met with Trump in the Oval Office while these rumors were circulating.[13]
Bolton used his frequent appearances on Fox News to promote his policy ideas, bringing them to the attention of frequent Fox viewer, Trump. He expressly called for regime change in Iran, for example.[14]
He also expressed other radical ideas, such as resolving the Israel-Palestine conflict by having Jordan annex the West Bank, something the kingdom has made clear it would never do.[15]
Bolton's long track record of aggressive promotion of military action and disdain for diplomacy prompted Mieke Eoyang, the vice president for foreign policy at the center-left think tank Third Way to say, "Bolton is so much of an ideologue that I don't think he would accurately portray consequences [of policy options] to the president. … If Bolton becomes the national security adviser, the United States has not hit rock bottom in our international relations. We could go lower."[16]
Former CIA analyst Paul Pillar voiced similar concerns after Bolton's appointment as national security adviser was announced. "Given that a key function of [the national security adviser] is to ensure that the bureaucracy provides the relevant options and most accurate information to the president before major national security decisions, it is hard to think of anyone more ill-suited to that duty," opined Pillar. "Bolton's method of policy formation has been to try to bully any part of the bureaucracy that does not subscribe to his personal agenda and bully away any part of the truth that does not serve his objectives."[17]
Several top National Security Agency officials resigned, some under pressure, shortly after Bolton assumed his post.[18] In May 2018, Bolton brought in one of his long-time compatriots and an extreme Islamophobe, Frederick Fleitz, as his chief of staff.[19]
Pressing his agenda in the Trump administration
Pressing an attack on Iran was immediately at the forefront of Bolton's agenda when he was named Trump's national security adviser. He had an ally in this effort in Secretary of State Mike Pompeo, and the president frequently portrayed Iran as a grave threat to the United States. But Trump had also campaigned on criticism of U.S. involvement in long term wars in the Middle East. The result of these contradictory positions was that Trump was apparently open to the idea of an attack on Iran in some form, but the case would have to overcome some level of resistance.
In early 2019, it was revealed that Bolton had recently requested that the Pentagon draw up plans for an attack on Iran. The request came just after an Iraqi militant group known to be sympathetic to Iran had launched mortars in the vicinity of the U.S. embassy in Baghdad, followed two days later by another group firing a missile close to the U.S. consulate in Basra during anti-Iran protests where the Iranian consulate was set ablaze. No one was harmed and there was no evidence to connect Iran directly with either attack—or even any certainty that the U.S. installations were the intended targets—but Bolton requested the attack plans, perhaps seeing an opportunity to use these incidents as a pretext to escalate tensions with Iran.[20]
The Wall Street Journal reported, "The request, which hasn't been previously reported, generated concern at the Pentagon and State Department, current and former U.S. officials say. "'It definitely rattled people,' said one former senior U.S. administration official. 'People were shocked. It was mind-boggling how cavalier they were about hitting Iran.'" It was not clear whether Bolton ever reported on this to Trump, the president even knew about these plans, or whether more serious planning for a strike on Iran took place at that time.[21]
As 2018 drew to a close, Bolton found himself in a tug of war within the Trump administration over the U.S. presence in Syria. In mid-December and seemingly unprompted, Trump announced that he was pulling U.S. troops out of Syria. The withdrawal of some 2,000 soldiers was apparently decided on without consultation with U.S. allies or with any of the president's advisers.[22] The fallout was considerable. Secretary of Defense Jim Mattis resigned almost immediately in protest, and both traditional hawks and neoconservatives were extremely critical of Trump's decision.
Jonathan Schanzer of the neoconservative Foundation for the Defense of Democracies tweeted, "With his decision on Syria, Trump has effectively handed Syria to Russia, Iran, Assad, Hezbollah and Turkey."[23]
Bolton could not publicly rebuke his boss, but he was surely displeased by the announcement, as it eliminated one potential avenue of confrontation with Iran. In September, Bolton had told reporters, "We're not going to leave [Syria] as long as Iranian troops are outside Iranian borders and that includes Iranian proxies and militias."[24]
In the wake of Trump's surprise declaration, Bolton scrambled to consolidate his position, recognizing that the departure from Syria would set back plans for a more aggressive stance toward Iran. In Israel—where he had gone to reassure an Israeli government that felt betrayed by Trump's decision—he stated that "The timetable flows from the policy decisions that we need to implement," leading Trump to imply agreement with him, saying, "I never said we're doing it that quickly."[25]
Bolton also tried to dodge objections raised by many observers and some members of Congress about the fate of Syrian Kurds—whom Turkey regards as terrorists and who would very likely be attacked by Turkey after the U.S. withdrawal—by stating, "We don't think the Turks ought to undertake military action that's not fully coordinated with and agreed to by the United States, at a minimum so they don't endanger our troops."[26]
Turkey was Bolton's next destination after Israel, and President Recip Tayyip Erdogan did not respond kindly to Bolton's statement. Calling Bolton's words a "grave mistake," Erdogan stated, "It is not possible for us to swallow the message Bolton gave from Israel."[27] Erdogan refused to meet with Bolton, a strong message to him and the Trump administration.[28]
To help bolster his position on Iran, Bolton brought in Richard Goldberg—a major Iran hawk and former staffer for Sen. Mark Kirk (R-IL), who had since become a senior adviser at the Foundation for Defense of Democracies—in the role of "director for countering Iranian weapons of mass destruction."[29] Observed one analyst, "Goldberg's obsession with confronting Iran has no moral limits. After Saudis linked to Crown Prince Mohammad bin Salman murdered Washington Post columnist and American resident Jamal Khashoggi, he defended the Trump administration for going easy on the Saudi regime in response. 'US sanctions on Iran return Nov 5,' he tweeted in October (his twitter feed is now locked), adding that Saudi Arabia 'is a critical part of Iran strategy: using its market leverage for sanctions compliance AND oil production to offset lost Iranian crude.'"
Ben Armbruster also pointed out that Bolton was among those who were "furious with Trump's announcement to pull out of Syria, largely because it throws a wrench in their plans for the U.S. military to attack Iranian targets inside the war-ravaged country and beyond," and that Bolton "has also kept his plan for war with Iran on track by hiring allies like. … Goldberg with the sole purpose of, according to Jewish Insider, "countering Iranian weapons of mass destruction.""[30]
Bolton also brought on an old colleague, Charles Kupperman, a former Boeing and Lockheed Martin executive, who had previously served on the board for the Center for Security Policy, a far-right think tank founded by Islamophobic conspiracy theorist Frank Gaffney. Kupperman, who like Bolton got caught up in Trump's 2019 impeachment trial and sough to challenge his need to testifym was named deputy national security adviser, further cementing Bolton's wall of allies at NSC. The hiring of Kupperman and Goldberg was a clear sign that, as reporters at Al-Monitor observed, Bolton "intends to double down on his "maximum pressure" campaign against Tehran."[31]
In January 2019, despite Bolton's claims that troops would not leave until the conditions were "right," the U.S. started pulling its troops out of Syria.[32] "The shock waves from Donald Trump's surprise announcement that US troops in northern Syria would step aside and allow a Turkish offensive to obliterate its long-term Kurdish partners rippled out of Washington and shook America's allies across the region. From Israel to the Gulf, officials, diplomats and commentators expressed fears – in private and in public – that the Trump administration would ultimately prioritise isolationism over loyalty to all his regional partners."[33]
Bolton was widely seen as the driving force behind Trump's decision to pull the United States out of the Intermediate-Range Nuclear Forces (INF) Treaty. This treaty—signed by President Ronald Reagan and Soviet Union Premier Mikhail Gorbachev—eliminated US and Russian land-based short- and medium-range missiles, both nuclear and conventional. It was a key staple of the non-proliferation regime.[34]
Commenting on the decision to pull out of the INF and Bolton's role in it, Joe Cirincione, president of the Ploughshares Fund, wrote, "Just in time for Halloween, John Bolton emerges from the basement of the White House to continue his serial killing spree of arms control agreements. … Bolton is about to dismember [the INF]—for no good reason. He apparently has convinced an uninformed and uninterested president that a likely Russian violation of the INF Treaty is reason to destroy the agreement."
Cirincione noted that there was a legitimate basis for accusing Russia of violating the INF, but that this was not nearly enough reason to withdraw from a treaty that was, on the whole, still achieving its purpose. Instead, Cirincione contended, the decision to withdraw was based on a desire for new missiles called for in Trump's Nuclear Posture Review, issued early in 2018.
Cirincione argued, "In order to field these new weapons, Bolton needs Trump to quit Reagan's treaty. But there is no need for these new instruments of mass destruction. Even if the Russians have violated the agreement, the United States already has thousands of long-range nuclear weapons trained on Russia. Additional weapons would be redundant, providing no new capability."
On Bolton's role, Cirincione stated, "Bolton does not try to mask his identity or his right-wing ideologue. He does not issue his threats in raspy phone calls, but boldly proclaims that U.S. military power should not be constrained by any treaties, under any circumstances. Like a recycled horror movie, he presents nuclear war-fighting ideas from the 1950s as if they were bold new concepts."[35]
Europeans expressed concerns that Washington might deploy new missiles on the continent without the INF. But, Reuters noted, "Bolton said Washington was 'a long way' from making any such deployments in Europe and said grim warnings about the dangerous consequences of Washington quitting the treaty were wide of the mark and reminded him of similarly hollow warnings when the United States left the Cold War-era Anti-Ballistic Missile treaty in 2002."[36]
Bolton's appointment ensured that Trump would stay the course in abandoning the Iran nuclear deal, and he did. His support for military action against Iran is well known, and he has held that position for many years. In 2015, he penned an op-ed in the New York Times entitled, "To Stop Iran's Bomb, Bomb Iran." In it, he made clear that he envisioned not only a military attack, preferably by Israel, on Iran's nuclear infrastructure, but also a U.S.-engineered regime change in Iran.
"The inconvenient truth is that only military action like Israel's 1981 attack on Saddam Hussein's Osirak reactor in Iraq or its 2007 destruction of a Syrian reactor, designed and built by North Korea, can accomplish what is required," opined Bolton. "Time is terribly short, but a strike can still succeed. … An attack need not destroy all of Iran's nuclear infrastructure, but by breaking key links in the nuclear-fuel cycle, it could set back its program by three to five years. The United States could do a thorough job of destruction, but Israel alone can do what's necessary. Such action should be combined with vigorous American support for Iran's opposition, aimed at regime change in Tehran."[37]
Bolton retained both the tone and substance of that op-ed in his role as national security adviser. Speaking to the militant pro-regime change group, United Against Nuclear Iran in September 2018, Bolton warned that Iran would face "serious consequences" if it did not accede to U.S. demands. "According to the mullahs in Tehran, we are 'the Great Satan,' lord of the underworld, master of the raging inferno," Bolton said. "So, I might imagine they would take me seriously when I assure them today: If you cross us, our allies, or our partners; if you harm our citizens; if you continue to lie, cheat, and deceive, yes, there will indeed be hell to pay. … The United States is not naive. We will not be duped, cheated, or intimidated. The days of impunity for Tehran and its enablers are over. The murderous regime and its supporters will face significant consequences if they do not change their behavior. Let my message today be clear: we are watching, and we will come after you."[38]
Bolton's presence was also powerfully felt in Trump's dealings with North Korea. In one notable incident during his tenure, Bolton sent shock waves through the U.S.-North Korea talks when he raised the spectre of Libya in the context of Korean de-nuclearization. The mention of Libya—whose former leader, Muammar Qaddafi, had agreed to give up its fledgling nuclear weapons program and, some years later, saw the United States help oust him from power and eventually to his death—undermined whatever faith there might have been in the Trump administration working with North Korean leader Kim Jung Un rather than trying to push him out.
"We have very much in mind the Libya model from 2003, 2004," Bolton told Fox News. "There are obviously differences. The Libyan program was much smaller, but that was basically the agreement that we made."[39]
Peter Baker of the New York Times observed, "Mr. Bolton, who served under President George W. Bush, views Libya through the experience of those heady days in 2003 and 2004 when Colonel Qaddafi agreed to transfer his nuclear equipment to a facility in Tennessee. Mr. Kim may remember what came later, when President Barack Obama and European allies launched military action against Libya in 2011 to prevent a threatened massacre of civilians, in the process enabling rebels not only to topple Colonel Qaddafi but also to hunt him down and kill him."[40]
Bolton shifted some of his positions to suit his new boss. He helped set up the summit between Kim and Trump, despite his apparent efforts to undermine it. However, after leaving the administration, Bolton "comprehensively repudiated the Trump administration's North Korea policy, warning that the Pyongyang regime is becoming more dangerous with every passing day."[41]
Bolton also reversed himself on Russia, which he had previously accused of committing an "act of war" against the U.S. with its meddling in the 2016 election. In announcing the postponement of a potential second meeting between Trump and Russian President Vladimir Putin, Bolton stated, "The president believes that the next bilateral meeting with President Putin should take place after the Russia witch hunt is over, so we've agreed that it will be after the first of the year."[42] New Yorker journalist Susan Glasser observed in a tweet, "Reminder: last year John Bolton called the Russian election interference 'an act of war.' Now as national security adviser he puts out an official statement calling investigation of said act of war 'witch hunt.'"[43]
In September 2018, Bolton spoke at a Federalist Society event in Washington where he bluntly declared that the United States would not only refuse to recognize the jurisdiction of the International Criminal Court (ICC)—something the United States had never done—but would, if the United States was to be investigated by the ICC, "respond against the ICC and its personnel to the extent permitted by U.S. law. We will ban its judges and prosecutors from entering the United States. We will sanction their funds in the U.S. financial system, and, we will prosecute them in the U.S. criminal system. We will do the same for any company or state that assists an ICC investigation of Americans. We will take note if any countries cooperate with ICC investigations of the United States and its allies, and we will remember that cooperation when setting U.S. foreign assistance, military assistance, and intelligence sharing levels."
Bolton further stated that these same protections would be extended to cover Israel as well. At another point in the speech, Bolton also announced that the United States would be closing the office of the Palestine Liberation Organization in Washington.[44] The speech took place just as the ICC was considering investigations of both Israeli activities in the Palestinian Territories and of U.S. actions in Afghanistan for potential war crimes.[45]
Bolton declared that Palestine was not a state, and elaborated on the point, saying, "Of course it's not a state now. It does not meet the customary international law test of statehood. It doesn't control defined boundaries. It doesn't fulfill the normal functions of government. There are a whole host of reasons why it's not a state. It could become a state, as the president said, but that requires diplomatic negotiations with Israel and others." [46]
Alex Whiting of Just Security noted that while Bolton's general themes were very much like those he had espoused for many years, "it would be a mistake to believe that this sequel has such a predictable plotline. This time, the consequences for the court and the rule of law in the world will likely be far graver, and the return to a constructive relationship with the ICC in the future much harder. This is one of those areas in which Trump administration policies may cause irreversible damage."
Whiting pointed out that, while there is no obvious legal mechanism for the U.S. to follow through on this threat, "such language demonstrates a willingness by this administration—which has shown a remarkable disregard in the past for law, institutions, and norms—to go very far in its efforts to break the court." He also noted that the administration's attitude will have a chilling effect on support for the ICC around the world.
"The new rhetorical framing and policy positions genuinely risk serious damage to the ICC and the rule of law around the world, and these steps will be difficult, if not impossible, to undo. The court, for instance, may no longer be recognizable by the time a new U.S. administration makes the effort to pick up the pieces," wrote Whiting.[47]
In late 2018, Bolton moved to widen the scope of his influence on U.S. policy. He brought a new focus to Africa, a continent that had long been at the bottom of the list of U.S. foreign policy priorities. Speaking at the right wing Heritage Foundation, Bolton outlined a plan which, he said, was meant to counter China's aggressive influence in Africa. According to a report in The Atlantic, "Bolton's remarks suggest that Africa is likely to become the latest battleground between the United States and China, which have clashed on a range of issues over the past two years. The Washington Post reported Tuesday that the Trump administration was planning to call out China for a campaign of economic espionage and hacking; add to that a costly trade war between the two countries and U.S. concern over China's military activity in the disputed South China Sea, and it's a recipe for a great-power competition with implications that will extend far beyond Africa."[48]
Bolton told the Heritage audience, "Under our new Africa strategy, we will target U.S. funding toward key countries and particular strategic objectives. All U.S. aid on the continent will advance U.S. interests, and help African nations move toward self-reliance." Those objectives would include countering both Chinese and Russian influence in Africa, fighting militant groups such as ISIS and al-Qaeda, and "ensuring that all U.S. assistance dollars sent to Africa are used efficiently and effectively to advance peace, stability, independence, and prosperity in the region." Bolton suggested that the U.S. would pursue these goals through a combination of investment and guidance, with few details on just what these broad tactical outlines would entail.[49]
Alluding to the insulting attitude President Trump expressed previously toward African countries,[50] Grant T. Harris, a former adviser on Africa to President Barack Obama, opined, "You can't counter a multifaceted, long-term Chinese play just by increasing investment. Washington needs to understand that China is investing in relationships, not just infrastructure."[51]
Presidential aspirations
Bolton's involvement in politics has included serving as a foreign policy surrogate for the 2012 Mitt Romney/Paul Ryan presidential campaign, as an informal adviser to 2016 presidential candidate Sen. Ted Cruz (R-TX),[52] and repeatedly suggesting that he will run for president.
In October 2013, he launched an eponymous PAC and Super PAC, anointing them with a mission to "seek out and support candidates for nomination and election to federal office who are committed to restoring strong American national security policies." Seeking to roll back an increasing libertarian influence on the GOP's foreign policy, Bolton said in a statement that "We must be prepared to do what it takes to protect the idea of American exceptionalism and our basic Constitutional priorities—the preservation of which are essential not only to our security, but to our prosperity as well."[53]
In March 2018, just after Bolton's appointment as national security adviser was announced, the connection between the John Bolton Super PAC and Cambridge Analytica – a corporation that was under fire for mining the personal data of tens of millions of Facebook users without permission to target them for political campaigns – came to light. In the election cycles of 2014 and 2016, Bolton's super PAC paid Cambridge Analytica approximately $1.1 million for research.
The super PAC denied any knowledge of Cambridge Analytica's unscrupulous practices. But according to the Washington Post, the Mercer family – a very wealthy family which funds many far-right causes and whom Bolton is known to be very close to – "set up Cambridge Analytica as a U.S. spinoff of the British company SCL in partnership with conservative strategist Stephen K. Bannon." In fact, the Post continued, "Hedge fund executive Robert Mercer, who financed the data-science firm with at least $10 million, has been the largest donor to Bolton's super PAC, giving $5 million since the 2014 cycle, according to FEC records."[54]
Bolton's PAC and SuperPAC raised a total of $7.5 million during the 2014-midterm elections and contributed to the campaigns of 87 Senate and House candidates.[55] The PACs made contributions to Republican candidates who espoused aggressive foreign policy positions and sponsored numerous hawkish online advertisements.[56] The advertisements were described as "customized national security messages intended to sway distinct clusters of swing voters," relying on tactics such as positing that "President Obama is a better strategist for aiding ISIS than eliminating it."[57]
Bolton was mentioned in an April 2015 New York Times piece that examined why Republicans are "more fervently pro-Israel than ever." The article linked such sentiment to being "partly a result of ideology, but also a product of a surge in donations and campaign spending on their behalf by a small group of wealthy donors." The piece revealed how Bolton's PAC is partly financed by "major pro-Israel donors" like Irving Moskowitz and that it "spent at least $825,000" to support the successful 2014 Senate bid of Tom Cotton (R-AL).[58]
In February 2015, Bolton launched the Foundation for American Security and Freedom (FASF), an advocacy organization that describes itself as "committed to restoring and protecting our vital national security interests and preserving our way of life for our children."[59] FASF states on its website that it aims to "strengthen our public discourse, making clear the inextricable links between strong foreign and domestic national policies."[60] The conservative Breitbart reported of FASF's launch: "The staunchly pro-American diplomat explained that the FASF was designed to help America avoid the mistake of electing a president who doesn't care that much about America's national security, as it did when electing Barack Obama in 2008 and 2012."[61]
In August 2015, FASF ran a TV ad attacking comments made by Sen. Rand Paul (R-KY) about a hypothetical Iranian nuclear weapon. The ad featured an American family happily sitting down to dinner when suddenly a nuclear explosion apparently occurs. The ad then transitions to a speech where Paul states that U.S. "national security is not threatened by Iran having one nuclear weapon." The ad ended with the caption: "It only takes one. A nuclear Iran is a threat to our national security."[62]
Bolton was rumored for a time to be considering a bid for president in 2016, and he made visits in 2013 to early primary states as part of what journalist Robert Costa described as "an informal national tour" to "give speeches, huddle with GOP leaders, and push back against the party's libertarian shift. He'll make the case for a muscular foreign policy."[63] In May 2015, however, Bolton ruled out running. "While I'm not a candidate, I am certainly not going to sit this election out," Bolton said in a statement. "I'm also going to focus on the 2016 presidential race, to make certain that foreign policy is critical to winning the nomination."[64]
Bolton had previously considered running in 2012, a move he ultimately decided against even as he hinted that he viewed himself as the only "ideal conservative" in the race.[65] "I hope he runs," said MSNBC's Chris Matthews at the time, "to remind the country of what everybody voted against in 2006 and 2008, and the ideology that led us into attacking a country that never attacked us, an ideology that wants to make some sort of permanent garrison in the Middle East."[66]
In the Obama era
Bolton was among the Obama administration's most strident critics, particularly on Middle East issues, and repeatedly accused the Obama White House of "weakness" and "fecklessness."[67]
Bolton was a particularly vocal proponent of the claim that Iran is developing nuclear weapons, despite U.S. intelligence judgments to the contrary, and has accused the Obama administration of enabling Tehran by engaging with it diplomatically. "By negotiating with Iran," Bolton wrote in April 2014, Obama "has not only allowed it a path to legitimize its nuclear-weapons program, but objectively facilitated the deadly global menace in Tehran."[68] While nuclear negotiations between Iran and the United States were ongoing in late 2013, Bolton insisted "Iran's nuclear-weapons and ballistic-missile programs will proceed unimpeded in unknown, undisclosed locations."[69] Bolton later added that "we shouldn't trust and can't verify Iranian promises not to fabricate nuclear weapons," concluding that "We have only two very unpleasant choices: either Iran gets nuclear weapons in the very near future, or pre-emptive military force, fully justified by well-established principles of self-defense, must break Iran's control over the nuclear fuel cycle and prevent (or, at least, substantially delay) weaponization."[70]
Bolton says that Iran should not be permitted to have an indigenous uranium enrichment program. "The right amount is zero. Iran should not be permitted to conduct any nuclear-related activity as long as the ayatollahs remain in power, given their record of dissimulation and obstructionism and their obvious intention of becoming a nuclear-weapons state," he wrote in September 2014.[71]
In a March 2015 op-ed for The New York Times, published just before Iran and the P5+1 reached a political framework agreement over Iran's nuclear program, Bolton explicitly called for military strikes against Iran. Titled, "To Stop Iran's Bomb, Bomb Iran," Bolton's op-ed claimed that, "President Obama's approach on Iran has brought a bad situation to the brink of catastrophe." Bolton further asserted that "the inconvenient truth is that only military action like Israel's 1981 attack on Saddam Hussein's Osirak reactor in Iraq or its 2007 destruction of a Syrian reactor, designed and built by North Korea, can accomplish what is required."[72]
He added: "The United States could do a thorough job of destruction, but Israel alone can do what's necessary. Such action should be combined with vigorous American support for Iran's opposition, aimed at regime change in Tehran."[73]
Responded Sally Kohn of The Daily Beast, "Would that be the same evidence you relied on to assert that Saddam Hussein was developing WMDs—the same intel the Bush administration used as the justification for going to war in Iraq? Bolton provides little solid evidence of his sky-is-falling assertions. We're just supposed to trust him, I guess, based on his reputation."[74]
After Iran and the P5+1 group of nations reached a comprehensive nuclear agreement in July 2015, Bolton vociferously denounced it and reiterated his call for U.S. military action against Iran. "Obama's deal is a born failure for reasons we need not elaborate further here," he wrote in an August 2015 op-ed for the conservative National Review. "Accordingly, as of today, only a preemptive military strike can block Iran from becoming a nuclear-weapons state."[75] Bolton then expressed support for Israel launching a military attack on Iran's nuclear facilities and stated that the United States should support if it does so.[76]
In 2009, speaking before an audience at the University of Chicago, Bolton suggested that Israel should consider a nuclear strike against Iran and chastised the Obama administration's position that Iran could be deterred from using nuclear weapons as "a dangerously weak approach." Bolton declared "we're at a very unhappy point—a very unhappy point—where unless Israel is prepared to use nuclear weapons against Iran's program, Iran will have nuclear weapons in the very near future."[77] Commented Inter Press Service blogger Daniel Luban: "An Israeli strike, nuclear or otherwise, without U.S. permission remains unlikely. But as is often the case, I suspect that Bolton's intention is less to give an accurate description of reality than it is to stake out positions extreme enough to shift the boundaries of debate as a whole to the right."[78]
Bolton was also critical of the Obama administration's position on Syria, writing in September 2013 that Obama had "failed in his stated objective to oust Syria's Assad regime from power; failed to impress Assad that his 'red line' against using chemical weapons was serious; failed to exact retribution when that red line was crossed; failed to rally anything but small minorities in either house of Congress to support his position; and failed to grasp that agreements with the likes of Syria and Russia prolong, rather than solve, the chemical-weapons problem."[79] Yet Bolton later said that he himself "would vote against an authorization to use force here," adding, "I don't think it is in America's interest. I don't think we should in effect take sides in the Syrian conflict."[80]
In April 2014, Bolton called the Syrian civil war a "strategic sideshow" and wrote that the United States should instead be preparing for war with Iran. "The Assad regime, loathsome as it is, couldn't survive without substantial Iranian assistance," Bolton wrote. "And it is Iran, through its pursuit of nuclear weapons and its decades-long role as international terrorism's central banker, which poses the central danger. Instead of focusing on overthrowing Assad or aiding his enemies, we should be vigorously pursuing regime change in Iran."[81] Bolton accused Iran of "relentlessly" pursuing a nuclear weapon despite evidence that Tehran had reduced its stockpile of enriched uranium in accordance with an interim agreement it had made with international negotiators earlier that year.[82]
After Russia's decision in October 2015 to bolster its military presence in Syria and launch airstrikes against Syrian rebel groups, Bolton stated in a Washington Times piece that the United States should pursue the goal of defeating ISIS and forming a new state in the territory of Syria and Iraq currently controlled by ISIS. Calling for a "forceful U.S.-led effort to destroy ISIS" that excludes Russia and Iran, Bolton stated that "our objective should be a new Sunni state where ISIS now rules, carved from Iraq and Syria, one that is either democratic or led, to paraphrase Franklin Roosevelt, by one of our SOB's." He also added that "sooner or later, we should recognize the reality that an independent Kurdistan now exists, even if not declared de jure."[83]
In a November 2015 New York Times op-ed, Bolton reiterated his call for an independent "Sunni state" to be formed out of Syrian and Iraqi territory, stating it "could be a bulwark against both Mr. Assad and Iran-allied Baghdad."[84]
Bolton has been a steadfast supporter of the right-wing Israeli government of Prime Minister Benjamin Netanyahu and an opponent of Palestinian statehood. Claiming that it "would inevitably lead to a terrorist state on the other side of the border with Israel,"[85] Bolton has fervently criticized the Obama administration for seeking a two-state solution to the Israeli-Palestinian conflict. Instead, Bolton has echoed the arguments of some Israeli nationalists that the Palestinian territories of the West Bank and Gaza—which he called "bits and pieces of the collapsed Ottoman Empire" with "no particular history either of national identity or of economic interdependence"—should be ceded respectively to Jordan and Egypt rather than incorporated into an independent Palestinian territory. "The only logic underlying the demand for a Palestinian state," Bolton has claimed, "is the political imperative of Israel's opponents to weaken and encircle the Jewish state, thereby minimizing its potential to establish secure and defensible borders."[86]
In late 2009, Bolton joined a chorus of neoconservative voices—including UN Watch and the Atlantic's Jeffrey Goldberg—in attacking the UN Human Rights Council's "Goldstone Report," which detailed war crimes committed by Israel as well as Hamas during Israel's 2008-2009 invasion of the Gaza Strip. Bolton called the report's conclusion, that Israel had targeted civilians in Gaza, an attempt "to criminalize Israel's strategy of crippling Hamas."[87] Bolton's comments echoed earlier remarks he had made about Israel's 2006 invasion of Lebanon, when he said there was "no moral equivalence" between Lebanese civilian casualties of Israeli bombing and Israelis killed by "malicious terrorist acts."[88]
Bolton has also remained unapologetic about the U.S. war in Iraq. "Despite all the criticism of what happened after Saddam's defeat," he argued in February 2013, it is "indisputable" that the U.S.-led coalition "accomplished its military mission with low casualties and great speed, sending an unmistakable signal of power and determination throughout the Middle East and around the world." Dismissing critics who said the war was unnecessary or disproportionate, Bolton claimed that Saddam Hussein "would have immediately returned to ambitious WMD programs" in the absence of international action, adding that if anything, the United States should have toppled Hussein in 1991 and then immediately "turned its attention to the regimes in Iran and Syria." Bolton quipped that anyone who claims that Iraqis were better off under Hussein than they were in the tumultuous decade that followed his ouster must have "a propensity to admire totalitarianism," but in any case, "the issue was never about making life better for Iraqis, but about ensuring a safer world for America and its allies." Invoking World War II, Bolton added, "we didn't wage war after Pearl Harbor to do nation-building for our enemies."[89]
After the November 2015 Paris attacks, Bolton called for more leeway to be given to U.S. intelligence agencies. "We need a more sensible national conversation about the need for effective intelligence gathering to uncover and prevent such tragedies before they occur," he opined in a Fox News op-ed. "Knee-jerk, uninformed and often wildly inaccurate criticisms of programs (such as several authorized in the wake of 9/11 in the Patriot Act) have created a widespread misimpression in the American public about what exactly our intelligence agencies have been doing and whether there was a 'threat' to civil liberties." He added: "Now is the time to correct these misimpressions."[90]
In the Bush administration
In the aftermath of the 2000 presidential election, Bolton worked in collaboration with his former boss James Baker to block recount efforts in Florida. According to the Wall Street Journal, after the U.S. Supreme Court ordered a halt to the recount, Bolton entered a venue where the count was still taking place and declared: "I'm with the Bush-Cheney team, and I'm here to stop the count." This marked Bolton's entrée into the administration of George W. Bush. At the time, Vice President-elect Dick Cheney commented: "People ask what [job] John should get. My answer is, anything he wants."[91]
As undersecretary of state representing the administration in various international fora, Bolton gained a reputation as an arrogant and hawkish unilateralist willing to redefine U.S. positions in the global arena, diplomatic consequences notwithstanding. In an exemplary display of what the Wall Street Journal described as his "combative style," Bolton warned an international conference on bio-weapons that a hotly disputed verification proposal, widely supported by arms control experts, was "Dead, dead, dead, and I don't want it coming back from the dead."[92]
Among Bolton's more notable actions during this period was withdrawing the United States from the 1972 Anti-Ballistic Missile Treaty. This bilateral treaty with the Soviet Union was the bedrock of efforts to reduce nuclear brinksmanship, but Bolton dismissed it as a relic that impeded the development of a U.S. national missile defense system. Also significant was Bolton's effort to block progress on the Comprehensive Test Ban Treaty, viewed as a cornerstone of the global nonproliferation regime.[93] Bolton was also given the task of officially rescinding the U.S. signature on the treaty that established the International Criminal Court, which he later called "the happiest moment in my government service."[94]
Bolton was a key proponent within the Bush administration of taking military action against the so-called "Axis of Evil," or countries identified by the Bush administration as "rogue state" rivals of the United States. Two months before the Iraq invasion, Bolton met with Israeli Prime Minister Ariel Sharon to discuss strategies for "preventing the spread of weapons of mass destruction," focusing on the Bush administration's disarmament targets following the planned invasion of Iraq. Shortly after the visit, Bolton said once regime change in Iraq is complete, "It will be necessary to deal with threats from Syria, Iran, and North Korea."[95]
Speaking before an audience at the Heritage Foundation in May 2002, Bolton argued that Cuba should also be included among the "axis of evil" countries because of its alleged development of bio-warfare capacity. Cuba is world-renowned for its biomedical industry, but Bolton claimed that the industry was concealing a WMD project. Providing no evidence, he insisted that Cuba was involved in the sales of illicit bio-warfare technology to boost its cash-short economy. Other administration officials declined to support Bolton's accusations.[96] A congressional investigation of Cuba's alleged WMD program found no evidence supporting Bolton's assertions.[97]
Bolton was also one of the administration's leading hawks on Asia policy and one of its strongest advocates of Taiwan. According to a 2001 Washington Post investigation, Bolton had been on the payroll of the Taiwanese government before joining the Bush administration.[98] Bolton also received $30,000 for "research papers on UN membership issues involving Taiwan" at the same time he was promoting diplomatic recognition of Taiwan before various congressional committees.[99] "Diplomatic recognition of Taiwan would be just the kind of demonstration of U.S. leadership that the region needs and that many of its people hope for," wrote Bolton in a 1999 Weekly Standard article. "The notion that China would actually respond with force is a fantasy."[100]
Bolton's penchant for intemperate statements often compromised his work as a diplomat. In July 2003, during the run-up to the six-party talks with North Korea, Bolton characterized North Korean President Kim Jong Il as the "tyrannical dictator" of a country where "life is a hellish nightmare." North Korea responded in kind, saying that "such human scum and bloodsucker is not entitled to take part in the talks. … We have decided not to consider him as an official of the U.S. administration any longer nor to deal with him." The State Department had to send a replacement for Bolton to the talks.[101]
After Condoleezza Rice became U.S. secretary of state at the outset of Bush's second term, Bolton expressed an interest in becoming deputy secretary of state. However, Rice selected Bolton as ambassador to the UN, "thus appointing to this unique post the U.S. official most publicly contemptuous of the world organization," wrote Brian Urquhart.[102]
Bolton served as UN ambassador from August 2005—when President Bush gave him a recess appointment after the Senate blocked his nomination—to January 2007. His resignation, announced in December 2006, came at the end of a controversial tenure marked by severe criticism from U.S. senators and international diplomats. His resignation also came less than three weeks after President Bush resubmitted Bolton's nomination for Senate confirmation—the second time in six months.
During his first confirmation hearings, Bolton's record as undersecretary of state came under intense criticism, particularly regarding his contacts with Israel. According to The Forward and other news sources, Bolton had met with officials of Israel's intelligence agency, the Mossad, without first seeking "country clearance" from the State Department.[103]
There was enormous domestic and international opposition to Bolton's nomination. In late July 2006, the New York Times reported deep scorn for Bolton among UN ambassadors. According to the Times, "[M]any diplomats say they see Mr. Bolton as a stand-in for the arrogance of the administration itself." Rather than furthering his stated mission of UN reform, according to the Times, "envoys say he has in fact endangered that effort by alienating traditional allies. They say he combatively asserts American leadership, contests procedures at the mannerly, rules-bound United Nations, and then shrugs off the organization when it does not follow his lead." One unnamed UN ambassador "with close ties" to the administration said: "He's lost me as an ally now, and that's what many other ambassadors who consider themselves friends of the United States are saying."[104]
One of Bolton's more controversial acts as ambassador came in 2005, when he sabotaged efforts to complete a joint UN declaration in connection with the organization's 60th anniversary. According to Brian Urquhart, "UN delegations, including the United States and the Secretariat, had for the previous six months been working on this document, which originally contained a fairly ambitious mixture of global objectives and UN reform proposals. Bolton's seven hundred or so amendments, designed, he believed, to increase the influence and reflect the interests of the United States, caused considerable confusion and resentment and reopened many disagreements that had previously been resolved. Among other things, he insisted that there be no mention of the Millennium Development Goals to eradicate global poverty, which the US had supported in 2000. (Condoleezza Rice overruled Bolton on this at the last minute.) Bolton also insisted on the elimination of any mention of the Comprehensive Test Ban Treaty, the ICC, and global warming."[105]
Controversies
Bolton has been closely associated, both in and out of government, with several political and financial controversies.
As an assistant attorney general under Edwin Meese, Bolton thwarted the Kerry Commission's efforts to obtain documentation, including Bolton's personal notes, about the Iran-Contra affair and alleged Contra drug smuggling. Working with congressional Republicans, Bolton also stonewalled congressional demands to interview Meese's deputies regarding their role in the affair.[106]
In 1978, as an associate at the high-powered Covington law firm, Bolton worked with Sen. Jesse Helms (R-NC) and the National Congressional Club, the senator's campaign-financing organization, to help form a new campaign finance organization called Jefferson Marketing. According to the Legal Times, Jefferson Marketing was established "as a vehicle to supply candidates with such services as advertising and direct mail without having to worry about the federal laws preventing PACs, like the Congressional Club, from contributing more than $5,000 per election to any one candidate's campaign committee." After its formation, Jefferson Marketing became a holding company for three firms—Campaign Management Inc., Computer Operations & Mailing Professionals, and Discount Paper Brokers.[107]
In 1987, the National Congressional Club reported a debt of $900,000. Its major creditors were Richard Viguerie, Charles Black Jr., Covington and Burling, and the DC law office of Baker & Hostetler—all of which maintained good relations with the right-wing PAC despite its failure to pay. Jefferson Marketing was the Congressional Club's largest creditor, with more than $676,000 owed. By the end of the decade, FEC documents showed that Helms' PAC owed Covington $111,000. But this was not considered a major concern for Covington, according to firm spokesman H. Edward Dunkelberger Jr.[108]
A decade later, Bolton was again entangled in controversial schemes to support Republican candidates, this time involving money channeled from Hong Kong and Taiwan via a "think tank" linked to the Republican National Committee (RNC). In 1995-1996 Bolton served as president of the National Policy Forum (NPF), which according to a congressional investigation functioned as an intermediary organization to funnel foreign and corporate money to Republicans.[109]
The NPF had been established in 1993 in anticipation of the 1994 general election. Founded by then-RNC chair Haley Barbour, the forum was organized as a nonprofit, tax-exempt education institute, although the IRS later ruled that as a subsidiary of the RNC, NPF was not entitled to tax-exempt status. A 1996 congressional investigation brought to light the role of the NPF, which reportedly channeled $800,000 in foreign money into the 1996 election cycle—after having used similar tactics to fund congressional races in 1994.[110]
When Bolton became NPF president in 1995, the forum began organizing "megaconferences" with a fundraising hook. These events brought together Republican members of Congress, lobbyists, and corporate executives to discuss matters that were frequently the object of pending legislation. An NPF memo laid out the funding strategy: "NPF will continue to recruit new donors through conference sponsorships. … In order for the conferences to take place, they must pay for themselves or turn a profit. Industry and association leaders will be recruited to participate and sponsor those forums, starting at $25,000." Corporate representatives professed surprise at the size of the contribution requests. "It's pretty astounding," said one invitee. "If this doesn't have 'payment for access' [to top GOP lawmakers] written all over it, I don't know what does."[111]
In another NPF memo, two NPF employees told Bolton that, in return for a $200,000 donation by U.S. West, the telecommunications company should be assured its top policy issues would be incorporated into the agenda for NPF's upcoming telecommunications "megaconference."[112] Bolton left his position at the NPF shortly before Congress launched its probe into whether the group illegally accepted foreign contributions. No charges were ever filed because of the congressional hearings.[113]
SOURCES
[1] Jessica Campisi, "Bolton to write memoir on time serving under Trump: report, The Hill, October 10, 2019, https://thehill.com/homenews/administration/465210-bolton-to-write-memoir-on-time-serving-under-trump-report.



[2] Ed Pilkington and Julian Borger, "Donald Trump ousts top adviser John Bolton: 'I disagreed strongly with him'," The Guardian, September 11, 2019, https://www.theguardian.com/us-news/2019/sep/10/trump-fires-john-bolton-national-security-adviser.



[3] Washington Post, "5 takeaways from Fiona Hill's and David Holmes's testimony," November 21, 2019.



[4] CNN, "Schiff pushes Bolton to testify but will not go to court to force him," 24 November 2019, https://edition.cnn.com/2019/11/24/politics/adam-schiff-house-democrats-impeachment-state-of-the-union-cnntv/index.html



[5] Philip H. Burch, Reagan, Bush, and Right-Wing Politics: Elites, Think Tanks, Power, and Policy (Greenwich, CT: JAI Press), 1997, p. 158.



[6] Steven Erlanger and Gerry Mullany, "'The Whole World Should Be Concerned':



U.S. Allies React to Bolton's Appointment," New York Times, March 23, 2 018, https://www.nytimes.com/2018/03/23/world/asia/trump-john-bolton-reaction.html.



[7] Quoted by Kamal Ahmed and Ed Vulliamy, "Hawks sit out phoney peace while war machine rolls on," The Guardian, January 12, 2003, http://www.theguardian.com/world/2003/jan/12/iraq1.



[8] John Bolton, "U.S. Isn't Legally Obligated to Pay the UN," AEI, November 17, 1997, https://web.archive.org/web/20090514113121/http://www.aei.org/issue/17649.



[9] Tom Barry, "The Armageddon Man," Foreign Policy in Focus, April 11, 2005.



[10] John R. Bolton, "What Trump's foreign policy gets right," American Enterprise Institute, August 21, 2016.



[11] Manu Raju, "Cruz to Trump: Name John Bolton as national security adviser," CNN, February 17, 2017, https://edition.cnn.com/2017/02/17/politics/ted-cruz-john-bolton-national-security-adviser/



[12] Bonnie Kristian, "Rand Paul rejects John Bolton to replace Michael Flynn: 'He still believes regime change was a good idea'" The Week, February 19, 2017.



[13] Zack Beauchamp, "John Bolton, the ultrahawk rumored to be Trump's next national security adviser, explained," Vox, March 12, 2018.



[14] VIDEO "Bolton: 'Our Goal Should Be Regime Change in Iran,'" Fox News, January 1, 2018, http://insider.foxnews.com/2018/01/01/john-bolton-trump-us-goal-should-be-regime-change-iran



[15] VIDEO "Eric Shawn reports: Give the West Bank to Jordan," Fox News, January 21, 2018, http://video.foxnews.com/v/5716123323001/?playlist_id=2781265786001#sp=show-clips



[16] Zack Beauchamp, "John Bolton, the ultrahawk rumored to be Trump's next national security adviser, explained," Vox, March 12, 2018.



[17] Paul Pillar, "The Bolton-Pompeo Package," Lobelog, April 11, 2018. https://lobelog.com/the-bolton-pompeo-package/



[18] Cristiano Lima, "Deputy national security adviser resigns as Bolton takes over," Politico, April 11, 2018, https://www.politico.com/story/2018/04/11/nadia-schadlow-resigns-deputy-national-security-adviser-john-bolton-515650



[19] Eric Levitz, "Bolton Installs Anti-Muslim Wingnut As NSC Chief of Staff," Daily Intelligencer, May 30, 2018, http://nymag.com/daily/intelligencer/2018/05/bolton-fred-fleitz-center-security-policy-nsc-chief-of-staff.html



[20] Associated Press, "12 dead in Basra as rockets fired at airport and Iranian consulate torched," The Independent, September 8, 2018, https://www.telegraph.co.uk/news/2018/09/08/chaos-basra-rockets-fired-airport-iranian-consulate-torched/



[21] Dion Nissenbaum, "White House Sought Options to Strike Iran," Wall Street Journal, January 13, 2019, https://www.wsj.com/articles/white-house-sought-options-to-strike-iran-11547375404?mod=hp_lead_pos4



[22] Matthew Lee and Susannah George, "Trump call with Turkish leader led to US pullout from Syria," Associated Press, December 21, 2018, https://www.apnews.com/ec2ed217357048ff998225a31534df12



[23] Jonathan Schanzer, Twitter, December 21, 2018, https://twitter.com/JSchanzer/status/1075463675987804161



[24] Joel Gehrke, "John Bolton: US will stay in Syria until Iran leaves," Washington Examiner, September 24, 2018, https://www.washingtonexaminer.com/policy/defense-national-security/john-bolton-us-will-stay-in-syria-until-iran-leaves



[25] Karen DeYoung and Karoun Demirjian, "Contradicting Trump, Bolton says no withdrawal from Syria until ISIS destroyed, Kurds' safety guaranteed," Washington Post, January 6, 2018.



[26] David E. Sanger, Noah Weiland and Eric Schmitt, "Bolton Puts Conditions on Syria Withdrawal, Suggesting a Delay of Months or Years," New York Times, January 6, 2019, https://www.nytimes.com/2019/01/06/world/middleeast/bolton-syria-pullout.html?module=inline



[27] Carlotta Gall and Mark Landler, "Turkish President Snubs Bolton Over Comments That Turkey Must Protect Kurds," New York Times, January 8, 2019, https://www.nytimes.com/2019/01/08/world/middleeast/erdogan-bolton-turkey-syria-kurds.html



[28] Liam Denning, "Bolton's Syria Snafu Reveals Oil's Biggest Risk," Bloomberg, January 8, 2019, https://www.bloomberg.com/opinion/articles/2019-01-08/john-bolton-s-syria-snafu-reminds-oil-trump-s-a-risk



[29] Anna Palmer, Jake Sherman, Daniel Lippman, Eli Okun, and Garrett Ross, "POLITICO Playbook PM: Trump heading to the border Thursday," Politico, January 7, 2019, https://www.politico.com/newsletters/playbook-pm/2019/01/07/trump-heading-to-the-border-thursday-371615



[30] Quoted in: Ben Armbruster, "Bolton Counters Syria Withdrawal, Hires Iran Hawk," Lobelog, January 9, 2019, https://lobelog.com/bolton-counters-syria-withdrawal-hires-iran-hawk/; Jacob Kornbluh, "Richard Goldberg to join White House NSC," Jewish Insider, January 7, 2019, http://jewishinsider.com/15272/richard-goldberg-join-white-house-nsc/



[31] Bryant Harris and Aaron Schaffer, "Intel: Bolton's Iran strike plans leaked after he elevated longtime associate," Al-Monitor, January 14, 2019, https://www.al-monitor.com/pulse/originals/2019/01/intel-bolton-iran-strikes-plan-leak-trump-pentagon.html



[32] Louisa Loveluck and John Hudson, "U.S. military announces start of Syria withdrawal," Washington Post, January 11, 2019.



[33] Bell Trew, "'He threw them under a bus': US allies in Middle East fear abandonment after Trump's betrayal of Kurds," Independent, October 9, 2019, https://www.independent.co.uk/news/world/middle-east/trump-syria-turkey-kurds-middle-east-sdf-isis-saudi-arabia-relations-a9147616.html#comments



[34] Adam Taylor, "How China plays into Trump's decision to pull out of INF treaty with Russia," Washington Post, October 23, 2018.



[35] Joseph Cirincione, "A Serial Killing Spree That Threatens Us All," Defense One, October 22, 2018, https://www.defenseone.com/ideas/2018/10/serial-killing-spree-threatens-us-all/152204/?oref=d-river



[36] Andrew Osborn, Vladimir Soldatkin, "Trump adviser tells Putin: We'll quit arms control treaty you're breaking," Reuters, October 23, 2018, https://www.reuters.com/article/us-usa-nuclear-bolton/trump-adviser-tells-putin-well-quit-arms-control-treaty-youre-breaking-idUSKCN1MX1LO



[37] John R. Bolton, "To Stop Iran's Bomb, Bomb Iran," New York Times, March 26, 2015, https://www.nytimes.com/2015/03/26/opinion/to-stop-irans-bomb-bomb-iran.html



[38] Abigail Tracy, "'A Pathetic Strategy': Bolton's Saber-Rattling Fuels Fear of War With Iran," Vanity Fair, Septemner 26, 2018, https://www.vanityfair.com/news/2018/09/john-bolton-iran-united-nations



[39] TRANSCRIPT: "John Bolton on push to rid North Korea of nuclear weapons," Fox News, April 29, 2018, http://www.foxnews.com/transcript/2018/04/29/john-bolton-on-push-to-rid-north-korea-nuclear-weapons.html



[40] Peter Baker, "Libya as a Model for Disarmament? North Korea May See It Very Differently," New York Times, April 29, 2018, https://www.nytimes.com/2018/04/29/us/politics/bolton-libya-north-korea-trump.html



[41] Julian Borger, "Ousted John Bolton attacks Trump's approach to 'dangerous' North Korea," The Guardian, September 30, 2019, https://www.theguardian.com/us-news/2019/sep/30/john-bolton-trump-north-korea-kim-jong-un



[42] Alex Ward, "John Bolton's complete reversal on Russia, in one tweet," Vox, July 26, 2018, https://www.vox.com/2018/7/26/17617096/bolton-russia-trump-mueller-witch-hunt



[43] Susan Glasser, Twitter, July 25, 2018, https://twitter.com/sbg1/status/1022199261478440960



[44] "Speech Transcript: John Bolton on U.S. Policy Toward the International Criminal Court," Epoch Times, September 10, 2018, https://www.theepochtimes.com/speech-transcript-john-bolton-on-u-s-policy-toward-the-international-criminal-court_2656808.html



[45] Missy Ryan, Anne Gearan, Karen DeYoung, "U.S. to close Palestinian office in Washington, citing lack of progress on peace process with Israel," Washington Post, September 10, 2018,



[46] Hunter Walker, "White House national security adviser John Bolton says Palestine is 'not a state,'" Yahoo News, October 3, 2018, https://www.yahoo.com/news/white-house-national-security-adviser-john-bolton-says-palestine-not-state-225103847.html



[47] Alex Whiting, "Why John Bolton vs. Int'l Criminal Court 2.0 is Different from Version 1.0," Just Security, September 10, 2018, https://www.justsecurity.org/60680/international-criminal-court-john-bolton-afghanistan-torture/



[48] Krishnadev Calamur, "Africa Is the New Front in the U.S.-China Influence War," The Atlantic, December 13, 2018, https://www.theatlantic.com/international/archive/2018/12/trump-national-security-adviser-unveils-new-africa-strategy/578140/



[49] John Bolton, "Remarks by National Security Advisor Ambassador John R. Bolton on the The Trump Administration's New Africa Strategy," The White House, December 13, 2018, https://www.whitehouse.gov/briefings-statements/remarks-national-security-advisor-ambassador-john-r-bolton-trump-administrations-new-africa-strategy/



[50] Eli Watkins and Abby Philip, "Trump decries immigrants from 'shithole countries' coming to US," CNN, January 12, 2018, https://www.cnn.com/2018/01/11/politics/immigrants-shithole-countries-trump/index.html



[51] Mark Landler and Edgar Wong, "Bolton Outlines a Strategy for Africa That's Really About Countering China," New York Times, December 13, 2018, https://www.nytimes.com/2018/12/13/us/politics/john-bolton-africa-china.html



[52] Igor Volsky, "Ted Cruz's Foreign Policy Advisor: End Nuclear Negotiations, Start War With Iran," Think Progress, March 26, 2015, https://thinkprogress.org/ted-cruzs-foreign-policy-advisor-end-nuclear-negotiations-start-war-with-iran-2dca4c12f8a9/



[53] Jim Meyers, "Former U.N. Ambassador John Bolton Launches PAC," Newsmax, October 14, 2013, http://www.newsmax.com/Newsfront/john-bolton-pac-candidates-conservative/2013/10/14/id/530936.



[54] Michelle Ye Hee Lee, Craig Timberg and Josh Dawsey, "Cambridge Analytica harnessed Facebook data in work for super PAC led by John Bolton, according to former employees," Washington Post, March 23, 2018.



[55] Fred Lucas, "John Bolton: No Hillary Clinton or Rand Paul for President," The Blaze, June 20, 2015.



[56] PR Newswire, "Ambassador John Bolton Launches The Foundation For American Security & Freedom," February 19, 2015, http://www.prnewswire.com/news-releases/ambassador-john-bolton-launches-the-foundation-for-american-security--freedom-300038477.html.



[57] Michael Patrick Leahy, "John Bolton Super PAC to Spend $5 Million Online in Key Senate Races," Breitbart, September 20, 2014, http://www.breitbart.com/Big-Government/2014/09/20/John-Bolton-Super-PAC-to-Spend-5-Million-Online-in-Key-Senate-Races.



[58] Eric Lipton, "G.O.P.'s Israel Support Deepens as Political Contributions Shift," The New York Times, April 4, 2015, http://www.nytimes.com/2015/04/05/us/politics/gops-israel-support-deepens-as-political-contributions-shift.html.



[59] The Foundation for American Security and Freedom, http://www.fasfreedom.com/.



[60] The Foundation for American Security and Freedom, http://www.fasfreedom.com/.



[61] Robert Wilde, Ambassador John Bolton: 'Obama Worse than Neville Chamberlain,'" Breitbart, February 21, 2015, http://www.breitbart.com/big-government/2015/02/21/ambassador-john-bolton-obama-worse-than-neville-chamberlain/.



[62] The Washington Post, "Foundation for American Security and Freedom: 'The One' | Campaign 2016," August 6, 2015.



[63] Robert Costa, "Bolton Plans a Tour of Early-Primary States," National Review Online "The Corner" blog, June 24, 2013, http://www.nationalreview.com/corner/351921/bolton-plans-tour-early-primary-states-robert-costa.



[64] Theodore Schleifer, "John Bolton will not run for president," CNN, May 14, 2015, http://www.cnn.com/2015/05/14/politics/election-2016-john-bolton-george-pataki-announcements/.



[65] Eli Clifton, "John Bolton Endorses Mitt Romney," ThinkProgress, January 12, 2012, http://thinkprogress.org/security/2012/01/12/403160/bolton-endorses-romney/.



[66] Quoted in John Kleefield, "John Bolton For President?" Talking Points Memo, September 2, 2010, http://tpmdc.talkingpointsmemo.com/2010/09/john-bolton-for-president-video.php.



[67] Quoted in Media Matters, "Right-Wing Media Point Fingers At Obama For Libya, Egypt Attacks," September 13, 2012, http://mediamatters.org/research/2012/09/13/right-wing-media-point-fingers-at-obama-for-lib/189885.



[68] John Bolton, "Syria is a sideshow," New York Post, May 5, 2014, http://nypost.com/2014/05/05/syria-is-a-sideshow/.



[69] John Bolton, "How Rouhani Is Playing Obama," Wall Street Journal, September 29, 2013, http://online.wsj.com/news/articles/SB10001424052702304213904579095771799293040.



[70] John Bolton, "We cannot verify and must not trust Iran's promises on nuclear weapons," Guardian, October 15, 2013, http://www.theguardian.com/commentisfree/2013/oct/15/cannot-verify-trust-iran-nuclear-weapons.



[71] John Bolton, "Bolton: Don't Forget About Iran's Nuclear Program," Newsmax, September 15, 2014, http://www.newsmax.com/Newsfront/Iran-nuclear-weapons-IAEA-John-Bolton/2014/09/15/id/594640/.



[72] John Bolton, "To Stop Iran's Bomb, Bomb Iran," The New York Times, March 26, 2015," http://www.nytimes.com/2015/03/26/opinion/to-stop-irans-bomb-bomb-iran.html?_r=4&utm_content=buffer1ecc0&utm_medium=social&utm_source=facebook.com&utm_campaign=buffer&gwh=E4A8051D3E4DA835548AF5F50415924A&gwt=pay&assetType=opinion.



[73] John Bolton, "To Stop Iran's Bomb, Bomb Iran," The New York Times, March 26, 2015," http://www.nytimes.com/2015/03/26/opinion/to-stop-irans-bomb-bomb-iran.html?_r=4&utm_content=buffer1ecc0&utm_medium=social&utm_source=facebook.com&utm_campaign=buffer&gwh=E4A8051D3E4DA835548AF5F50415924A&gwt=pay&assetType=opinion.



[74] Sally Kohn, "Stop Listening to John Bolton," The Daily Beast, March 26, 2015, http://www.thedailybeast.com/articles/2015/03/26/stop-listening-to-john-bolton.html.



[75] John Bolton, "Facing Reality on Iran," National Review, August 24, 2015, http://www.nationalreview.com/article/422956/facing-reality-iran-john-r-bolton.



[76] John Bolton, "Facing Reality on Iran," National Review, August 24, 2015, http://www.nationalreview.com/article/422956/facing-reality-iran-john-r-bolton.



[77] Daniel Luban, "Bolton suggests nuclear attack on Iran," LobeLog, Inter Press Service, October 14, 2009, http://www.ips.org/blog/jimlobe/?p=300.



[78] Daniel Luban, "Bolton suggests nuclear attack on Iran," LobeLog, Inter Press Service, October 14, 2009, http://www.ips.org/blog/jimlobe/?p=300.



[79] John Bolton, "How Rouhani Is Playing Obama," Wall Street Journal, September 29, 2013, http://online.wsj.com/news/articles/SB10001424052702304213904579095771799293040.



[80] Lucy McCalmont, "John Bolton: I'd 'vote no' on Syria strike," Politico, September 3, 2013.



[81] Daniel Luban, "Bolton suggests nuclear attack on Iran," LobeLog, Inter Press Service, October 14, 2009.



[82] Daniel Glaser, "John Bolton: Forget Syria, Pursue Regime Change in Iran," Antiwar.com, May 6, 2014, http://antiwar.com/blog/2014/05/06/john-bolton-forget-syria-pursue-regime-change-in-iran/.



[83] John Bolton, "Obama's back-footed response to Putin's embrace of Syria," National Review, October 18, 2015.



[84] John Bolton, "John Bolton: To Defeat ISIS, Create a Sunni State," The New York Times, November 24, 2015, http://www.nytimes.com/2015/11/25/opinion/john-bolton-to-defeat-isis-create-a-sunni-state.html.



[85] Fox News, "Bolton: Obama WH Has Had the Most Hostile Relationship With Israel Than Any American Presidency," April 29, 2014, http://www.realclearpolitics.com/video/2014/04/29/bolton_obama_wh_has_had_the_most_hostile_relationship_with_israel_than_any_american_presidency.html.



[86] John Bolton, "A 'three-state solution' for Middle East peace," Washington Times, April 16, 2014, http://www.washingtontimes.com/news/2014/apr/16/bolton-a-three-state-solution-for-middle-east-peac/.



[87] John Bolton, "Israel, the U.S. and the Goldstone Report," Wall Street Journal, October 19, 2009, http://online.wsj.com/news/articles/SB10001424052748704500604574480932924540724



[88] "Lebanon Civilian Deaths Morally not Same as Terror Victims—Bolton," Agence France Presse, July 17, 2006.



[89] John Bolton, "Overthrowing Saddam Hussein was the right move for the US and its allies," The Guardian, February 26, 2013, http://www.guardian.co.uk/commentisfree/2013/feb/26/iraq-war-was-justified?commentpage=1.



[90] John Bolton, "Paris attacks: Four important lessons world must learn from French tragedy," Fox News, November 14, 2015.



[91] Quoted by James Traub, The Best of Intentions: Kofi Anna and the UN in the Era of American World Power (Macmillan, 2007).



[92] Cited in Sidney Blumenthal, "The Empire Strikes Back," Salon, March 10, 2005, http://www.salon.com/2005/03/10/john_bolton/.



[93] Brian Urquhart, "One Angry Man," New York Review of Books, March 6, 2008, http://www.nybooks.com/articles/archives/2008/mar/06/one-angry-man/.



[94] "John Bolton: The Iron Hand in the State Department's Velvet Glove," Newsmax.com, July 19, 2002.



[95] Ian Williams, "John Bolton in Jerusalem: The New Age of Disarmament Wars," Foreign Policy In Focus, February 20, 2003, http://www.dissidentvoice.org/Articles2/Williams_DisarmamentWars.htm.



[96] David Ignatius, "Bolton's Biggest Problem," Washington Post, April 22, 2005.



[97] Jim Lobe, "North Korea Won't Recognize State Dep't. Ideologue," Inter Press Service, August 4, 2003.



[98] Walter Pincus, "Taiwan Paid State Nominee For Papers on U.N. Reentry; Bolton's Objectivity On China Is Questioned," Washington Post, April 9, 2001.



[99] David Corn, "Bush Gives the UN the Finger," The Nation, March 7, 2005.



[100] John Bolton, "Time for a Two-China Policy," Weekly Standard, August 9, 1999.



[101] Associated Press, "North Korea Bans Bolton from Talks," Washington Times, August 3, 2003, http://www.washingtontimes.com/news/2003/aug/4/20030804-121425-6611r/?page=all.



[102] Brian Urquhart, "One Angry Man," New York Review of Books, March 6, 2008, http://www.nybooks.com/articles/archives/2008/mar/06/one-angry-man/.



[103] Pri Nir, "Senate Probes Bolton's Pro-Israel Efforts," Forward, May 6, 2005.



[104] Warren Hoge, "Praise at Home for Envoy, But Scorn at the UN," New York Times, July 23, 2006, http://www.nytimes.com/2006/07/23/world/23bolton.html?pagewanted=all&_r=0.



[105] Brian Urquhart, "One Angry Man," New York Review of Books, March 6, 2008, http://nybooks.com/articles/archives/2008/mar/06/one-angry-man/.



[106] Jim Lobe, "North Korea Won't Recognize State Dep't. Ideologue," Inter Press Service, August 4, 2003, http://www.commondreams.org/headlines03/0804-07.htm..



[107] Charles Babington, "Helms PAC's Debt to Covington Lingers," Legal Times, February 19, 1990.



[108] Charles Babington, "Helms PAC's Debt to Covington Lingers," Legal Times, February 19, 1990.



[109] Final Report of the Senate Committee on Governmental Affairs, "Investigation of Illegal or Improper Activities in Connection with 1996 Federal Election Campaigns," March 10, 1998, available at: http://www.fas.org/irp/congress/1998_rpt/sgo-sir/index.html



[110] Final Report of the Senate Committee on Governmental Affairs, "Investigation of Illegal or Improper Activities in Connection with 1996 Federal Election Campaigns," March 10, 1998, available at: http://www.fas.org/irp/congress/1998_rpt/sgo-sir/index.html



[111] Final Report of the Senate Committee on Governmental Affairs, "Investigation of Illegal or Improper Activities in Connection with 1996 Federal Election Campaigns," March 10, 1998, available at: http://www.fas.org/irp/congress/1998_rpt/sgo-sir/index.html



[112] Final Report of the Senate Committee on Governmental Affairs, "Investigation of Illegal or Improper Activities in Connection with 1996 Federal Election Campaigns," March 10, 1998, available at: http://www.fas.org/irp/congress/1998_rpt/sgo-sir/index.html



[113] Final Report of the Senate Committee on Governmental Affairs, "Investigation of Illegal or Improper Activities in Connection with 1996 Federal Election Campaigns," March 10, 1998, available at: http://www.fas.org/irp/congress/1998_rpt/sgo-sir/index.html