Linton Brooks
last updated: May 21, 2014
Please note: The Militarist Monitor neither represents nor endorses any of the individuals or groups profiled on this site.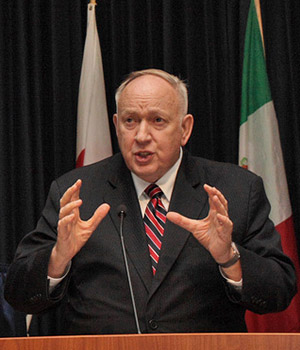 Affiliations
Center for Strategic and International Studies: Senior Adviser
National Defense University: Distinguished Research Fellow
National Institute for Public Policy (NIPP): Study Participant, 2001

Government
Energy Department: Undersecretary of Energy for Nuclear Security, 2003-2007; Former Director, National Nuclear Security Administration, 2003-2007; Former Deputy Administrator for Nuclear Nonproliferation
Pentagon's Deterrence Concepts Advisory Panel: Former Member
Center for Naval Analyses (CNA): Former Vice President and Assistant to the President for Policy Analysis
National Security Council: Former Director of Arms Control
Arms Control and Disarmament Agency: Former Assistant Director
Strategic Arms Reduction Treaty: Chief U.S. Negotiator
U.S. Navy: Former Director of Naval Intelligence

Education
Duke University: B.S. in Physics
University of Maryland: M.A. in Government and Politics
Navy War College: Distinguished Graduate
Linton Brooks, a former arms control negotiator and energy undersecretary who specializes in nuclear security issues, is an "independent consultant on national security issues" and an adviser to the Center for Security and International Studies (CSIS).[1]
Brooks was instrumental in charting an aggressive U.S. nuclear posture during the George W. Bush administration and also played a key role in arms control issues during the George H.W. Bush administration. Unlike many of his more hardline colleagues, he was supportive of accords concluded during the Obama administration, notably the New START agreement aimed at reducing Russian and U.S. nuclear weapons stockpiles. Brooks' support for the agreement appeared to hinge at least in part on the fact that it allowed for investment in costly modernization of the U.S. nuclear arsenal. In 2010, Brooks told the Union for Concerned Scientists that he saw "no down sides at all" to the treaty, claiming that it "provides clarity about the nuclear relationship" between the United States and Russia. He added that "the path to modernization of the complex runs through approval of New START."[2]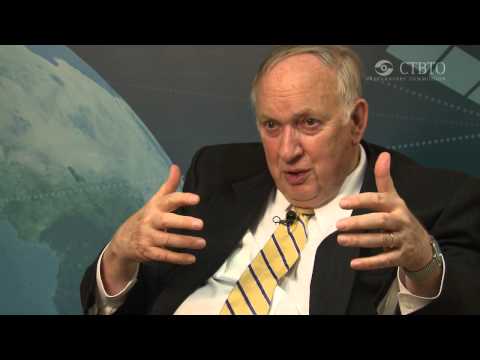 Brooks was a member of the team that produced the controversial January 2001 National Institute of Public Policy (NIPP) study "Rationale and Requirements for Nuclear Forces and Arms Control," which was regarded by many observers as a blueprint for President George W. Bush's 2002 Nuclear Posture Review.[3] Brooks also served on the Pentagon's Deterrence Concepts Advisory Panel, which helped implement the posture review. Head of that panel was Keith Payne, a hawkish nuclear analyst who directs the NIPP.[4]
According to anti-nuclear writer and activist Jonathan Schell, the Nuclear Posture Review that Brooks helped develop "announced nuclear targeting of, among others, China, North Korea, Iraq, Iran, Syria, and Libya" and "recommended new facilities for the manufacture of nuclear bombs and the study of an array of new delivery vehicles." Linking the policy to the Bush administration's broader embrace of "preemptive war," Schell quoted congressional testimony from Brooks, who once asserted that the U.S. should develop "bunker-buster" bombs because "it is unwise for there to be anything that's beyond the reach of U.S. power."[5] In an earlier statement quoted by Schnell, Brooks insisted that the United States should "make sure our weapons will in fact be seen by other countries as a deterrent. One element of that is usability. If nobody believes there is any circumstance where you will use the weapon, it is not a deterrent."[6]
Brooks was tapped in 2003 to serve as the U.S. energy undersecretary for nuclear security, a post that put him in charge of the National Nuclear Security Administration (NNSA), which oversees the U.S. nuclear weapons infrastructure. His 2003-2007 tenure at NNSA was a tumultuous one, characterized by efforts to accelerate weapons modernization programs while sidelining nonproliferation advocates, a controversial decision to privatize nuclear weapons laboratories, and concerns over security lapses. Brooks was ultimately forced to resign in 2007 after failing to report a series of major security breaches.
According to the Oakland Tribune, early in his tenure Brooks pressured U.S. nuclear labs to ramp up work on new nuclear weapons designs after Bush signed a bill in November 2003 that repealed a 1993 ban on designing low-yield nuclear weapons—a goal that had been outlined in the Nuclear Posture Review. The Tribune reported that in a leaked memo from Brooks to lab directors, Brooks had written: "I expect your design teams to engage fully with the Department of Defense to examine advanced (thermonuclear) concepts that could contribute to our nation's security. … In addition, we must take advantage of this opportunity to ensure that we close any gaps that may have opened this past decade in our understanding of the possible military applications of atomic energy—no novel nuclear weapons concept developed by any other nation should ever come as a technical surprise to us." Commenting on the memo, Frank von Hippel, a physicist and arms control specialist at Princeton University's Program on Science and Global Security, told the Tribune: "This is really very distressing. They're saying, 'Go after it, guys. We're back in the fifties. Come up with all the crazy ideas you can—if there are any crazy ideas left out there.' This is fossil Cold War mentality surfacing again."[7]
In July 2003, the Guardian reported that under Brooks' watch, the NNSA had quietly disbanded an independent advisory board just ahead of a closed-door meeting to address the possible resumption of nuclear testing and the development of a new generation of so-called mini-nukes and bunker-buster bombs. According to some advisory board members, the decision to abandon the board was made by Brooks. Sydney Drell, a respected physicist and arms control expert, told the Guardian that the board's charter "was not renewed. I presume they did not value us or found us a nuisance. An independent, tough advisory board is very important in having a strong [nuclear] stockpile program. … They just didn't call us. We didn't hear from them." A few months earlier, Drell had cowritten with another advisory board member an article for Arms Control Today criticizing the government's nuclear weapons plans: "Rather than moving to develop new nuclear weapons," they argued, "the United States should push to strengthen the nonproliferation regime through example and through stronger compliance measures directed at those who flout its basic purposes."[8]
Another hallmark of Brooks' tenure was his decision to put U.S. nuclear laboratories under the stewardship of for-profit contractors, which greatly increased the cost of running the facilities. Reflecting on the change, former Los Alamos National Laboratory Director Siegfried Hecker told a congressional committee in 2008, "When we went the direction of contractorization, we made a grievous error pushing the laboratories in a direction that simply isn't right for this country, and we've suffered from that."[9]
Security lapses at nuclear facilities during his tenure eventually forced Brooks to step down form the NNSA. Among the problems, which Brooks reportedly failed to properly report, were the theft of weapons-related documents from Los Alamos and a breach of computer files that included employees' Social Security numbers.[10] In announcing Brooks' resignation in early 2007, Energy Secretary Samuel Bodman said: "During my tenure at the Department, and even before, there have been a number of management issues involving the National Nuclear Security Administration, the most recent of which was a serious security breach several months ago at the Los Alamos National Laboratory. These management and security issues can have serious implications for the security of the United States. … Therefore, and after careful consideration, I have decided that it is time for new leadership at the NNSA, and I have asked for the resignation of NNSA Administrator, Linton Brooks."[11]