Lynne Cheney
last updated: May 8, 2014
Please note: The Militarist Monitor neither represents nor endorses any of the individuals or groups profiled on this site.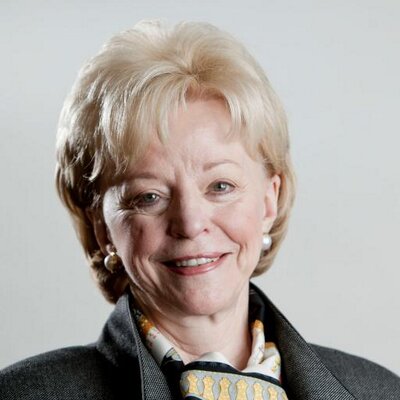 Affiliations
American Enterprise Institute: Senior Fellow
American Council of Trustees and Alumni: Cofounder, with Joe Lieberman
Independent Women's Forum: Director Emerita
CNN Crossfire Sunday: Co-Host, 1995-1998
Washingtonian: Editor, 1983-1986

Government
National Endowment for the Humanities: Chairperson, 1986-1993
Hart-Rudman Commission on National Security in the 21st Century: Commissioner

Business
AXP Mutual (American Express): Director
Lockheed Martin: Board of Directors, 1994-2001
Union Pacific Resources Group: Board of Directors
American Express-IDS Funds: Director, Mutual Fund Branch of Financial Services Division
Reader's Digest Association: Former Director

Education
University of Wisconsin: Ph.D., 19th Century British Literature
University of Colorado: M.A.
Colorado College: B.A.
Lynne Cheney is a Senior Fellow at the neoconservative American Enterprise Institute (AEI) who writes on American history and culture. The spouse of former Vice President Dick Cheney, Lynne Cheney served as chair of the National Endowment for the Humanities under Presidents Ronald Reagan and George H.W. Bush.[1]
Cheney has been an aggressive defender of the "war on terror" policies pushed by both her husband and her daughter, Elizabeth Cheney (founder of the right-wing pressure group Keep America Safe), including the 2003 invasion of Iraq. During a May 2014 interview on Fox News' "No Spin Zone," for instance, Cheney pushed back against the idea, offered up by her Fox interviewer, that the killing of a U.S. ambassador in Benghazi during an attack on the embassy compound there in 2012 paled in comparison to the Bush administration's "lies" that led to the ill-fated decision to invade Iraq. Cheney brushed aside the comparison, claiming instead to be "astonished" by how the Benghazi issue was becoming "distorted when it is really about the Clintons." She then went on to float a conspiracy theory about a then-recent article by Monica Lewinsky in Vanity Fair, saying, "Would Vanity Fair publish anything about Monica Lewinsky that Hillary Clinton didn't want in Vanity Fair?"[2]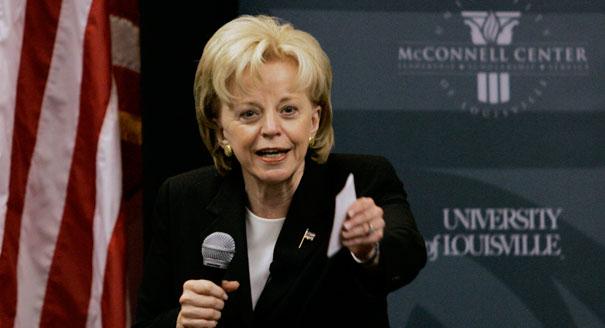 Cheney, in fact, has a long track record pushing questionable theories to support her family's crusades. For instance, in 2006, she went on the attack in an interview with CNN's Wolf Blitzer, accusing CNN (her former employer) of having a left-wing bias. Commenting on an earlier CNN segment titled America's "Broken Government," Cheney said that the program "seemed straight out of Democratic talking points." In her zeal to criticize the program, she made an overblown claim about the purported limits of domestic surveillance, arguing that "it's not domestic surveillance that anyone has talked about or ever done. It's surveillance of terrorists. It's people who have Al Qaeda connections calling into the United States. So I think we're in the season of distortion, and this is just one more." When Blitzer asked if any innocent people had been scrutinized by the surveillance program, Cheney shot back, "Well, are you sure these people are innocent?" Referring to a CNN broadcast of images depicting Iraqi insurgents attacking U.S. troops, Cheney accused CNN of running "terrorist propaganda," asking Blitzer if he wanted "us to win" in Iraq.[3]
Cheney has repeatedly tried to defend her husband against accusations that he made misleading statements about the nature of the threat in Iraq before and after the 2002 U.S.-led invasion. Speaking on NPR's "Diane Rehm Show," Cheney contradicted various recorded utterances made by her husband in claiming that he never connected Saddam Hussein to 9/11: "I've seen Dick specifically say 'no' to the question asked 'is there a connection between Saddam Hussein and 9/11?' because there isn't a connection between Saddam Hussein and 9/11."[4]
Cheney also defended the actions of other Bush administration figures who were accused of wrongdoing before and after the invasion of Iraq. For instance, she was a vocal supporter of I. Lewis "Scooter" Libby, her husband's one-time chief of staff, who was convicted in connection with the leaking of CIA agent Valerie Plame's identity. Describing Libby as "a man who spent a great deal of his life as a dedicated public servant who's done an awful lot of good,"[5] Cheney asserted that Libby's trial did "not reflect well on our judicial system."[6]
Shortly after the 9/11 attacks, Cheney received media attention when an organization she jointly founded with Sen. Joe Lieberman (I-CT) in the mid-1990s, the American Council of Trustees and Alumni (ACTA), published a report called "Defending Civilization: How Our Universities Are Failing America." Many observers harshly criticized the ACTA report for seeking to "blacklist" professors who had made statements such as "It is from the desperate, angry, and bereaved that these suicide pilots came," which ACTA characterized as "anti-American."[7]
The criticism spurred ACTA to issue a "revised and expanded" edition of its report in February 2002, which included "a sampler of the many responses" to the original report. The revised edition, authored by ACTA staff, claims in its "Acknowledgements" that "no public official—including Lynne Cheney and Sen. Joe Lieberman—has endorsed or been asked to endorse this report." The new report was in essence a compendium of some 100 statements recorded by ACTA that revealed what it called "moral equivocation" and outright hostility toward the United States among academic elites. Such statements included: "Just because a grotesque act was committed against this country, does not mean any response is justified; it does not grant this country special license to use the sword"; "[Americans should] bring ourselves and our country to justice, not just the perpetrators"; and "War created people like Osama bin Laden, and more war will create more people like him."[8]
Cheney has also criticized universities for offering more courses on global culture and history. Reported one journalist: "The American experience, she argues, was the high point of world history: 'I find it hard to imagine that there's a story more wonderful than being driven by the desire to worship freely, to set off across that ocean, to make a home out of this wild, inhospitable land.'"[9]
Pre-9/11, Cheney's hard-line views focused mainly on countries like China. According to The Atlantic's James Fallows, while Cheney served on the Hart-Rudman Commission on National Security in the 21st Century, she repeatedly insisted that a military showdown with the Chinese was unavoidable.[10]
Cheney is a former director of the Independent Women's Forum (IWF), a right-wing group opposed to "radical feminism," government-sponsored childcare, and equal pay for equal work standards for women in government service. IWF was one of the contractors selected by the State Department to implement the "Iraqi Women's Democracy Initiative" to train Iraqi women for political participation.[11]
Cheney's projects typically receive large donations from a plank of right-wing funders. Both IWF and ACTA have received money from the Sarah Scaife, Carthage, Bradley, and John Olin foundations.[12]
Cheney's children are also engaged in conservative politics. Her daughter Elizabeth served as George W. Bush's deputy assistant secretary of state for Near East affairs, where she oversaw the Iran-Syria Operations Group, which sought "to plot a strategy to democratize those two 'rogue' states.'"[13] The Virginia-born Elizabeth Cheney also launched an ill-fated 2013 campaign for Senate in Wyoming. Cheney's daughter Mary is a former board member of the Republican Unity Coalition and served as director of vice-presidential operations for the Bush-Cheney 2004 reelection campaign. A former vice president for consumer advocacy at AOL, Mary Cheney is now a principal at Navigators Global, a "governmental relations and strategic communications firm."[14]
In recent years, Cheney has focused her work on U.S. history, penning a children's book titled We the People: The Story of Our Constitution (2008) and writing a biography of James Madison that was published in 2014.