Michael Novak
last updated: October 16, 2013
Please note: The Militarist Monitor neither represents nor endorses any of the individuals or groups profiled on this site.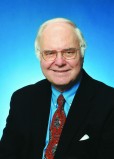 Affiliations
American Enterprise Institute:Former George Frederick Jewett Scholar in Religion, Philosophy, and Public Policy; Director of Social and Political Studies
National Endowment for Democracy:Member, Board of Directors (2002-current)
Institute on Religion and Democracy:Member Emeritus, Board of Directors
Institute on Religion and Public Life: Adviser
Empower America: Former Member, Board of Directors
National Review Online: Contributing Editor
Capital Research Center: Member, Board of Directors
Center of the American Experiment: Former Member, Board of Advisers
Board for International Broadcasting: Member of the Board (1984-1994)
First Things: Cofounder, Member of Editorial Board
This World: Cofounder, Member of Editorial Board
Crisis: Cofounder, Publisher/Editor
University of Notre Dame: Professor of American Studies and Welch Chair (1987, 1988)
Syracuse University: University Professor and Ledden-Watson Distinguished Professor of Religion (1976)
Rockefeller Foundation: Director of Humanities Program (1973-1974)
State University of New York at Old Westbury: Faculty Member (1968-1973)
Stanford University: Assistant Professor of Humanities (1965-1968)
Harvard University: Teaching Fellow

Government
Conference on Security and Operation in Europe: U.S. Ambassador (1986)
Presidential Task Force on Project Economic Justice (1985)
UN Human Rights Commission: U.S. Ambassador (1981-1982)
White House Office of Ethnic Affairs: Adviser (1974-1980)

Business
Pfizer Corporation: Former Member, Board of Directors

Education
Harvard University: M.A., History and Philosophy of Religion
Gregorian University (Rome): S.T.B.
Stonehill College: B.A.
Michael Novak is a conservative Catholic theologian and writer. A former leftist who became an enthusiastic proponent of market economics and U.S. military interventions overseas, Novak was a founding member of the "theocon" political faction, a loose grouping of Christian writers closely associated with neoconservatives who blend religiously informed social conservatism with foreign policy militarism. The author of more than 25 books and a former professor at several elite American universities, Novak has worked for decades to unite various right-wing factions into a cohesive front against cultural liberals and antiwar progressives.
Novak was a board member of the Coalition for a Democratic Majority, helped found the Institute on Religion and Democracy, served as an adviser to the Ethics and Public Policy Center, and worked for decades as a fellow at the American Enterprise Institute. He was also a board member at the hawkish advocacy group Empower America, which merged with Citizens for a Sound Economy in 2004 to form FreedomWorks, an important nucleus of Tea Party activism. ("God," wrote Novak in 2010, "if You can no longer bless the whole nation, please bless the Tea Party movement."[1]) Novak continues to write and speak on a variety of issues, and serves on the board of the National Endowment for Democracy.
Along with fellow Catholic theocons Richard John Neuhaus, George Weigel, and Robert P. George, Novak was an avid proponent of the Iraq War, calling it in 2003 "a just and morally necessary war" of "great moral worth."[2] He reiterated this support in 2013, telling the National Catholic Register that it would have been "inexcusable for an American president, knowing what was public knowledge [on Iraq's WMD program], not to act to some degree," even though what was "known" about Iraq's purported WMD program turned out to be patently false. In September 2013, Novak criticized the Obama administration's hesitancy to intervene in Syria's civil war, lamenting that President Barack Obama had "missed the opportunity" to bolster the country's rebels against the Assad regime.[3]
Like many early neoconservatives, Novak began his political journey on the left. In his 1969 book A Theology for Radical Politics—a theological endorsement of the student-led New Left movement—Novak argued that the real enemy in America was the "tyrannical and indifferent majority: the good people, the churchgoers, the typical Americans, the ones who have been taught that to be an American is by that fact to be moral, just, free, generous, and trustworthy. So long as such majority controls the destiny of America, it appears, the nation will remain militarist, racist, and counter-revolutionary."[4]
By the mid-1970s, however, Novak had shifted decidedly to the right. Discussing this shift, Novak once said he had "tried hard to work with the radical left" but "couldn't stand it when people started spelling America with a K."[5] Deciding that the anti-interventionist left had "draw[n] the wrong lessons from the war in Vietnam" and that the Democratic Party had become "the party of abortion,"[6] Novak bolted the party and became an ardent supporter of Republican Ronald Reagan.[7] He went on to serve a number of posts in the Reagan administration—including as ambassador to the UN Human Rights Commission in Geneva (1981-1982), head U.S. delegate to the Conference on Security and Cooperation in Europe (1986), a member of the Board for International Broadcasting (1984-1994), and as a member of the Presidential Task Force on Project Economic Justice (1985).[8]
From his perch at AEI, where he was a resident scholar for over 30 years (1978-2009), Novak was a vociferous proponent of capitalism, working to push the Catholic Church and other religious denominations to accept free-market economics—notably through his 1982 book The Spirit of Democratic Capitalism. Wrote Mark Gerson in his 1997 book The Neoconservative Vision: "Traditionally a bastion of premodern, anticapitalist, and antisocialist economics, the Catholic Church has come around to an acceptance of capitalism, some say due directly to the work of Michael Novak."[9] Novak's AEI work was generously funded by conservative foundations, including the Olin, Bradley, and McKenna foundations. From Olin, Novak's AEI program on religion and policy received more than $1 million between 1985 and 2004.[10]
Novak has reprised this role as a board member for the National Endowment for Democracy (NED), where he has served since 2002. At NED, Novak has advocated that the U.S. government increase its programs to build free-market democracies in the Middle East and Latin America, reasoning that this will at the same time spread religion. Houston Catholic Worker writers Mark and Louise Zwick argue that Novak and others, like Weigel and the late Richard Neuhaus, have twisted the teachings of the Catholic Church to justify policies that have little to do with the social justice tradition of the church. "They use Catholicism as window dressing," wrote the Zwicks, "to promote an economic system based solely on self-interest, a system that has nothing to do with the Gospel or Catholic social teaching."[11]
Novak has also written prolifically about social and cultural issues, occasionally entertaining "Clash of Civilizations"-style rhetoric with respect to the Muslim world. "Muslim memory runs very deep, and so does the Muslim imperative to conquer the world for Allah," he wrote in 2008. "The West has always refused to give this long and deeply rooted Muslim threat against the West's own soul the sustained attention it requires."[12]
This civilizational anxiety was on full display in the run-up to the 2003 U.S.-led invasion of Iraq. In an article for the National Review shortly before the invasion, Novak claimed that Saddam Hussein might use terrorists to attack the United States or Europe. "Saddam Hussein has the means to wreak devastating destruction upon Paris, London, or Chicago, or any cities of his choosing," Novak warned, "if only he can find clandestine undetectable 'foot soldiers' to deliver small amounts of the sarin gas, botulins, anthrax, and other lethal elements to predetermined targets."[13]
Though Novak insisted that Iraq was a "just war" according to Catholic teaching, his position put him into conflict with the actual leadership of the church, which spoke out against the war. Shortly before the invasion, the U.S. ambassador to the Vatican invited Novak to lecture skeptical church officials on how the "asymmetrical warfare" of the post-9/11 world required what the National Catholic Register called "a flexible approach to the application of just-war criteria."[14] Because Novak was acting ostensibly as a representative of U.S. Catholics, his trip provoked a storm of complaints within the church that the U.S. government had "selected a theologian to represent the U.S. Catholic community's position on the morality of war without any consultation with recognized Catholic leaders."[15]
Reflecting years later on his failure to persuade Pope John Paul II to support the war, Novak mused that "It was the role of Pope John Paul to be against the war, so it would not be turned into a religious war," adding that the same was true with Pope Francis regarding his opposition to military intervention in Syria's civil war today.[16]
Novak applies his "flexible" just war doctrine to Iran as well. In a 2010 post for First Things (which is published by the Institute on Religion and Public Life, another "theocon" organization where Novak serves as an adviser), Novak mused that "we need a new, tough Christian Renewal of Orthodoxy, Neo-Orthodoxy, Christian realism" to counter the purported nuclear threat from Iran. "Who is ready to say that as the last of all resorts the Iranian nuclear effort must be destroyed by force before it comes to term?" he asked. "I for one do say it."[17]