Mike Pompeo
last updated: February 3, 2019
Please note: The Militarist Monitor neither represents nor endorses any of the individuals or groups profiled on this site.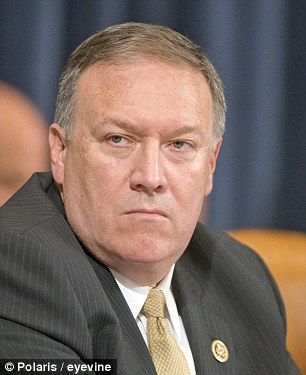 GOVERNMENT
Secretary of State (2018 – )
CIA: Director (2017-2018)
Member, U.S. House of Representatives (R-KS) (2011-2016)
BUSINESS
Thayer Aerospace: Founder
Sentry International: Former President
EDUCATION
West Point (B.A. 1986)
Harvard Law School (J.D. 1994)
Mike Pompeo, a former Republican congressman from Kansas who was voted into Congress as part of the "tea party" surge in 2011, replaced Rex Tillerson as President Donald Trump's secretary of state in April 2018. Prior to that, he served as Trump's CIA director. He is known for his vocal criticism of the Iran nuclear deal, anti-Islam rhetoric, promotion of broad government surveillance powers, politicization of the Benghazi tragedy, and extremist social views, including opposing abortion in cases of rape and incest.[1]Commentators have noted[2] how Pompeo's Religious Right outlook has led him to develop close associations with anti-Islam zealots like the Center for Security Policy's Frank Gaffney, who once called Pompeo "one of the most intelligent men I know in public life."[3]
In January 2019, Pompeo demonstrated interest in running for the U.S. Senate in 2020, after long-time senator Pat Roberts (R-KS) announced he would not seek re-election. Senate Majority Leader Mitch McConnell was said to be in favor of Pompeo running, as he was a prominent name, would likely discourage other Republicans from running, and would increase the likelihood that the Republicans would retain that seat.[4]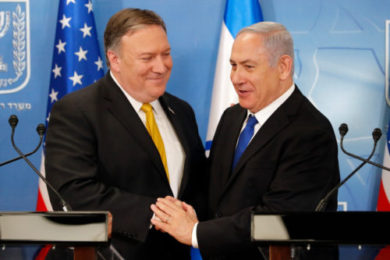 Venezuela
While Iran and North Korea were the major foreign policy issues for the Trump administration and the public in Pompeo's first few weeks as secretary of state, he also foreshadowed another issue that would rise to the top of his agenda in the future. At the first meeting during his tenure of the Organization of American States (OAS), Pompeo called for Venezuela's ouster from that body. "The regime's refusal to take meaningful action on these issues [of democracy] has demonstrated unmistakable bad faith and exhausted options for dialogue under current conditions" said Pompeo.[5]
In January 2019, immediately after the new far-right government of Jair Bolsinaro took power in Brazil, Pompeo met with the Brazilian foreign minister and with Bolsinaro himself to discuss targeting Venezuela, along with Nicaragua and Cuba, for what he considered their lack of democracy and respect for human rights. He said that the three countries "do not share the democratic values that unite the United States and Brazil." Venezuela's foreign ministry characterized Pompeo's words as an "interventionist attitude," and accused him of seeking "forcible regime change" in Venezuela.[6]
As Venezuela descended into crisis under the weight of rampant inflation, hunger, and rioting over president Nicolas Maduro's inauguration in the wake of a widely disputed election, the Trump administration continued to press the case for regime change. The U.S. was the first country to recognize the leader of the Venezuelan national assembly, Juan Guiado's claim to be the legitimate president. In a strong signal of the Trump administration's intentions, Pompeo named Elliott Abrams—who had pled guilty to lying to Congress about the Iran-Contra scandal in the 1980s, and had been a key figure not only in U.S. support for the Nicaraguan Contras, but also for the regimes in Guatemala,[7] El Salvador, and Honduras, all of whom committed major human rights violations and war crimes[8]–as his special envoy for Venezuela.
Pompeo said Abrams "will be a true asset to our mission to help the Venezuelan people fully restore democracy and prosperity to their country."[9]
Pompeo declared that the United States would dispatch $20 million in humanitarian aid to Venezuela "as soon as logistically possible," which was understood to mean when the government they recognized—that of Guiado—would be able to receive it. In response, Maduro announced he was severing ties with the U.S. and ordered all U.S. personnel to leave the country, an order Pompeo said was invalid. Maduro eventually backed off of the demand.
Days later, the United States slapped additional sanctions on the Venezuelan state oil company, choking off one of the Maduro government's few sources of income and froze Venezuelan assets in the U.S.[10]
North Korea
Venezuela was not the only place where Pompeo made a mark early and often. While Pompeo's Senate confirmation as secretary of state was still pending, he quietly flew to North Korea and met with the president, Kim Jong Un. It was an unusual task for a CIA director. His mission was described by Trump in a tweet: "Mike Pompeo met with Kim Jong Un in North Korea last week. Meeting went very smoothly and a good relationship was formed. Details of Summit are being worked out now. Denuclearization will be a great thing for World, but also for North Korea!"[11]
According to one report: "Pompeo returned to Washington with enough assurance that North Korea was prepared to negotiate over the future of its nuclear weapons program that the White House decided summit talks were worthwhile, according to the people familiar with the meeting."[12] Later, however, as the summit came into greater jeopardy, Pompeo's tone changed, as he said, "A bad deal is not an option. The American people are counting on us to get this right. If the right deal is not on the table, we will respectfully walk away."[13]
The summit was held in Singapore in June 2018. Trump made bombastic statements about how successful it had been and that there was no longer a nuclear threat from North Korea. Pompeo was to continue the negotiations, based on vague promises of "de-nuclearization" which were widely seen as ephemeral and based on very different views of that concept between North Korea and the United States.
Weeks after the summit, Pompeo went to Pyongyang to continue talks. While he described the session as "productive," his interlocutors accused him of pushing a "unilateral and gangster-like demand for denuclearization" and called it "deeply regrettable."[14] When asked at a Senate hearing about North Korea, Pompeo was forced to admit that, "Yes, they continue to produce fissile material."[15]
In August 2018, it was revealed that Pompeo had requested that North Korea hand over "60 to 70 percent of its nuclear warheads within six to eight months." The North Koreans rejected the request, which was an odd one to begin with since they have also refused to divulge the size of their nuclear arsenal.[16]
The Middle East
As 2019 dawned, Pompeo embarked on a nine-country trip to the Middle East. It was an important sojourn as President Trump had recently surprised his own cabinet as well as allies and adversaries in the region and around the world by suddenly announcing the withdrawal of two thousand U.S. troops from Syria. The announcement led to the resignation of Secretary of Defense Jim Mattis and left many leaders wondering what U.S. policy was, in Syria and in the Middle East more broadly.
Pompeo was tasked with reassuring U.S. allies in the region, and he had his work cut out for him. At the same time, national security adviser John Bolton was scheduled to meet Turkish leader Recip Tayyip Erdogan to try to clarify U.S. intentions. The meeting never took place due to Erdogan's offense at public comments Bolton had made.[17]
Pompeo's task was even more difficult because of the nine countries he would visit, five did not have ambassadors. Those five were all crucial regional allies—Saudi Arabia, Qatar, Jordan, Egypt, and the United Arab Emirates—and each of them were facing various crises that held concerns for U.S. regional policy. High-level vacancies had been one of the State Department's biggest issues throughout the Trump administration, and Pompeo—despite having vowed to get the positions staffed quickly—had been unable to address the issue adequately in his first year in office.
Some of this was due to Senate Democrats blocking nominations over the Trump administration's actions, often taken with no consultation with anyone in Congress. But the bulk of the issue, according to a Foreign Policy report, was related to President Trump nominating candidates that "are wholly unqualified to be ambassadors, or have backgrounds that should preclude them from confirmation—such as Christine Toretti, the ambassador nominee for Malta, who had a restraining order filed against her for "placing a bullet-riddled target sheet" in the office of her ex-husband's doctor. Other nominees have faced sexual harassment lawsuits or been embroiled in federal investigations. For other ambassador posts, Trump simply never bothered to nominate anyone."[18]
Pompeo's trip was highlighted by a speech in Cairo, which some expected to be a statement of policy, in the mode of Barack Obama's landmark address in that same city in 2009.[19] Pompeo's speech, in fact, focused largely on rebuking Obama's, and proclaiming that "America is a force for good in the Middle East."[20]
The speech was widely critiqued by Middle East scholars and observers. Tamara Coffman-Wittes of the Brookings Institute reflected the view of many, stating, "It's a sad day when the American secretary of state goes on a major regional tour making bold declarations of American policy, and no one in the region can rationally give them much credit. But that's the point to which President Trump has brought us."[21]
Pompeo also spent considerable time in his speech rebuking Iran, but this, too, was assailed. As one observer pointed out, "The speech's lengthy excoriation of Iran also was written in a tone suggesting great accomplishment, even though nothing has been accomplished in the last two years. Despite all the pressure the Trump administration has exerted on Iran, there is still no sign of any "better deal" on nuclear matters or anything else to replace the Joint Comprehensive Plan of Action and Security Council Resolution 2231, of which the United States is in material breach following Trump's reneging on U.S. obligations."[22]
Iran
In his first overseas trip after being confirmed as secretary of state, Pompeo visited Saudi Arabia, Israel, and Jordan. He used the trip to excoriate the Iran nuclear deal and rail against Iran's regional ambitions, promise a hardline on Syria, and—during a meeting with Prime Minister Benjamin Netanyahu—praise the divisive Trump administration decision to move the U.S. embassy to Jerusalem. Commenting on the trip, retired CIA officer and veteran foreign policy commentator Paul Pillar wrote: "If Secretary of State Mike Pompeo's just-concluded visit to the region is any indication, Netanyahu need have no worry about (one-sided U.S. support for Israeli government policies). Pompeo's remarks…could not have been more pleasing to the prime minister's ears if Netanyahu's own staff had written the talking points. Such remarks represent prioritizing the passionate attachment over an independent pursuit of U.S. interests and over the interests of regional stabilization and nuclear nonproliferation."[23]
After Trump violated the Iran nuclear deal by unilaterally ending the United States' participation in the Joint Comprehensive Plan of Action (JCPOA), Pompeo took the lead in both defending Trump's decision and pressing forward with an aggressive plan of unilateral action. In his first speech in his new position, Pompeo presented a list of demands that were widely criticized as untenable and a recipe for confrontation.
Former U.S. Ambassador to NATO, Robert E. Hunter said of Pompeo's speech, "It is not just that the secretary of state continued to tell the whoppers that Trump has so often uttered, such as 'the JCPOA put the world at risk because of its fatal flaws.' Every unbiased observer throughout the globe says just the reverse. It is not just that Pompeo had earlier said in Saudi Arabia that Iran is 'the greatest sponsor of terrorism in the world,' whereas that title unimpeachably belongs to his Saudi hosts.[24] It is not just that the Trump administration has bizarrely represented Iran as the only source of mischief in the region now that the Islamic State is militarily on the ropes. It is not just that Trump and Pompeo refuse to acknowledge, like the Obama administration before them, that the United States failed fully to implement the lifting of sanctions required by the JCPOA, which failure helped ensure that there'd be no positive political or diplomatic benefit from the nuclear agreement. And it is not just that Pompeo can construct the fiction that Iran has had 'carte blanche to dominate the Middle East.'[25] It is hard to imagine that a US secretary of state can honestly believe this litany."[26]
Seyed Hossein Mousavian—a former spokesman for Iran in tis nuclear negotiations and now a security and nuclear policy expert at Princeton University—said that the demands Pompeo made were at odds with reality. "Pompeo's list of demands simply recycles many of the same coercive policies and statements made by past U.S. administrations. This U.S. approach has already proved to be counterproductive and self-defeating for U.S. interests and regional stability. Despite Pompeo's faux call for diplomacy, his speech amounted to an official declaration of a regime-change policy against Iran. His untenable demands eliminate the prospects for U.S.-Iran diplomacy and set the two countries up for a dangerous escalation cycle that may lead to a catastrophic war."[27]
Pompeo's nomination as secretary of state had been rumored for months, as Trump had repeated friction with Rex Tillerson.[28] Speaking to reporters the day he nominated Pompeo, Trump said of him, "We are always on the same wavelength. The relationship has always been good and that is what I need as secretary of state."[29] Trump specifically cited disagreements with Tillerson on the Iran nuclear deal as a point on which he and Pompeo would be of closer minds. "If you look at the Iran deal I think it's terrible and I guess he thought it was OK. … We weren't really thinking the same," Trump said. "I wanted to either break it or do something, and he felt a little bit differently. So we were not really thinking the same."[30]
In November 2018, as renewed U.S. sanctions against Iran were about to kick in, Pompeo defended the measures, saying they would cut off Iran from its oil, target their finance sector and protect Israel and other countries. He claimed the penalties would not hurt the Iranian people. "These sanctions are the toughest ever put in place on the Republic of Iran," he said, adding that they were designed to "alter Iran's behavior."[31]
Others disagreed. For example, the International Crisis Group (ICG) asserted that "historical data shows little, if any, correlation between the resources at Iran's command and its regional behaviour. Rather, the extent to which the Islamic Republic feels threatened or senses opportunity in its neighbourhood largely defines its conduct. Measured against that standard, the Trump administration's aggressive policy is likelier to spur Iran's regional activism than to curb it."
As to the potential harm to the population of Iran, ICG disagreed with Pompeo on this point as well. "For now, banking on the remaining signatories to the JCPOA's effort to provide it with an economic lifeline in the face of unilateral U.S. sanctions, …Paradoxically, however, Tehran could become less risk-averse if Washington were to succeed in crippling its economy. As a senior Iranian official put it, 'if the economy spirals out of control, the leadership in Tehran will welcome a crisis that could change the subject domestically and rally the population round the flag.' Given the high level of friction between Iran, the U.S. and their respective allies in the region, such a clash could easily spiral into a disastrous conflict."[32]
In January 2019, as Pompeo embarked on his nine-country trip to the Middle East, he stated that the United States was "redoubling its efforts" to curb Iran's "malign behavior."[33]Several days later, he announced that the United States would, in mid-February, be convening an international summit on Iran in Poland. "We'll bring together dozens of countries from all around the world," said Pompeo. "Countries will all come together to focus on Middle East stability and peace and freedom and security here in this region, and that includes an important element of making sure that Iran is not a destabilizing influence."[34]
But the summit met with a cool reception among European officials, the very people the United States was hoping to press for more engagement in opposing Iran. European Union foreign policy chief Frederica Mogherini said she would not attend and was said to have referred to the confab as an "anti-Iran conference." France's foreign minister expressed similar sentiments and neither Germany nor the United Kingdom made any statements about the potential meeting at all.[35]
After nearly two weeks, one observer quipped, "What if they held a conference on Iran's malign influence in the Middle East and nobody came? Well, in the case of the February summit, we may soon find out. …The foreign ministers of Russia and France, and the European Union high representative, have already said they will not go. The United Kingdom, Germany, and China may well follow suit.  It is not clear what a 'coalition of the willing' that includes none of the parties to the Iran nuclear deal besides the United States can really hope to accomplish."[36]
Pompeo soon backtracked and described the conference as a "Ministerial to Promote a Future of Peace and Security in the Middle East," in an attempt to portray it as having a broader agenda.
An anonymous senior U.S. official specifically said, "It's important to underscore that this is not an anti-Iran meeting or coalition-building exercise." He said that the conference would discuss the crises in Syria and Yemen as well as missile proliferation, cyber issues, human rights and refugees.
These are, however, all issues that U.S. rhetoric has closely tied to Iran, in some cases exclusively. The change in terminology did not bring in more high-level attendees, an embarrassing setback for Pompeo and Washington. One journalist observed, "The Trump administration's attempts to create a new coalition of the willing against Iran—and sever some of Iran's key alliances—have not gotten very far."[37]
CIA Director
After becoming CIA chief, Pompeo stepped up pressure on Iran. Notably, after the surprise Trump administration missile strike on Syria in April 2017, Pompeo warned that the strike was also a signal to Iran concerning its adherence to the nuclear deal (the Joint Comprehensive Plan of Action, or JCPOA). He said, "We should all be mindful, given what took place in Syria, and go back and read that JCPOA when it talks about declared facilities and undeclared facilities and how much access [inspectors] will have to each of those two very distinct groups."[38] Several months later, neoconservative pundits like Mark Dubowitz of the  Foundation for Defense of Democracies gushed that "Pompeo is putting the agency on an aggressive footing against [the Iranian regime's terrorist] global networks with the development of a more muscular covert action program."[39]
An August 2017 New York Times feature about Pompeo  painted him as one of President Trump's "favorite cabinet members." On the other hand, according to the Times, the very things "that have endeared Mr. Pompeo to the president—his hawkish politics and eagerness to speak his mind—have been met with a more mixed reception at the CIA. The agency sees its role as delivering hard truths that are unvarnished by political preferences, and there are concerns in the intelligence community that Mr. Pompeo's partisan instincts color his views of contentious issues, such as Russia's interference in the election or Iran's nuclear program."[40] Commented Paul Pillar, "When analysts are preparing their assessments, they can't blot out of their mind their awareness of what will be welcome and what will be not welcome. There is the hazard of a bias creeping in, even subconsciously."[41]
Long-Time Iran Hawk
Pompeo long argued that the Iran nuclear deal empowered "an Iranian regime that is intent on destroying America." The day before his CIA nomination he tweeted, "I look forward to rolling back this disastrous deal with the world's largest state sponsor of terrorism."[42]
Wrote Pillar, "It is hard to picture how someone so committed to such a partisan goal could be counted on to present objectively, as an intelligence chief, all the pertinent information and analysis about what is happening under the nuclear agreement and what the consequences would be if the United States withdrew from it."[43]
Pompeo's view contraseds sharply with that of Gen. James Mattis, Trump's Secretary of Defense for his first two years, who although critical of the Iran agreement argued that the United States cannot unilaterally walk away from it.
Pillar's concerns seemed validated by a speech Pompeo gave in October 2017, just before Trump decided not to certify Iran's compliance with the nuclear deal, despite the absence of any violations of letter or spirit. Comparing Iran to its deadly and hated enemy, ISIS, Pompeo said, "For unlike ISIS and its mirage of a caliphate, Iran is a powerful nation-state that remains the world's largest state-sponsor of terrorism. The Islamic Republic is Iran's version of what the caliphate ought to look like under the control of an Ayatollah and his praetorian guard, the IRGC."
He also hurled harsh words at Iran's domestic policies. "Iran's Ministry of Intelligence and Security and the Islamic Revolutionary Guard Corps are the cudgels of a despotic theocracy, with the IRGC accountable only to a Supreme Leader. They're the vanguard of a pernicious empire that is expanding its power and influence across the Middle East."[44]
Pompeo's confrontational approach to Iran has included calling for preemptive bombing of Iranian nuclear sites,[45] introducing legislation that would block the U.S. purchase of heavy water from Tehran,[46] requesting a visa from Iran to "monitor" its elections,[47] and joining neoconservative Sen. Tom Cotton in the misleading claim that there were "secret side deals" between Iran and the International Atomic Energy Agency that the Obama administration kept from the public to get the Iran deal through.[48]
CIA Nomination
Trump nominated Pompeo as director of the CIA shortly after his victory in the November 2016 presidential election. Reports indicated that one of the reasons he was chosen over other candidates was because of his fierce condemnation of Hillary Clinton, which as one observer wrote "is hardly the sort of criterion that makes for good intelligence."[49] Former CIA director Michael Hayden, a Middle East hawk and Trump critic, has called Pompeo a "serious man."[50] However, many foreign policy experts are alarmed by Pompeo's lack of experience and antagonistic views on Iran.[51]
During his initial Senate confirmation hearings in early January 2017, Pompeo reaffirmed his hawkish views on Iran, and also staked out a hardline on Russia, appearing to differ from Trump. He argued that Russia was threatening Europe and the Ukraine and "doing nothing to aid in the destruction and defeat" of the Islamic State.
One noted foreign policy writer compared Pompeo's nomination to that of retired Lt. Gen. Michael Flynn, Trump's disgraced first pick as National Security Adviser. Paul Pillar wrote in the National Interest, "Although perhaps not as awful an appointment as Flynn, the choice of Representative Mike Pompeo (R-KS) to be director of the Central Intelligence Agency raises some of the same issues of an ideological echo chamber and whether an ill-informed president with meager knowledge of foreign relations will get the information and analysis he so badly needs. Pompeo is an ideologue in the partisan sense. His main claim to fame is as one of the lead attack dogs politicizing the tragedy at the U.S. diplomatic compound in Benghazi, Libya in 2012, for the purpose of cutting down Hillary Clinton."[52]
Track Record
Pompeo has defended broad government surveillance and voted to oppose congressional controls on NSA and CIA data collection of U.S. citizens. He wrote in the Wall Street Journal, "Congress should pass a law re-establishing collection of all metadata and combining it with publicly available financial and lifestyle information into a comprehensive, searchable database. Legal and bureaucratic impediments to surveillance should be removed."[53]
Pompeo has served on major congressional committees, including the House Intelligence Committee, which oversees intelligence-gathering efforts. In 2014, Pompeo was also appointed to the House Select Benghazi Committee.
A military veteran who graduated from West Point, Pompeo "served as a cavalry officer patrolling the Iron Curtain before the fall of the Berlin Wall. He also served with the 2nd Squadron, 7th Cavalry in the Fourth Infantry Division. After leaving active duty, [he] graduated from Harvard Law School having been an editor of the Harvard Law Review.
Prior to his service in Congress, Mr. Pompeo founded Thayer Aerospace, where he served as CEO for more than a decade. He later became President of Sentry International, an oilfield equipment manufacturing, distribution, and service company."[54]
 SOURCES
[1] On The Issues, Mike Pompeo, http://www.ontheissues.org/House/Mike_Pompeo.htm#Foreign_Policy
[2] Michelle Goldberg, "This Evil Is All Around Us," Slate, January 12, 2017, http://www.slate.com/articles/news_and_politics/politics/2017/01/mike_pompeo_trump_s_pick_for_the_cia_wants_a_holy_war.html
[3] Center for Security Policy, "Congressman Mike Pompeo Joins Secure Freedom Radio," Secure Freedom Radio, August 5, 2015, https://www.centerforsecuritypolicy.org/2015/08/05/congressman-mike-pompeo-joins-secure-freedom-radio/
[4] Alex Isenstadt, "Pompeo discussing a run for Kansas Senate seat," Politico, January 20, 2019, https://www.politico.com/story/2019/01/20/mike-pompeo-kansas-senate-seat-1116067
[5] Curt Mills, "Trump, Pompeo Quietly Pursue Hawkish Course On Venezuela," The National Interest, June 7, 2018, https://nationalinterest.org/blog/the-skeptics/trump-pompeo-quietly-pursue-hawkish-course-venezuela-26164
[6] Mary Milliken, Anthony Boadle, and Luc Cohen, "Pompeo, Brazil's new government target Cuba, Venezuela, Nicaragua," Reuters, January 2, 2019, https://www.reuters.com/article/us-usa-brazil-venezuela/pompeo-brazils-new-government-target-cuba-venezuela-nicaragua-idUSKCN1OW0VQ
[7] Eric Alterman, "An Actual American War Criminal May Become Our Second-Ranking Diplomat," The Nation, February 2, 2017, https://www.thenation.com/article/an-actual-american-war-criminal-may-become-our-second-ranking-diplomat/
[8] Jon Schwarz, "Elliott Abrams, Trump's Pick To Bring 'Democracy' To Venezuela, Has Spent His Entire Life Crushing Democracy," The Intercept, January 30, 2019, https://theintercept.com/2019/01/30/elliott-abrams-venezuela-coup/
[9] Nahal Toosi, "Elliott Abrams, prominent D.C. neocon, named special envoy for Venezuela," Politico, January 25, 2019, https://www.politico.com/story/2019/01/25/elliott-abrams-envoy-venezuela-1128562
[10] Jake Rudnitzky, "Venezuela's Russian Bank Grows Assets as U.S. Sanctions Hit Home," Bloomberg, January 31, 2019, https://www.bloomberg.com/news/articles/2019-01-31/venezuela-s-russian-bank-grows-assets-as-u-s-sanctions-hit-home
[11] Shane Harris, Carol D. Leonnig, Greg Jaffe and David Nakamura, "CIA Director Pompeo met with North Korean leader Kim Jong Un over Easter weekend," Washington Post, April 18, 2018, https://www.washingtonpost.com/politics/us-china-trade-dispute-looms-over-trump-summit-with-japans-abe/2018/04/17/2c94cb02-424f-11e8-bba2-0976a82b05a2_story.html?utm_term=.0aa7cc278d82
[12] Karoun Demirjian and Shane Harris, "Pompeo's North Korea trip set the table for Trump's planned meeting with Kim Jong Un," Washington Post, April 18, 2018, https://www.washingtonpost.com/powerpost/pompeos-critics-offer-grudging-praise-for-north-korea-meeting/2018/04/18/857f505c-430d-11e8-8569-26fda6b404c7_story.html?utm_term=.1d251b3cf42f
[13] Lesley Wroughton and Patricia Zengerle, "Pompeo: U.S. will walk away from North Korea summit rather than take bad deal," Reuters, May 23, 2018, https://www.reuters.com/article/us-usa-pompeo/pompeo-us-will-walk-away-from-north-korea-summit-rather-than-take-bad-deal-idUSKCN1IO1Y8
[14] Gardiner Harris and Choe Sang-Hun, "North Korea Criticizes 'Gangster-Like' U.S. Attitude After Talks With Mike Pompeo," New York Times, July 7, 2018, https://www.nytimes.com/2018/07/07/world/asia/mike-pompeo-north-korea-pyongyang.html
[15] Reuters In Washington, "North Korea still producing fissile material despite pledge, Pompeo says," Guardian, July 25, 2018, https://www.theguardian.com/world/2018/jul/25/north-korea-fissile-material-nuclear-weapons-pompeo
[16] Joel Gehrke, "North Korea rebuffed Mike Pompeo request to hand over nuclear bombs: Report," Washington Examiner, August 8, 2017, https://www.washingtonexaminer.com/news/north-korea-rebuffed-mike-pompeo-request-to-hand-over-nuclear-bombs-report
[17] Bill Chappell, "Erdogan Cancels Meeting With Bolton, As U.S. Seeks To Reassure Allies On Syria," NPR, January 8, 2019, https://www.npr.org/2019/01/08/683177946/erdogan-cancels-meeting-with-bolton-as-u-s-seeks-to-reassure-allies-on-syria
[18] Robbie Gramer, "Mike Pompeo Is Flying Solo in the Middle East," Foreign Policy, January 9, 2019, https://foreignpolicy.com/2019/01/09/mike-pompeo-middle-east-visit-state-department-vacancies-nominees-diplomacy-trump-syria-decision-iraq-egypt-islamic-state-iran-trump/
[19] "Text: Obama's Speech in Cairo," New York Times, June 4, 2009, https://www.nytimes.com/2009/06/04/us/politics/04obama.text.html
[20] Mike Pompeo, "A Force for Good: America Reinvigorated in the Middle East," Department of State, January 10, 2019, https://www.state.gov/secretary/remarks/2019/01/288410.htm
[21] Natan Sachs, Tamara Cofman Wittes, Sharan Grewal, Jeffrey Feltman, Hady Amr, Suzanne Maloney, Ranj Alaaldin, Shadi Hamid, Eric Rosand, and Omar H. Rahman, "Around the halls: Brookings experts react to Secretary of State Pompeo's speech in Cairo," Brookings Institute, January 10, 2019, https://www.brookings.edu/blog/order-from-chaos/2019/01/10/around-the-halls-brookings-experts-react-to-secretary-of-state-pompeos-speech-in-cairo/
[22] Paul Pillar, "Pompeo In Cairo: Anti-Obama, Anti-Iran, And Little Else," Lobelog, January 11, 2019, https://lobelog.com/pompeo-in-cairo-anti-obama-anti-iran-and-little-else/
[23] Paul Pillar, "Netanyahu Makes A Case For The JCPOA," Lobelog, April 30, 2018, https://lobelog.com/netanyahu-makes-a-case-for-the-jcpoa/
[24] Alexandra Zavis, "In Saudi Arabia, Pompeo calls Iran 'the greatest sponsor of terrorism in the world,'" Los Angeles Times, April 29, 2018, http://www.latimes.com/politics/la-na-pol-essential-washington-updates-in-saudi-arabia-pompeo-calls-iran-the-1525019428-htmlstory.html
[25] Mike Pompeo, "After the Deal: A New Iran Strategy," U.S. Department of State, May 21, 2018, https://www.state.gov/secretary/remarks/2018/05/282301.htm
[26] Robert E. Hunter, "Pompeo On Iran: Making Matters Worse," Lobelog, May 23, 2018, https://lobelog.com/pompeo-on-iran-making-matters-worse/
[27] Seyed Hossein Mousavian, "Pompeo's Demands On Iran At Odds With Reality," Lobelog, May 22, 2018, https://lobelog.com/pompeos-demands-on-iran-at-odds-with-reality/
[28] Zack Beauchamp, "Rex Tillerson has been fired. Experts say he did damage that could last 'a generation'" Vox, March 13, 2018, https://www.vox.com/world/2018/3/13/16029526/rex-tillerson-fired-state-department
[29] Zachary Cohen and Dan Merica, Unlike Tillerson, Trump says Pompeo 'always on same wavelength'" CNN, March 13, 2018, https://www.cnn.com/2018/03/13/politics/mike-pompeo-secretary-of-state-trump/index.html
[30] Holly Ellyat, "Why Secretary of State nominee Mike Pompeo is probably bad news for Iran," CNBC, March 13, 2018, https://www.cnbc.com/2018/03/13/why-new-secretary-of-state-mike-pompeo-is-probably-bad-news-for-iran.html; Times of Israel Staff and Agencies, " Trump fires Tillerson as secretary of state, points to Iran deal disagreement," Times of Israel, March 13, 2018, https://www.timesofisrael.com/trump-fires-tillerson-nominates-pompeo-as-new-secretary-of-state/
[31] Ed Pilkington, "Mike Pompeo insists US sanctions will not hurt Iranian people," The Guardian, November 4, 2018, https://www.theguardian.com/world/2018/nov/04/pompeo-trump-us-sanctions-oil-iran-iranian-people
[32] "The Illogic of the U.S. Sanctions Snapback on Iran," International Crisis Group, November 2, 2018, https://www.crisisgroup.org/middle-east-north-africa/gulf-and-arabian-peninsula/iran/b64-illogic-us-sanctions-snapback-iran
[33] "Pompeo: US to boost efforts to counter Iran's 'malign influence,'" Al Jazeera, January 8, 2009, https://www.aljazeera.com/news/2019/01/secretary-state-mike-pompeo-starts-middle-east-visit-jordan-190108090632341.html
[34] Rich Edson and Nick Kalman, "Pompeo announces international summit on Iran," Fox News, January 11, 2019, https://www.foxnews.com/politics/exclusive-pompeo-announces-international-summit-on-iran
[35] "EU states boycott Iran summit US called in Poland," The National, January 18, 2019, https://www.thenational.ae/world/the-americas/eu-states-boycott-iran-summit-us-called-in-poland-1.815115
[36] Piotr Buras, Ellie Geranmayeh, and Jeremy Shapiro, "Warsaw 'Iran' summit: What lies beneath," European Council on Foreign Relations, January 24, 2019, https://www.ecfr.eu/article/commentary_warsaw_iran_summit_what_lies_beneath
[37] Ali Rizk, "Washington's Anti-Iran Policy Is In Tatters," Lobelog, January 29, 2019, https://lobelog.com/washingtons-anti-iran-policy-is-in-tatters/
[38] Jeffrey Rodack, "Pompeo: US Missile Strike in Syria a Message for Iran," April 14, 2017, https://www.newsmax.com/Newsfront/mike-pompeo/2017/04/14/id/784372/
[39] Jim Lobe, "New Neocon Mantra: Iran, Like Soviet Union, On Verge Of Collapse," LobeLog, July 6, 2017, https://lobelog.com/new-neocon-mantra-iran-on-verge-of-collapse/
[40] Mathew Rosenberg, "Trump Likes When C.I.A. Chief Gets Political, but Officers Are Wary," New York Times, August 7, 2017, https://www.nytimes.com/2017/08/07/us/politics/mike-pompeo-cia.html
[41] Mathew Rosenberg, "Trump Likes When C.I.A. Chief Gets Political, but Officers Are Wary," New York Times, August 7, 2017, https://www.nytimes.com/2017/08/07/us/politics/mike-pompeo-cia.html
[42] Geoff Dyer, "Trump's CIA nominee Mike Pompeo promises to roll back Iran deal," Financial Times, November 18, 2016, https://www.ft.com/content/e2849b56-ada7-11e6-ba7d-76378e4fef24
[43] Paul Pillar, "Ideology is Supplanting Intelligence," The National Interest, November 22, 2016, http://nationalinterest.org/blog/paul-pillar/ideology-supplanting-intelligence-18479?page=2
[44] Robert Windrem, "CIA Director Pompeo Lashes Out at Iran, Compares It to ISIS," NBC News, October 12, 2017, https://www.nbcnews.com/news/mideast/cia-director-pompeo-lashes-out-iran-compares-it-isis-n810311
[45] Eli Clifton, "Congressional Hawks Gear Up to Kill Talks, Bomb Iran," The Nation, December 4, 2014, https://www.thenation.com/article/congressional-hawks-gear-kill-talks-bomb-iran/
[46] Mike Pompeo, "Rep. Mike Pompeo: One year later, Obama's Iran nuclear deal puts us at increased risk," Fox News, July 14, 2016, http://www.foxnews.com/opinion/2016/07/14/rep-mike-pompeo-one-year-later-obama-s-iran-nuclear-deal-puts-us-at-increased-risk.html
[47] Curtis Tate, "Kansas Rep. Mike Pompeo requests visa to observe Iran elections," McClatchy, February 4, 2016, http://www.mcclatchydc.com/news/nation-world/national/article58514243.html
[48] Ryan Costello, "Trump CIA Pick Hyped Facts On Iran, Downplayed Costs Of War," Huffington Post, https://www.huffingtonpost.com/ryan-costello/trump-cia-pick-hyped-fact_b_13181260.html
[49] "Ideology is Supplanting Intelligence," Lobelog, November 22, 2016, https://lobelog.com/ideology-is-supplanting-intelligence/
[50] Bloomberg, "Trump Taps Ardent Benghazi Critic Pompeo as Director of CIA," 18 November 2016, http://www.bloomberg.com/politics/articles/2016-11-18/trump-said-to-select-kansas-congressman-pompeo-as-cia-director
[51] Jennifer William, "Mike Pompeo, Trump's pick for CIA director, could take the agency back to its darkest days," Vox, Novebmer 21, 2016, http://www.vox.com/policy-and-politics/2016/11/18/13676756/mike-pompeo-trump-pick-cia-director; Paul Pillar, "Ideology is Supplanting Intelligence," National Interest, November 22, 2016, http://nationalinterest.org/blog/paul-pillar/ideology-supplanting-intelligence-18479?page=2
[52] Paul Pillar, "Ideology is Supplanting Intelligence," National Interest, November 22, 2016, http://nationalinterest.org/blog/paul-pillar/ideology-supplanting-intelligence-18479?page=2
[53] Mike Pompeo and David B. Rivkin, Jr,, "Time for a Rigorous National Debate About Surveillance," Wall Street Journal, January 3, 2016, https://www.wsj.com/articles/time-for-a-rigorous-national-debate-about-surveillance-1451856106
[54] Central Intelligence Agency, "Mike Pompeo," Updated June 1, 2017, https://www.cia.gov/about-cia/leadership/mike-pompeo.html