Ed Royce
last updated: January 12, 2016
Please note: The Militarist Monitor neither represents nor endorses any of the individuals or groups profiled on this site.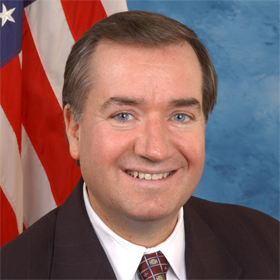 Government
House of Representatives (R-CA): 1993 – present; House Foreign Affairs Committee Chairman (2013 – present)
California State Senate (R): 1983 – 1992
Education
California State University-Fullerton: BA
Ed Royce, a Republican U.S. congressman from California, is a leading conservative hawk in the House of Representatives and a major recipient of campaign contributions from "pro-Israel" lobbies.[1] A former tax manager and state senator, he has chaired the House Foreign Affairs Committee since 2013.
Royce was an early and steadfast supporter of the Iraq War, supports permanently extending the controversial USA PATRIOT Act, and has consistently expressed support for Israel in its conflicts with neighbors.[2] "Among U.S. conservatives," wrote Jay Carafano of the right-wing Heritage Foundation, "Royce stands as a model of the modern major foreign policy leader."[3]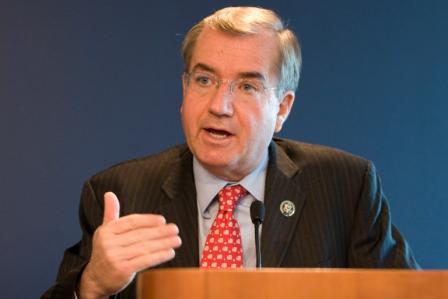 Among his key foreign policy agenda items has been Iran. A staunch opponent of negotiations with Tehran over its nuclear program, Royce has led efforts to rollback the historic nuclear deal, which he claims gives "a cash bonanza" and "a path toward nuclear weapons" to Iran.[4] In an effort to derail the agreement, Royce has supported passage of the "Iran Terror Finance Transparency Act," which would give Congress greater oversight over sanctions decisions.[5]
Royce lambasted the Obama administration for purportedly favoring Iran over Saudi Arabia in the wake of the Saudi execution of a leading Shiite cleric in January 2016. Channeling the rhetoric of leading neoconservative ideologues like Elliott Abrams, Royce misleadingly argued that the U.S. is viewed as having "tilted toward Iran" and that this "has created problems" with respect to U.S. credibility in the region. Pointing to the generous campaign contributions that Royce as received from the AIPAC-aligned NORPAC, one commentator quipped that while Royce "may believe" that the Iran Terror Finance Transparency Act could damage the Iran accord, "he also has a valuable financial incentive to attack the Obama administration's Iran diplomacy."[6]
Iran Hawk
Royce has long been a leading House Republican championing aggressive U.S. policies towards Iran, once arguing that he is "very much in favor of crippling sanctions" against the country.[7] In 2013 Royce introduced the Nuclear Iran Prevention Act in the House, which was intended to "designate Iran's Revolutionary Guard as a foreign terrorist organization and sanction a number of Iranian leaders, including the supreme leader and president."[8]
Royce continued to press for sanctions even after the Obama administration and five other world powers reached an interim nuclear deal with Iran in November 2013, which saw Tehran agree to restrictions on its uranium enrichment and increased inspections in exchange for token sanctions relief while a more comprehensive agreement was negotiated. Joining Senate hawks like Mark Kirk (R-IL) and Robert Menendez (D-NJ), Royce ripped the agreement and insisted that the U.S. should "ratchet up" sanctions rather than decrease them, a proposal observers warned could scuttle the talks. The Iranians are "still on the road to having the capability for undetectable nuclear weapons break out," Royce claimed.[9]
Royce reprised his call for sanctions several months later when international negotiators extended the interim agreement to continue their negotiations. "Iran's Supreme Leader has made clear that Iran will not agree to dismantle its nuclear weapons program," Royce claimed in July 2014, misrepresenting the Iranian leader's insistence on preserving Iran's domestic production capacity for nuclear power. "My hope is that the administration will finally engage in robust discussions with Congress about preparing additional sanctions against Iran."[10] In a forum convened by the neoconservative David Horowitz Freedom Center, Royce accused Iran of "run[ning] the clock like North Korea," using the negotiations as a chance to solidify its nuclear posture.[11]
In February 2015, Royce told conservative radio show host Hugh Hewitt that it would be a "good idea" for Congress to pass an Authorization for the Use of Military Force (AUMF) resolution on Iran, which would allow the U.S. president to launch military strikes against the country.[12]
With P5+1 group of nations inching closer to a nuclear deal with Iran in March 2015, Royce spoke at the annual summit of the American Israel Public Affairs Committee (AIPAC), calling on the influential lobby to help Congress pass legislation allowing it to interfere in the negotiations, which the White House opposed at the time. "We are trying to influence what that deal becomes. We are laying out the conditions we want to see in the deal," Royce said at the conference. "We need your help also to get members to sign on to that so that we can leverage answers to these questions [on Iran's nuclear program]."[13]
Royce denounced the comprehensive nuclear deal reached with Iran in July 2015 and introduced legislation in the House to prevent it from being implemented. He declared at the time: "I do not relish in introducing this consequential legislation. But the consequences for global security from this agreement are too great. This deal gives up too much, too fast, to a terrorist state—making the world less safe, less secure, and less stable."[14]
Other Foreign Policy Agenda Items
Royce has also collaborated with supporters of the Mojahedin-e Khalq (MEK), an exiled Iranian opposition group that has been likened to a cult and was for years considered a terrorist organization by the U.S. government. In June 2014, Royce sent a video message of support to a MEK front group in Paris. "If Iran and the P5+1 [international negotiating team] come to an agreement next month that allows the regime to retain much of its critical nuclear infrastructure in place," Royce said, "the Obama administration will essentially be trusting the a regime that holds the noose in one hand to hold the keys to a nuclear bomb in the other." The group's website said that Royce had dismissed Iranian President Hassan Rouhani—a relative moderate who campaigned on opening up relations with the West—as "a creature of the regime" and "a ruthless extremist."[15]
In April 2015, the Royce-chaired House Foreign Affairs Committee invited MEK leader Maryam Rajavi to testify on ISIS.[16] Two other panelists who were scheduled to be at the hearing, former State Department official Daniel Benjamin and former U.S. ambassador to Syria Robert Ford, refused to appear alongside Rajavi after discovering she would be testifying.[17]
Royce has expressed support for Syria's rebels, though he has been more cautious about U.S. intervention than some of his more hawkish colleagues. "The chairman has long been skeptical of intervention in Syria's two-and-a-half-year civil war," reported The Hill in 2013. "He has never brought up legislation to arm vetted rebel groups, which passed on a 15-3 vote in the equivalent Senate panel earlier this year."[18] Although Royce has said the United States should vet Syrian rebel groups that receive weapons from other countries, he's opposed sending U.S. arms, saying that "This is a fight that needs to be carried on by Syrians and the Free Syrian Army."[19]
In September 2013 Royce spoke out against the Obama administration's plans to intervene militarily in the conflict, saying that the risks of escalation were too great. "The president promises a military operation in Syria of limited scope and duration," Royce said. "But the Assad regime would have a say in what happens next. That'd be particularly true as President Obama isn't aiming to change the situation on the ground. What are the chances of escalation?"[20]
However, Royce has been less cautious about Iraq. After militants from the extremist Islamic State of Iraq and Syria (ISIS) spilled over the Syrian border and captured a series of Iraqi cities in 2014, Royce advocated launching drone strikes in response, which he said the U.S. should have done months earlier. "About four months ago, this began to unfold and right then we had a target," Royce told MSNBC's Morning Joe in June 2014. "We had the encampment. We should have hit it. Until we do, I am concerned that we really haven't given the one asset that is really needed for the Iraqi military, and that is air supremacy."[21]
Royce holds hardline views on domestic as well as foreign policy.[22] And in addition to sanctions on Iran, he has used his perch on the Foreign Affairs Committee to push a host of other Republican priorities. Reported Reuters in 2013: "Royce said his other priorities for the committee include using sanctions to pressure North Korea over its weapons programs, increasing the use of U.S. broadcasting as a foreign policy tool, pushing for free trade, and pressing the White House to approve a permit for TransCanada Corp.'s Keystone XL pipeline."[23]