Will Marshall
last updated: February 14, 2013
Please note: The Militarist Monitor neither represents nor endorses any of the individuals or groups profiled on this site.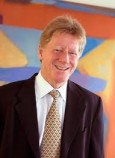 Affiliations
Progressive Policy Institute: Cofounder, President
Democratic Leadership Council: Cofounder
U.S. Committee on NATO: Former Board Member
Committee for the Liberation of Iraq: Former Board Member
Project for the New American Century: Signatory to various letters

Government
Office Rep. Gillis Long: Speechwriter and Policy Analyst

Education
University of Virginia: BA in English and History
Will Marshall, cofounder of the Democratic Leadership Council (DLC) and head of the Progressive Policy Institute (PPI), has been a leading advocate of a more hawkish and "market-friendly" Democratic Party for decades, and consistently sided with hardline "pro-Israel" factions to impact U.S. foreign policy in the Middle East.
With Al From, Marshall founded the DLC in 1985, and the organization quickly became a bastion of the center-right "New Democrat" movement within the Democratic Party. Four years later, Marshall helped found PPI as the think tank arm of the now-defunct DLC. In its heyday, PPI was hailed as an "ideas mill" for the Bill Clinton administration, and later served as a mainstay of Democratic support for the George W. Bush administration's "freedom agenda."
Marshall continues to support military interventions in the Middle East from his perch at PPI. Praising the NATO intervention in Libya and offering it as a model for future interventions, Marshall wrote in October 2011 that "Gaddafi's ouster was a triumph not only for Libya's rebels but also for NATO, which turned the tide of battle in their favor. … What we've witnessed in Libya, in fact, could be a new model for collective security in which the United States no longer bears a disproportionate share of the risks and costs of intervention."[1]
Marshall added that "the new model probably isn't applicable to Syria," but argued that the West should still play a role in ousting Syrian leader Bashar al-Assad.[2] In April 2012, he suggested that the United States "should work out a division of labor" with Europe, the Gulf States, and Turkey to aid the Syrian rebels. "It's true that toppling Assad could lead to sectarian conflict in Syria," he conceded. But he argued that the prospect of Assad's survival was a greater threat, calling it a potentially "huge political victory for Russia, China, Iran and Hezbollah" as well as a "setback for America, the Arab political awakening and the emerging principle that the international community has a 'responsibility to protect' people from violence that occurs within states, not just between them."[3]
Under Marshall, PPI emerged as one of several beltway organizations that Politico suggested could "hamstring" Obama's selection of former Sen. Chuck Hagel (R-NE) to head the Department of Defense in early 2013. It quoted Marshall expressing concerns about Hagel's skepticism toward U.S. interventions overseas. "Hagel was critical of the Libya intervention, and it's reasonable to ask what happens in another case where wholesale slaughter and massive human-rights violations are happening and the question comes to the table about whether America can and should act," Marshall said. "Does this kind of instinctual recoiling from intervention betoken some kind of shift in America's national security strategy?"[4]
Marshall has also been a staunch ally of the mainstream "Israel Lobby" in the United States. For example, shortly before Israel's late 2012 aerial assault on Gaza—which killed over 150 Palestinians , many of them civilians—Marshall called on the Obama administration to "avoid the trap of moral equivalence" between Israel's air strikes and Hamas' rocket attacks on southern Israel. Although Marshall said the administration should attempt "to dissuade Israel from launching ground operations," he also wrote that any truce to halt the hostilities "won't last because making war on Israel is Hamas' raison d'etre."[5]
Previously, Marshall opposed the Palestinian UN delegation's 2011 and 2012 attempts to upgrade its status at the United Nations. Although he reiterated his support for the Palestinian Authority's government, Marshall called on the United States to "stand firm against premature demands for Palestinian statehood," adding, "The blunt truth is that until the Palestinians resolve their internal conflict—in favor of a negotiated peace and a two-state solution—they don't deserve to have one of their own."[6]
Marshall occasionally weighs in on domestic issues as well. During budget negotiations in early 2013, for example, Marshall supported raising tax rates on wealthier Americans, but preferred limiting the increase to taxpayers earning over $400,000 over the originally proposed $250,000, calling the latter "the merely affluent."[7] That same month, Marshall also signed on to a statement published by the Institute for American Values decrying that the debate over same-sex marriage had turned into a "culture war" that masked "the hollowing out of marriage in mainstream America." Although the group invited the input of "gays and lesbians who want to strengthen marriage," it pointedly refused to endorse same-sex marriage rights.[8]
Track Record
Marshall has a long history of pushing Democratic support for neoconservative-led campaigns, most notably during Iraq war. Marshall signed several statements and open letters issued by the neoconservative Project for the New American Century (PNAC) calling for the removal of Saddam Hussein, advocating that NATO help "secure and destroy all of Iraq's weapons of mass destruction," and arguing that the invasion "can contribute decisively to the democratization of the Middle East." In 2003, he signed a similar letter organized by the neoconservative Social Democrats/USA urging President Bush to "act alone [on Iraq] if that proves necessary," calling on the president to maintain "substantial U.S. military forces in Iraq for as long as may be required to ensure a stable, representative regime is in place and functioning."[9]
As one of 15 analysts who co-wrote PPI's October 2003 foreign policy blueprint, "Progressive Internationalism: A Democratic National Security Strategy," Marshall helped to push liberal internationalist support for the neoconservative agenda. In the document, PPI hailed the "tough-minded internationalism" of past Democratic presidents such as Harry Truman. Like PNAC, which in its founding statement warned of grave present dangers confronting America, the PPI strategy declared, "Today America is threatened once again" and is in need of assertive individuals committed to strong leadership. The authors' observation that, "like the Cold War, the struggle we face today is likely to last not years but decades," echoes both neoconservative and Bush administration national security assessments. As the "Progressive Internationalism" authors explain, the PPI endorsed the invasion of Iraq "because the previous policy of containment was failing, because Saddam posed a grave danger to America as well as to his own brutalized people, and because his blatant defiance of more than a decade's worth of UN Security Council resolutions was undermining both collective security and international law."[10]
Marshall attacked Democrats who opposed the Iraq invasion or called for a U.S. pullout. He told the Los Angeles Times in the run-up to the 2004 election: "You hear way too much from the Democrats in this race about turning over the whole mess to the UN. Well, that's not credible and most people know it. It doesn't have the power to achieve the only outcome we can accept."[11]
But Marshall has tried distinguish his own hawkish internationalism from what he regards as the unilateralism of the Bush administration. In the introduction to the 2006 book With All Our Might: A Progressive Strategy for Defeating Jihadism and Defending Liberty, Marshall promoted what he called "progressive internationalism" as opposed to the "conservative unilateralism" of the George W. Bush administration. He argued that the Iraq War is part of a larger strategy for "building a world safe for individual liberty and democracy," and that the "Bush Republicans have been tough but they have not been smart" in directing the course of the war in Iraq. Part of being smart is "using our strengths," wrote Marshall. "Democrats must be committed to preserving America's military predominance, because a strong military undergirds U.S. global leadership."[12]
Despite its critiques of the Bush administration, With All Our Might was warmly received by neoconservative commentators. In a Weekly Standard article entitled "The Loneliness of the Liberal Hawk; Dems Who Understand War, Pols Who Don't," neoconservative stalwart Thomas Donnelly wrote that the volume "actually represents an impressive lineup of younger defense and security intellectuals." Donnelly added that contributor Kenneth Pollack "sounds like a closet neocon," and Jan Mazurek's essay is "even tougher on Middle East strategy than Pollack."[13]
Over the years, Marshall cultivated relationships with a number of other neoconservative-linked groups, including the U.S. Committee on NATO and the Committee for the Liberation of Iraq. Marshall served on the board of directors of the U.S. Committee on NATO alongside such leading neoconservative figures as Robert Kagan, Richard Perle, Randy Scheunemann, Paul Wolfowitz, Stephen Hadley, Peter Rodman, Jeffrey Gedmin, Gary Schmitt, and the committee's founder and president Bruce Jackson. At the request of the Bush administration, Jackson also formed the Committee for the Liberation of Iraq which, with former DLC chairman Joseph Lieberman serving as co-chair with Sen. John McCain (R-AZ), aimed to build bipartisan support for the invasion and occupation of Iraq. Marshall, together with former Democratic Sen. Robert Kerrey of Nebraska (who coauthored "Progressive Internationalism"), represented the liberal hawk wing of the Democratic Party on the committee's neoconservative-dominated advisory board. Other advisers included James Woolsey, Eliot Cohen, Newt Gingrich, William Kristol, Jeane Kirkpatrick, Joshua Muravchik, Chris Williams, and Richard Perle.