Chuck Nash
last updated: March 31, 2011
Please note: The Militarist Monitor neither represents nor endorses any of the individuals or groups profiled on this site.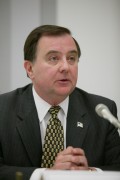 Affiliations
Center for Security Policy: Member, Military Committee
Iran Policy Committee: Member, Military Committee
Fox News: Military Analyst

Government
U.S. Navy/Various Military Roles: Retired with rank of captain, 1998

Business
Emerging Technologies International: Founder and President
Guardian Technologies International: Board Member
Emerging Technologies Group: Former Vice President

Education
Parks College of Aeronautical Technology, St. Louis University: B.S., Aeronautics
National War College
Chuck Nash is a retired U.S. Navy captain who is a Fox News analyst, executive for Pentagon contractors, and advisor to several hawkish policy organizations, including the neoconservative Center for Security Policy (CSP) and the Iran Policy Committee.
Nash has served on the Center for Security Policy's Military Committee, which according to CSP is "a mechanism to educate and mobilize the military-related constituency to help renew a commitment to putting U.S. national security once again on a sound footing."[1] CSP, which is led by former Reagan administration Pentagon official Frank Gaffney, promotes a hardline, rightwing approach to Middle East affairs and advocates increased U.S. military spending.[2]
The Iran Policy Committee (IPC) is a hawkish advocacy group best known for pushing U.S. support for the exiled Iranian opposition group People's Mujahedin Organization (or Mujahedin-e Khalq, MEK). The MEK, which is on the U.S. State Department's list of terrorist organizations, has been implicated in a number of deadly attacks dating back to the 1970s, including the killing of "several US military personnel and civilians working on defense projects in Tehran."[3]The group was founded by Raymond Tanter and includes among its advisors other retired military officers, including Thomas McInerney and Paul Vallely.
As an analyst for Fox News, Nash has commented on a range of issues, including Somali pirates, the "war on terror," and various military-related issues. In an April 2010 Fox News appearance, Nash defended soldiers who were captured in a video leaked by WikiLeaks firing on journalists in Iraq, arguing that it was the journalists' decision to "embed with terrorists."[4]
Nash, who is the founder of the Pentagon consulting firm Emerging Technologies International, has frequently leveraged his military background in the private sphere. In 2004, for instance, Guardian Technologies International, "a provider of intelligent imaging solutions," appointed Nash to its board of directors. In a press release, the company CEO said, "We're pleased to welcome Chuck as a member of our Board of Directors. We believe his extensive experience, technical knowledge and high level contacts for rapidly deploying emerging technologies into the government, military, and private sectors will be a tremendous asset.
Nash's IPC bio states: "Captain Charles T. 'Chuck' Nash, USN (ret.) is the founder and President of Emerging Technologies International, Inc. (ETII). The company's focus is to understand military requirements and then actively search out and identify high leverage, emerging technologies that can be inserted quickly and inexpensively into tools for the U.S. military. Previously, Capt. Nash served as vice president, Emerging Technologies Group, Santa Barbara Applied Research, Inc. For 25 years before that, Capt. Nash served as an officer in the U.S. Navy, accumulating over 4,300 hours of flight time and 965 carrier landings on nine different aircraft carriers as a Naval Aviator. He served in a variety of operational command and staff positions including the staff of the Chief of Naval Operations in the Pentagon, U.S. Naval Forces Europe, and Commanding Officer of Strike Fighter Squadron One Three Seven, and has performed liaison duty with U.S. and foreign special operations forces in Turkey, Northern Iraq and elsewhere. Capt. Nash has served in an advisory capacity to various government agencies, serves on corporate Boards of Directors and is an advisor to several corporate leadership teams. Capt. Nash earned his B.S. in Aeronautics from Parks College of Aeronautical Technology, St. Louis University and attended the National War College at Fort L. J. McNair in Washington. Currently a Fox News Channel Military Analyst, Capt. Nash frequently appears on the network to discuss military, terrorism and aviation issues.