Concerned Women for America
last updated: April 15, 2014
Please note: The Militarist Monitor neither represents nor endorses any of the individuals or groups profiled on this site.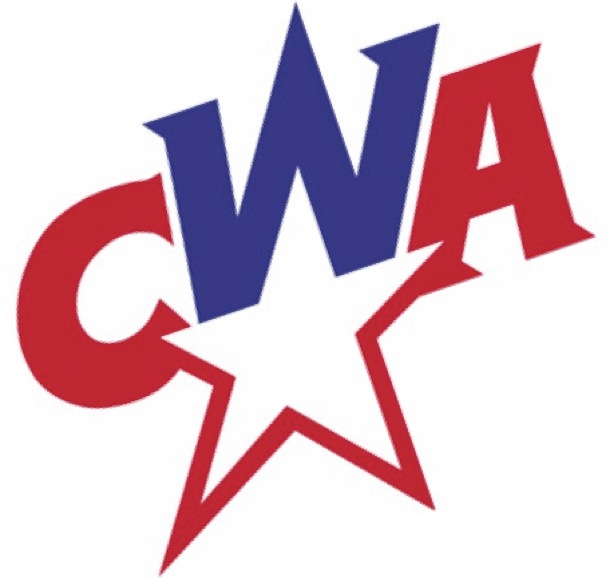 Contact Information
Concerned Women for America
1015 Fifteenth St. NW, Suite 1100
Washington, DC 20005
Phone: (202) 488-7000
http://www.cwfa.org/

Founded
1979

Mission Statement
"The mission of the CWA is to protect and promote Biblical values among all citizens—first through prayer, then education, and finally by influencing our society—thereby reversing the decline in moral values in our nation."

Board of Trustees (as of 2012)
Beverly LaHaye, Founder and Chairman
Penny Nance, CEO/President
Tanya Ditty
Susi Barlow
Anne Ball
Sharron LaHaye
Barrie Lyons
Janne Myrdal
Lori Scheck
Norma Seifert
Angel Voggenreiter
Lee LaHaye
Cherie Short
Geoff Putnam

Staff (as of 2014)
Penny Nance, CEO/President
Janice Shaw Crouse, Executive Director & Senior Fellow
Kenda Barlett, Executive Director
Mario Diaz, Counsel
Shari Rendall, Director of House Legislation
Alison Howard, Communications Director
Alexandria Paolozzi, Senate Legislative Director
Caroline Biggs, Young Women for America Coordinator
Concerned Women for America (CWA) is a right-wing Christian advocacy group and lobbying outfit based in Washington, DC. With over half a million members, the group bills itself as "the nation's largest public policy women's organization" and boasts "a rich 30-year history of helping members across the country bring Biblical principles into all levels of public policy."[1] Through grassroots mobilization, publications, and legislative pressure, CWA pushes right-wing viewpoints on social, economic, and foreign policy issues. Affiliated organizations include the Beverly LaHaye Institute, CWA's "think tank" arm; the CWA Legislative Action Committee, its lobbying arm; and the Concerned Women PAC, which supports political candidates directly.
CWA was founded in San Diego in 1979 by Beverly LaHaye, a social conservative activist and spouse of Moral Majority cofounder Tim LaHaye. LaHaye—who fashioned CWA as a Christian conservative counterweight to left-leaning feminist groups like the National Organization for Women (NOW)—has said that she decided to launch CWA after seeing an interview in which NOW founder Betty Friedan "claimed to speak for the women of America." According to CWA's website, LaHaye was "stirred to action" because she "knew the feminists' anti-God, anti-family rhetoric did not represent her beliefs, nor those of the vast majority of women."[2]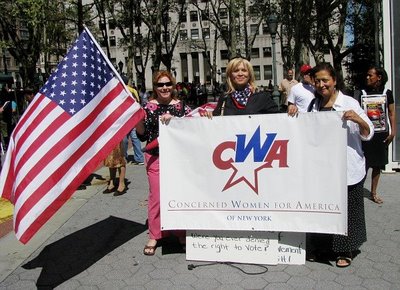 The group has pushed a plethora of Christian right causes over the years, including criminalizing abortion, banning same-sex marriage, and rolling back sex education for students. Its work on these issues has at times taken on an international dimension. For example, CWA attracted controversy in 2013 and 2014 for seeming to offer its support for antigay legislation in Russia[3] and for criticizing President Obama's characterization of the notorious Ugandan "kill the gays" bill as an abuse of "human rights." (Although the group declined to endorse the Ugandan bill itself, executive director Janice Shaw Crouse saved her vitriol for Obama, writing, "Claiming that homosexuality is a 'human right' is an affront—even a mockery—of those Judeo-Christian values that have been the foundation of virtually all Western civilizations across time and cultures.")[4]
CWA works on array of issues besides traditional social concerns. For instance, among its seven "core issues" is "support for Israel" (the others are "sanctity of life," "defense of family," "education," "religious liberty," "national sovereignty," and "sexual exploitation").[5]
Although CWA is putatively focused on the United States, "support for Israel" has been an official "core issue" since May 2013, when its board of directors unanimously voted to count the "threat of global terrorism and the movement in the Middle East to squelch the nation of Israel" and purported "increased anti-Israel sentiment within our government" among its key concerns. "The biggest catalyst" for the Israel vote, CWA CEO Penny Nance told neoconservative blogger Jennifer Rubin, was that "our Founder, Beverly LaHaye, wanted to codify it in our core values. We have always been supportive but this is more formal." Mentioning that she had been to Israel recently herself, Nance added, "I now know how absolutely essential support from the U.S. is to the continued existence of Israel and how essential Israel is to stability of the entire region." Rubin, who dubbed the decades-old CWA "a strong new player in the pro-Israel community," gushed that CWA's announcement was "further proof that to be recognized as a conservative leader and to get electoral support from the right these days, Israel is a litmus test."[6]
As part of its "pro-Israel" advocacy, CWA backed efforts to impose new sanctions on Iran while international negotiations over Tehran's nuclear enrichment program were underway. "As the administration works to achieve a final agreement we must continue the pressure," Penny Young Nance wrote in a letter distributed on Capitol Hill by CWA's lobbying arm, adding that the group "reserves the right to include all floor votes in our annual scorecard."[7] Critics said the sanctions—which were introduced by Sens. Mark Kirk and Robert Menendez and vigorously backed by the American Israel Public Affairs Committee (AIPAC)—were actually designed to sink the negotiations altogether. (Despite CWA's support for Kirk's sanctions bill, it hasn't always enjoyed warm relations with the strongly "pro-Israel" senator. After Kirk withdrew his sponsorship for a 2014 CWA event on Capitol Hill under pressure from gay rights groups, for example, the group issued an action alert accusing the senator of squelching free speech to appease "the pro-homosexual, bisexual, and transgender lobby.")[8] CWA has also sent delegations to AIPAC's annual policy conferences.[9]
CWA has attracted criticism for publishing anti-Islamic materials. According to Think Progress' Matt Duss, CWA publications have characterized Islam as "a military strategy and a political and socio-economic system" rather than a religion. Duss noted that in several jurisdictions, CWA has lent its organizational weight to support anti-sharia legislation developed by anti-Islamic activist David Yerushalmi.[10] "CWA has eagerly read straight from the Islamophobia playbook, relying on the work of Andrew McCarthy, Frank Gaffney, Nonie Darwish, Robert Spencer, and others," added The Daily Beast's Sarah Posner. "But its focus on a biblical mandate leads it to even more alarming levels of Islamophobia, portraying Islam as being in a cosmic conflict with Christianity." Posner noted that a CWA action alert had urged President Obama to be "pro-Israel" rather than "pro-Islam," and that an article on CWA's website had falsely alleged that Obama "avoids traditional Biblical holidays and events, but regularly recognizes major Muslim holidays."[11]
Although CWA does not reveal its funding sources, it claims over half a million members and states that any monetary contribution automatically establishes membership.[12] The group's 2012 Form 990 filing reported over $6 million in contributions for CWA proper,[13] while a separate 2012 filing reported over $8 million in contributions for CWA's lobbying arm.[14]