Ellen Bork
last updated: January 17, 2011
Please note: The Militarist Monitor neither represents nor endorses any of the individuals or groups profiled on this site.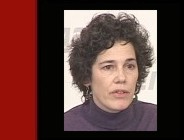 Affiliations
Foreign Policy Initiative: Program director
Freedom House: Former senior program officer
Project for the New American Century: Former deputy director
Council on Foreign Relations: Member
International Campaign for Tibet: Board member
Center for Strategic and International Studies: Contributor, 2003
German Marshall Fund: Transatlantic Fellow, 2001-2002
Hong Kong Democratic Party: Counsel to the Chairman, 1998-1999
Government Service
U.S. Senate Committee on Foreign Relations: Senior Staff Member for Asia and the Pacific, 1996-1998
Department of State: Bureau of Latin American Affairs
Education
Yale University: B.A., History
Georgetown University Law Center: J.D.
Ellen Bork, is a program director at the neoconservative Foreign Policy Initiative (FPI). Previously, Bork worked as a senior program officer at Freedom House and as deputy director of the Project for the New American Century (PNAC).[1] The daughter of conservative legal scholar and former Supreme Court justice nominee Robert Bork, Bork's resume also includes stints working as an Asia specialist for the Senate Committee on Foreign Relations, completing a fellowship at the German Marshall Fund's Transatlantic Center in Brussels, and serving as counsel to the chairman of the Hong Kong Democratic Party.
Founded in 2009 by several high-profile neoconservative figures—including William Kristol, Robert Kagan, and Dan Senor—FPI is similar in its aims and operations to the now-defunct PNAC, a letterhead organization associated with the American Enterprise Institute that played an important role in advocating the U.S.-led invasion of Iraq after the 9/11 terrorist attacks.[2] As a successor to PNAC, FPI is devoted to promoting an aggressive U.S. security posture in the post-George W. Bush era.
Letterheads
At FPI, Bork directs projects on human rights and democracy promotion. One of her main activities appears to be helping organize the publication of public sign-on letters addressed to President Barack Obama and other high-profile figures, typically urging commitment to human rights in U.S. relations with other countries. These letters often include signatories from several neoconservative and rightwing groups as well as representatives from established human rights organizations like Amnesty International and Human Rights Watch. Among the letters Bork has appeared to help orchestrate are a July 2009 letter to President Obama on human rights in Russia; an October 2010 letter to Secretary of State Hillary Clinton on human rights in China; a January 2011 letter to President Obama on human rights in China; and a January 2011 letter to Secretary of State Clinton on democracy in Belarus.
The publication of sign-on letters to which representatives of various political factions contribute their names is a time-honored tactic in neoconservative organizing that dates back to the 1970s, when Penn Kemble (1941-2005) and other disaffected liberals and leftists founded various "letterhead groups" aimed in part at promoting hawkish U.S. Cold War policies. PNAC used the tactic to great effect during the 1990s and as well in the run up to the 2002 invasion of Iraq (see Right Web Profile: Project for the New American Century).
The January 2011 letter to Obama on human rights in China was timed to correspond with Chinese President Hu Jintao's state visit to the United States. Other signatories included representatives of groups such as Amnesty International-USA (T. Kumar), Human Rights First (Elisa Massimino), Human Rights Watch (Sophie Richardson), and Freedom House (Paula Schrieffer). It urged Obama to use the occasion of Hu Jintao's visit to "indicate a shift in US policy" by: "personally meeting with prominent Chinese, Tibetan, and Uighur critics of Beijing's human rights violation"; "speaking frankly and publicly about the deteriorating human rights environment in China"; "finding ways to speak directly to the people in China, such as through internet discussions and with independent Chinese-language media"; "reiterating your call that Liu Xiaobo and others imprisoned for doing nothing more than peacefully criticizing the Chinese government immediately be freed"; and "enabling the media here to have the access they are denied in China."[3]
Regarding this, the Inter Press Service blog Lobelog commented that it was perplexing "why entirely admirable human rights groups—which pride themselves on their independence from governments and political parties—choose to associate themselves with organizations whose advocacy for human rights is highly, highly selective, to say the least, and whose foreign-policy views are frankly imperialist." The blog added that while the specific content of the letter was entirely reasonable, by participating in a letter campaign with a group like FPI these human rights groups effectively "hitch their wagon to an organization whose founders and directors … [are] closely tied to the aggressive unilateralism of George W. Bush's first term." They not only "lend some of their credibility to FPI and thus help rehabilitate a political movement that has long used human rights and democracy as an instrument for expanding U.S. power and undermining Washington's perceived enemies," but they also "damage that same credibility by offering ammunition to those governments and others who see the human rights movement as a handmaiden of U.S. and western imperialism."[4]
Writings
Bork has been a contributor to the Weekly Standard and the Wall Street Journal editorial page, both important bastions of neoconservative opinion. She has also published in the Financial Times, Washington Post, Humanitarian Affairs Review, and Forward.[5]
Asia—and China in particular—has been a long-standing preoccupation in her writings. In a May 2010 op-ed for the Wall Street Journal, Bork argued that the Obama administration had caved into China on human rights and democracy. Pointing to a press briefing about a recent meeting of the U.S.-China Human Rights Dialogue in Washington, during which Assistant Secretary of State Michael Posner said that one of the items discussed was the recently passed Arizona law on immigration and other discrimination issues in the United States, Bork decried what she regarded as the inappropriate parallel between human rights issues in the United States and China. She cited a letter by hawkish Arizona Republican Sens. Jon Kyl and John McCain, who protested "moral equivalency in democracy and human-rights policy" between the two countries."[6]
Bork went on to make the rather garish accusation that President Obama's insistence that the United States can improve its own democracy "suggests he is ambivalent about the superiority of a democratic system, and wants to make America's flaws an element of his foreign policy."[7]
Bork followed up on the China human rights theme in a January 2011 Weekly Standard article, in which she made clear her opposition to the U.S. policy of engagement with China. She dressed down the Obama administration for not "using the weight and prestige of his office to support democratic opponents of authoritarian regimes in China, Iran, Belarus, and elsewhere," particularly for not using with China "the political capital of a summit meeting to force concessions on human rights."[8]
A decade earlier, in an August 2001 article for the Asian Wall Street Journal, Bork called for replacing the Association of Southeast Asian Nations (ASEAN) with a NATO-style military alliance that could help keep China in check. She wrote: "The outlook for ASEAN and the ARF [Asian Regional Forum] is not promising. There is, however, an alternative. Rather than trying to transform the ASEAN-ARF system, Asia's democracies should establish a regional political and military alliance committed to strengthening the democracy and security of its members and expanding it in the region. Such an organization would be a logical outgrowth of Asia's democratic development over the last half-century, and an answer to the anachronistic regional institutions that now fail to guarantee the region's security and freedom."[9] She concluded that while an "alliance of Asian democracies, especially one including the U.S., would provoke intense outrage from China," the "circumstances that inspired Asean's founding have long since changed. … While the old Cold War threat is gone, there is still a contest within Asia that involves ideals and the potential use of force. Asia has no regional institution capable of advancing and protecting the interests of its democracies. It should have one."[10]
Bork published an opinion piece in the Weekly Standard on December 19, 2005, criticizing what she regarded as a double standard in the George W. Bush administration's treatment of Taiwan. Highlighting the administration's message to Taipei and Beijing that both should hold to "the status quo," Bork opined: "The Bush Doctrine is incompatible with America's one-China policy, which holds that Taiwan is a part of 'one China' and that there should be a peaceful resolution of the dispute between Beijing and Taipei." She added: "Washington's official 'one China' policy is not rooted in democracy or self-determination. Conceived during the Cold War, U.S. policy has remained mostly static and hamstrung by anachronistic views of China and Taiwan. Washington has tried to soften the edges of Chinese demands without questioning their legitimacy. U.S. policy reflects neither the dramatic changes in Taiwan nor China's economic and military growth and petrified political system. As a result, U.S. policy treats Taiwan as an abstraction. American officials resist as provocative all assertions of a Taiwanese identity, including revisions to the constitution, referenda, and other normal prerogatives of a democratic nation. This state of affairs is both unsustainable and at odds with the Bush Doctrine."[11]
Bork has championed the plight of some victims of Chinese government repression. In July 2009, she published an op-ed in the Washington Post, criticizing what she saw as the Bush administration's double standard in its differential treatment of Uighurs because they are Muslim.[12] Bork had argued in an August 2005 interview with National Public Radio that two Uighur men wrongfully detained at Guantanamo Bay should be allowed to resettle in the United States. Said Bork: "The Bush administration does not want to return them to China, because China has a campaign of repression against Uighurs. The administration, to their credit, does not want to return them, but is looking for other countries that would accept them. I think we should allow them to settle here."[13]