Robert H. Bork
last updated: January 4, 2013
Please note: The Militarist Monitor neither represents nor endorses any of the individuals or groups profiled on this site.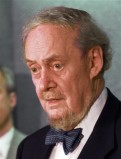 Affiliations
Hudson Institute: Former Senior Fellow
Hoover Institute: Former Visiting Fellow
Ava Maria School of Law: Professor (on leave in Spring 2011)
American Enterprise Institute: Former Resident scholar, 1988-2003
Yale Law School: Professor, 1962-1975, 1977-1981
Federalist Society: Co-Chair, with Orrin Hatch, Board of Visitors; Co-Founder

Government
U.S. Court of Appeals for the District of Columbia Circuit: Circuit Judge, 1982-1988
U.S. Supreme Court: Nominee, 1987
U.S. Department of Justice: Solicitor General, 1973-1977
Acting Attorney General of the United States: 1973-1974

Business
Kirkland & Ellis: Former Partner

Education
University of Chicago: B.A.
University of Chicago: J.D.
Robert Bork, the conservative icon and former New Deal liberal who moved to the right while a student at the University of Chicago in the 1950s, passed away on December 19, 2012. A former Solicitor General of the United States, Bork was nominated to the U.S. Supreme Court in 1987 by President Ronald Reagan. Bork's unsuccessful confirmation battle is regarded as one of the more bitter fights ever witnessed on the Senate floor.
Bork, who served as a legal adviser Mitt Romney's 2012 presidential campaign, had long been closely associated with the Republican right wing. His connections to figures such as Irving Kristol, Antonin Scalia, and Caspar Weinberger, as well as his strong ties to the Federalist Society (which he helped found in the early 1980s) and the American Enterprise Institute, reputedly helped get him a Supreme Court nomination from President Ronald. But his hard right positions also led to bitter protest when his nomination was announced. According to the scholar Philip Burch, "Bork's nomination … ran into a storm of protest [from such groups as] the Alliance for Justice, the American Civil Liberties Union … the National Abortion Rights Action League, and the Leadership Conference on Civil Rights, an umbrella organization of 30 groups which had helped secure the passage of many of the civil rights acts of the 1960s. … As one informed source put it, Bork had opposed virtually every civil rights measure on which he had taken a public stance."[1]
According to a New York Times obituary, "Bork argued that American judges, acting to please a liberal elite … hijacked the struggle over national values by overstepping their role, especially in many of the most important decisions on civil rights and liberties, personal autonomy and regulation of business. He advocated a view of judging known as 'strict constructionism,' or 'originalism,' which seeks to limit constitutional values to those explicitly enunciated by the framers and to reject those that evolved in later generations. He dismissed the view that the courts had rightly come to the aid of those neglected by the majority. … He most notably took issue with the Supreme Court's assertion in the 1960s and '70s that the Constitution implicitly recognizes a right of privacy that bars states from outlawing abortion or the use of contraceptives by married couples. That position, along with his rejection of court-mandated help to minority groups, led a coalition of liberal groups to push successfully for his Senate defeat, motivated in no small part by their sense that he cared more about abstract legal reasoning than the people affected by it. They contended that his confirmation would produce a radical shift on a closely divided Supreme Court and "turn back the clock" on civil and individual rights."[2]
Shortly after of his nomination in 1987, Sen. Edward Kennedy said in a speech: "Robert Bork's America is a land in which women would be forced into back-alley abortions, blacks would sit at segregated lunch counters, rogue police could break down citizens' doors in midnight raids, schoolchildren could not be taught about evolution, writers and artists could be censored at the whim of government, and the doors of the federal courts would be shut on the fingers of millions of citizens for whom the judiciary is—and is often the only—protector of the individual rights that are the heart of our democracy."[3]
Bork became the center of controversy early in his political career as a solicitor general under President Richard Nixon. In what became known as the "Saturday Night Massacre" during the Watergate crisis in October 1973, Bork fired Special Prosecutor Archibald Cox, who had issued a subpoena for the tapes of Nixon's Oval Office conversations, on orders from President Nixon. According to the Washington Post, Nixon "ordered Attorney General Elliot Richardson to fire Cox. Richardson resigned rather than carry out the order, as did Deputy Attorney General William D. Ruckelshaus. Nixon then turned to Bork, the number three official in the Justice Department, who carried out his wishes and fired Cox. Bork would defend his actions as within the scope of presidential authority. Nine months later, the Supreme Court ruled that Nixon had to turn over the tapes."[4]
At age 76, in 2003, Bork converted to Catholicism. He joined the faculty of the Ave Maria School of Law, funded by Catholic philanthropist Thomas Monaghan, the former Detroit Tigers owner and Domino's Pizza founder. According to Bork's bio on the law school site, the late judge served as a fellow at such right-wing think tanks as the American Enterprise Institute, the Hudson Institute, and the Hoover Institution in addition to his legal and political work.[5]
A prolific author and speaker, Bork's books include Coercing Virtue: The Worldwide Rule of Judges (2003), The Tempting of America: The Political Seduction of Law (1997), Slouching Towards Gomorrah: Modern Liberalism and American Decline (1996), reissued with an afterword in 2003, and The Antitrust Paradox: A Policy at War with Itself, revised in 1993. The Intercollegiate Studies Institute published Judge Bork's A Time to Speak in 2008, a collection of his writings, oral arguments, briefs, and opinions spanning his legal career. The ISI website's marketing flyer for the book describes Bork as "the legal and moral conscience of America, reminding us of our founding principles and their cultural foundation. The scourge of liberal ideologues both before and after Ronald Reagan nominated him for the Supreme Court in 1987, Bork has for fifty years unwaveringly exposed—and explained—the hypocrisy and dereliction of duty endemic among our nation's elites, the politicization and adversary activism of our courts, and the consequent degradation of American society."[6]
Bork is the father of Ellen Bork, the director of the Democracy and Human Rights program at the Foreign Policy Initiative.