Henry F. Cooper
last updated: August 5, 2010
Please note: The Militarist Monitor neither represents nor endorses any of the individuals or groups profiled on this site.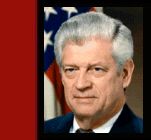 Affiliations
New Deterrent Working Group:Member
High Frontier: Chairman of the Board
National Institute for Public Policy: Senior Associate; Board of Advisors; Participant, U.S. Nuclear Forces and Arms Control Study
Heritage Foundation: Chairman of the Missile Defense Study Team
Heritage Foundation: Visiting Fellow
Clemson University: Instructor
Center for Security Policy: National Security Advisory Council Member
Government
U.S. Department of Defense, Strategic Defense Initiative Organization: Former Director
Geneva Defense and Space Talks: Chief U.S. Negotiator; Ambassador and Deputy U.S. Negotiator under Reagan
Arms Control and Disarmament Agency: Former Assistant Director
U.S. Department of Defense: Former Deputy Assistant Secretary of the Air Force
Air Force Weapons Laboratory (now Phillips Laboratory): Scientific Advisor
U.S. Air Force: 1st Lieutenant
Business
Applied Research Associates: Chairman
Jaycor: Former Senior Vice President for Strategic Planning
R&D Associates: Deputy Director of Nuclear Weapons Effects Division
Bell Telephone Laboratories: Technical Staff Member
Education
New York University: Ph.D. in mechanical engineering
Clemson University: B.S., M.S. mechanical engineering
Henry Cooper, the former head of the Pentagon's missile defense organization, is a long-standing supporter of "Star Wars" defense programs who has represented several defense contractors. He heads the pro-missile defense group High Frontier and has worked with a number of right-wing and neoconservative groups, including the Center for Security Policy , the National Institute for Public Policy , and the Heritage Foundation
Cooper has worked as a corporate executive for various defense contractors. He served as a vice president of Jaycor, a missile defense contractor that later became the Applied Technologies Division of Pentagon contractor L-3 Communications.[1] Cooper also served as chairman of Applied Research Associates, a defense contractor that specializes in homeland security and space technology.[2]
Cooper is a member of the New Deterrent Working Group, an organization created to prevent the "de-nuclearization" of the United States and sponsored by the Center for Security Studies.[3] He also co-authored the group's Briefing Book, "U.S. Nuclear Deterrence in the 21st Century: Getting It Right."
The New Deterrent Working Group is a part of a larger initiative by the Center for Security Policy and some members of the congressionally-chartered Commission on the U.S. Strategic Posture to maintain and bolster the U.S. nuclear infrastructure in the face of growing opposition.
Convinced that there can be no peace without nuclear weapons, the New Deterrent Working Group submitted the "Towards a New Deterrent" White Paper to congressional leaders and members of various commissions.[4] The position paper stressed that "America must re-establish the posture of nuclear strength," and "must adopt anew a national commitment to design, test and produce, on a continuing basis, new nuclear weapons."[5]
Cooper also published a paper in July 2010 for the Institute for Foreign Policy Analysis (IFPA), a conservative, security-focused think tank affiliated with the Fletcher School of Law and Diplomacy at Tufts University and the Scaife Family Foundation. Co-authored by Robert L. Pfaltzgraff, Jr., a Tufts professor and founder of IFPA, the paper, "Countering the EMP Threat: The Role of Missile Defense," focuses on the popularly discredited threat of electromagnetic pulse weapons.
Although some enemies of the United States are developing long-range missiles, they and others already have short- and medium-range missiles that could be launched from ships near our coasts. Several years ago, Iran tested a short-range ballistic missile in a way that indicated an interest in developing an EMP capability— so this threat is not hypothetical. It also must be remembered that terrorists might purchase such missiles—even possibly armed with nuclear weapons.[6]
To fight this purported threat, Cooper and Pfaltzgraff call for the implementation of a complex domestic missile defense system, cautioning that, "no national strategy addresses either the EMP threat or underwrites a serious program to counter the delivery of EMP by a ballistic missile launched from a vessel off our coasts."[7]
In the mid-1990s, Cooper server as chairman of the Missile Defense Study Team, sponsored by the Heritage Foundation during Bill Clinton's presidency, which aimed to reinvigorate the Star Wars programs.[8]
In recognition of his long-standing efforts on behalf of missile defense, the Pentagon's Missile Defense Agency (MDA) awarded Cooper the "Ronald Reagan Missile Defense Award" in March 2010. Explaining its decision to give Cooper the award the, MDA cited his work on High Frontier. "Founded by General Daniel O. Graham in the early 1980's, High Frontier played a key role in developing the framework for President Ronald Reagan's Strategic Defense Initiative (SDI). Under Ambassador Cooper's direction, High Frontier continues to inform the nation of the growing threat of ballistic missiles and of the need for a workable missile defense."[9]
Cooper has also supported an aggressive "war on terror." He strongly supported the Bush administration's decision to attack Iraq, arguing in October 2001:
The president says we are after the terrorists and states that harbor them. His 'coalition' strategy gets in the way of going after them all at once. But they must be on our target list if we are to rid the world of terrorism. Does anyone believe that Iraq, for instance, is not in cahoots with bin Laden? Perhaps Saddam Hussein provided the Anthrax and/or know-how that has shut down both houses of Congress and killed innocent Americans. And remember that Saddam said in 1991 he would have attacked American cities had he the missiles to reach them. Do we doubt him? [10]