Martin Anderson
last updated: July 8, 2010
Please note: The Militarist Monitor neither represents nor endorses any of the individuals or groups profiled on this site.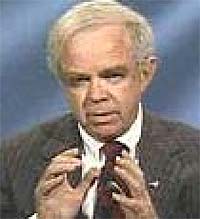 Affiliations
Hoover Institution: Senior fellow
Nightly Business Report: Former TV Commentator
Ludwig von Mises Institute: Adjunct Scholar
Republican National Convention: Delegate, 1992, 1996, 2000
George W. Bush Presidential Campaign: Policy Adviser, 2000
Bob Dole Presidential Campaign: Policy Adviser, 1996
Pete Wilson Presidential Campaign: Policy Adviser, 1995
Ronald Reagan Presidential Foundation: Trustee, 1985-90
Ronald Reagan Presidential Campaign: Senior Policy Advisor, 1976 and 1980
Committee on the Present Danger: Member, 1977-91
Rockefeller's Commission on Critical Choices for Americans: Member, 1973-75
Richard Nixon Presidential Campaign: Director of Research, 1968
Columbia University Graduate School of Business: Associate Professor of Finance, 1965-68; Assistant Professor of Finance, 1962-65
Harvard University and MIT Joint Center for Urban Studies: Research Fellow, 1961-62
Dartmouth College Thayer School of Engineering: Assistant to the Dean, 1959
Government
Defense Policy Board: Former member
National Commission on the Cost of Higher Education: Member, 1997-98
California Governor's Council of Economic Advisers: 1993-98
President's General Advisory Committee on Arms Control: Member, 1987-93
President's Economic Policy Advisory Board: Member, 1982-1989
President's Foreign Intelligence Advisory Board: Member, 1982-1985
Reagan Administration: Assistant to the President of the United States for Policy Development, 1981-82
Nixon Administration: Special Consultant to the President of the United States for Systems Analysis, 1970-71; Special Assistant to the President of the United States, 1969-1970
Arms Security Agency: Second Lieutenant, 1958-59
Business
Federal Home Loan Bank of San Francisco: Public Interest Director, 1972-79
Education
Dartmouth College: B.A., summa cum laude, 1957; M.S. in Engineering and Business Administration, 1958
Massachusetts Institute of Technology: Ph.D., in Industrial Management, 1962
Martin Anderson is a fellow at the Hoover Institution, a conservative think tank based at Stanford University.[1] An economist known for his espousal of the philosophy of conservative author Ayn Rand,[2] Anderson has also been a key foreign policy hawk, having served as a member of the Cold War-era version of the Committee on the Present Danger and influencing the development of the Star Wars missile defense system.
Although best known for his role as an advisor to President Ronald Reagan (and for his staunch advocacy of Reagan's legacy), Anderson served several other Republican presidents, including Richard Nixon and George H.W. Bush. During the George W. Bush presidency, Anderson was tapped to serve on the controversial Defense Policy Board, which was briefly chaired by neoconservative heavy weight Richard Perle and staffed with a number of Anderson's colleagues at the Hoover Institution.[3]
While working for then-presidential candidate Reagan in 1979, Anderson helped generate ideas for what would later be dubbed the Star Wars missile defense system. Writes one historian of the Reagan era:
"In the summer of 1979, . . . Reagan made a trip, with one of his top aides, Hoover Institution economist Martin Anderson, to the North American Air Defense Command (NORAD) post in Colorado, where he witnessed a special demonstration of this center's tracking and display capabilities. . On the plane ride back to California, Reagan and [Anderson] . talked about the apparent terrible vulnerability of the United States, against which we, seemingly, were helpless. Soon after returning to California, Anderson was instructed to prepare a set of papers which would establish Reagan's position on strategic defense for the upcoming 1980 campaign. One of these reports presented three major options — first, following Jimmy Carter's early policy of relying on good Soviet intentions ('dangerous folly' in Anderson's opinion); second, a massive American arms buildup (which Anderson felt was 'apt to frighten as many people as it consoles'); and third, to build a radically new, 'preventative' air intercept defense system, much like Star Wars as it later became known."[4]
Anderson is the author of several books, including Revolution (Harcourt Brace Jovanovich, 1988); Impostors in the Temple (Simon & Schuster, 1992); coauthor of Reagan, In His Own Hand: The Writings of Ronald Reagan That Reveal His Revolutionary Vision for America (Free Press, 2001); coauthor of Reagan, In His Own Voice: Ronald Reagan's Radio Addresses (Simon & Schuster Audio, 2001); coauthor of Stories In His Own Hand: The Everyday Wisdom of Ronald Reagan (Free Press, 2001).
His most recent book, co-written with his wife Annelise Anderson, is Reagan's Secret War: The Untold Story of His Fight to Save the World from Nuclear Disaster. Published in 2009 (Crown), Reagan's Secret War highlights Reagan's efforts to abolish all nuclear weapons, a fact that is often ignored by many pro-Reagan conservatives (see Robert Farley, "The Nuclear Posture Attack," Right Web, June 2, 2010).