Ronald Fogleman
last updated: December 3, 2012
Please note: The Militarist Monitor neither represents nor endorses any of the individuals or groups profiled on this site.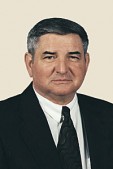 Affiliations
2012 Mitt Romney Presidential Campaign: Member, Military Advisory Council
Council on Foreign Relations: Member
Fort Lewis College Foundation: Member
Falcon Foundation: Chair
Air Force Foundation: Member
Airlift Tanker Association: Member

Government
Defense Policy Board: Former Member
Commission to Assess United States National Security Space Management and Organization (Rumsfeld Space Commission): Former member
NASA Mars Program Independent Assessment Team: Member
Air Force Research Laboratory: Chair of study on directed energy weapons
Secretary of Defense: Former Military Adviser
National Security Council: Former Military Adviser
Office of the President: Former Military Adviser
U.S. Air Force: General (Ret.) and Chief of staff, 1963-1997; various positions

Business
The MITRE Corporation: Member of Board of Trustees,1998 -
B Bar J Cattle Company: President and Chief Operating Officer
Durango Group, LLC.: Founding Principal
Projects International: Executive Vice President
DERCO Aerospace: Member of Board of Directors
Maingate.com: Member of Board of Directors
North American Airlines: Member of Board of Directors
AAR Corporation: Member of Board of Directors

Education
U.S. Air Force Academy: B.S., 1973
Duke University: M.A., 1971 in Military History and Political Science
Ronald Fogleman is a retired U.S. Air Force general and defense industry executive who has served as an adviser on a number of high-profile government panels that have promoted hawkish U.S. defense policies.
In October 2012, Fogleman was named as a member of the "Military Advisory Council" of the Mitt Romney/Paul Ryan presidential campaign. When Romney announced the creation of the council—made up of several dozen retired military officers—commentators noted that it was chock-a-block with former officers who had "left the government only to become highly paid consultants and board members to major weapons makers," as the blog boldprogressive.org put it.[1]
Joining Fogleman on the council were retired U.S. Air Force Lieutenant General Thomas McInerney, a right-wing pundit who contributes to Fox News, serves on the "Military Committee" of the neoconservative Center for Security Policy, and is board member for numerous defense contractors; retired General James Conway, a board member for Textron, which produces helicopters and other military hardware; retired former commander of U.S. Strategic Command James O. Ellis, a Lockheed Martin board member; and retired General Tommy Franks, leader of the 2003 invasion of Iraq, whose consultancy Franks & Associates LLC specializes in "disaster recovery."[2]
Fogleman has been an executive at several aerospace/defense firms, serving as chairman of the board of Alliant Tech Systems and as the director of AAR Corporation. Additionally, according to Forbes, "General Fogleman has been the non-executive Chairman of ATK's Board of Directors since November 2009. He has been President of B Bar J Cattle and Consulting Company, a consulting firm, since 1997. He retired from the U.S. Air Force in 1997, following a 34-year career. He is also a director of AAR Corp. From 2007 to 2009, he was a director of Alpha Security Group Corporation."[3]
Fogleman has also served as a member of the board of the MITRE Corporation, a large non-profit defense contractor.[4] He has been joined at MITRE by a host of other elite figures closely associated with militarist advocacy campaigns, including retired Admiral David Jeremiah, a one-time adviser to the neoconservative Jewish Institute for National Security Affairs, and James Schlesinger, a former secretary of the defense and navy.
In 2001, shortly after the election of President George W. Bush, Fogleman was appointed to the Defense Policy Board, a Pentagon advisory board then chaired by Richard Perle. Observers were critical of many appointees at that time because of their numerous ties to defense industry interests, arguing that there was a clear conflict of interest. Perle eventually stepped down as chair after his various industry ties were widely discussed in the media.[5]
Other members serving with Fogleman included MITRE Corporation colleagues Jeremiah and Schlesinger, as well as Newt Gingrich, Ken Adelman, James Woolsey, Eliot Cohen, Richard Allen, and Martin Anderson. Many of these men had risen to prominence in the Reagan administration after initially joining forces in the late 1970s in the Committee on the Present Danger (CPD), an anticommunist pressure group.[6]
Fogleman also served—along with Jeremiah—on the Donald Rumsfeld-led "Space Commission," a controversial congressionally mandated commission whose 2001 final report called for developing space weapons.
According to his MITRE bio: "General Fogleman retired from the U.S. Air Force on September 1, 1997, after 34 years of active commissioned service. On his final tour of duty, he served as the 15th chief of staff of the U.S. Air Force and a member of the Joint Chiefs of Staff, and as a military advisor to the Secretary of Defense, the National Security Council, and the President. His staff experience and time as chief of staff saw a heavy emphasis on long-range programming and strategic planning. General Fogleman graduated from the U.S. Air Force Academy in 1963 and subsequently earned a master's degree in military history and political science from Duke University. An active pilot with more than 7,500 total hours, he has an extensive background in fighters, mobility aircraft, and general aviation. He served two tours in Southeast Asia during the Vietnam War, flying 315 combat missions and logging 806 hours of combat fighter time. He has flown mobility aircraft in support of humanitarian and contingency operations on six continents. General Fogleman served as commander in chief of the U.S. Transportation Command; as commander of Air Mobility Command; deputy commander in chief, U.S. Forces, Korea; commander 7th Air Force and Commander Air Component Command of the US/ROK Combined Forces Command; commander 836th Air Division; and commander of the 56th FTW. He was also director, Programs and Evaluation, and chairman, Air Staff Board, at Headquarters U.S. Air Force."[7]