Rachel Ehrenfeld
last updated: July 12, 2013
Please note: The Militarist Monitor neither represents nor endorses any of the individuals or groups profiled on this site.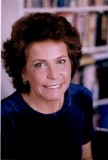 Affiliations
American Center for Democracy: Founder and director (2001-present)
Center for the Study of Corruption and the Rule of Law: Founder and former director (1998-2001)
Committee on the Present Danger: Board Member
Ariel Center: Contributing Expert
International Intelligence Summit: International Advisory Board Member
Family Security Matters: Contributing editor
Columbia University's Institute of War and Peace Studies: Former Visiting Scholar
Johns Hopkins School of Advanced International Studies: Former Fellow

Government Service
Department of Defense Threat Reduction Agency: Consultant

Education
Hebrew University School of Law: PhD, Criminology
Rachel Ehrenfeld is an Israeli-born writer and pundit known for making controversial claims aimed at connecting terrorism and transnational crime. She is the founder of the American Center for Democracy (ACD), a Manhattan-based policy center that describes itself as being "dedicated to exposing the enemies of Freedom and Democracy and their Modus Operandi and exploring pragmatic ways to defeat them while promoting standards of national and international integrity."[1] The organization was previously called the Center for the Study of Corruption and the Rule of Law.
Though the accuracy of her research has often been called into question, Ehrenfeld has won acclaim from neoconservatives and right-wing circles for her research on terrorism. Ehrenfeld has been an advisory board member of the International Intelligence Summit, a contributing editor at Family Security Matters, a columnist for David Horowitz's FrontPageMag.com, a contributing expert at the Ariel Center for Policy Research, and a member of the board of directors for the Committee on the Present Danger. Several leading neoconservatives, including James Woolsey and Richard Perle, have served on the board of Ehrenfeld's American Center for Democracy.
Although terrorist financing and "narcoterrorism" have long been the centerpieces of her writings, Ehrenfeld has embraced a host of hawkish positions on the Middle East more generally, often accusing the Obama administration of supporting or "appeasing" anti-American elements in the region. In a 2013 blog post arguing for U.S. intervention in Syria's civil war, for example, Ehrenfeld accused Obama of "sitting on his hands for two years," concluding that "Obama's attempt to pacify the Muslim/Arab world, beginning with his Cairo speech in 2009, seem[s] to have yielded catastrophic results. … [T]he Oslo Committee should change his 'Peace Award' with the 'Sitting on the Fence Award.'"[2]
In another post that year, Ehrenfeld chastised Obama administration officials for characterizing Iranian president-elect Hassan Rouhani as a "moderate" and calling for negotiations with the newly minted leader. She wrote: "You would think our experience with Iran since 1979 would have taught us something. Still, we go on believing such things as that sanctions will moderate Iranian behavior and that negotiations with the Islamic Republic can bring the same results as negotiations with Western-style democratic countries." Summing up her views on the administration more generally, she charged that the "current president and his administration have been methodically tarnishing whatever efforts were made in the past to develop and ingrain a national identity and patriotic pride and reluctance to pursue America's national interests. … [T]he will to project power where the interests of the U.S. and other Western-style democracies are clearly at stake needs to be found again."[3]
Ehrenfeld has also expressed deep skepticism about democratic Islamist movements in the Middle East, once proclaiming that "Democrats and Republicans alike are only deluding themselves in believing that negotiations with the [Muslim Brotherhood] and their terrorist offspring will alter their drive to establish a global Caliphate."[4] Criticizing the Obama administration's call for a return to civilian rule in Egypt after the country's military deposed the democratically elected Muslim Brotherhood president Mohamed Morsi in July 2013, Ehrenfeld charged that Obama "apparently saw nothing wrong with the Muslim Brotherhood's imposition of sharia, as part of the Islamic allegedly Democratic rule of the Muslim Brotherhood."[5]
Of the Arab Spring revolutions, Ehrenfeld has written, "Revolutions, some messier than others, strive for progress and a better future. Not so in the Middle East. There revolutions are used to spring backward. … As long as the Islamist agenda comes before that of the state, when Islam takes over political systems–as seen in Egypt and Turkey–real progress will continue to elude the people of the Middle East."[6]
Ehrenfeld has embraced a host of more paranoid positions, speculating in June 2013 that wildfires then blanketing the state of Colorado—part of larger increase in wildfires attributed elsewhere to climate change and poor forest management—could have been the work of "jihadists," "Mexican gangs," or "other illegals in our Western states."[7]
She has also promoted the notion that the United States is vulnerable to attack from an "electromagnetic pulse" (EMP), whose proponents—including the likes of Newt Gingrich as well as writers from the Heritage Foundation and the Foundation for Defense of Democracies —say could be launched by a hostile power exploding a nuclear weapon in the stratosphere over the United States. In a blog post hyping a May 2013 Wall Street Journal op-ed by ACD board member James Woolsey , Ehrenfeld claimed that both North Korea and Iran "present a real threat of an EMP attack. Both rogue states have the technical know-how and, as importantly, their leaderships have shown themselves willing and capable of irrational behavior." Such an attack, she claimed, "will not only devastate the economy, but also cause the death of millions of Americans."[8] A writer for Foreign Policy subsequently described the EMP scenario as "a wild claim" peddled by a "crowd of cranks and threat inflators."[9] (For an assessment of the EMP threat campaign, see Robert Farley, "The EMP Threat: Lots of Hype, Little Traction," Right Web, October 16, 2009.)
Terrorist Financing, "Libel Tourism," and "Narcoterrorism"
The primary focus of Ehrenfeld's work is the financing of radical Islamic terrorism. Through ACD and its flagship project, the Economic Warfare Institute, Ehrenfeld has repeatedly alleged that there are links between terrorists and criminals, drug traffickers, and public figures. Her claims on the subject have attracted considerable controversy.
Perhaps Ehrenfeld's most disputed work has been her 2003 book Funding Evil: How Terrorism is Financed and How to Stop It. Among other claims, Ehrenfeld argued in the book that Sami Al-Arian, a professor at the University of South Florida who was fired after allegations arose that he was involved in supporting Palestinian terrorist groups, was "one of al-Qaida's most important U.S. operatives." This claim was subsequently refuted, however, and when a reporter called to ask her about her charge, Ehrenfeld, said it was based on confidential sources and declined to comment.[10] (Though Al-Arian was acquitted of half the charges against him and the jury deadlocked over the rest, he remained under house arrest as of 2013, awaiting a ruling on whether he would be forced to testify in another case. The U.S. government never pursued the charges alleged by Ehrenfeld.)
Khalid bin Mahfouz, a Saudi businessman, sued Ehrenfeld in a British court over her claims in Funding Evilthat he and his family had funded terrorist groups. A British judge agreed with bin Mahfouz and ordered Ehrenfeld, who refused to recognize the British court's jurisdiction, to pay damages.[11]
The case spurred Ehrenfeld to launch a campaign against "libel tourism," which became the focus of another flagship ACD project. This project aims to insulate Americans from libel charges filed abroad, particularly in the United Kingdom, and has inspired both state and federal legislation blocking the enforcement of British libel rulings by U.S. authorities. Former Sen. Joe Lieberman , a longtime neoconservative heavyweight, was a major backer of what came to be known as "Rachel's Law,"[12] a federal version of which was ultimately signed into law in 2010.
Ehrenfeld has authored two other books on the international funding of terrorism: Evil Money (1992) and Narcoterrorism (1990). Her writings—which include numerous articles in outlets like the Washington Times, National Review, FrontPage.com, and the Jerusalem Post—typically make the case that the national security of the United States and its allies, particularly Israel, is threatened by non-state actors and states that rely on illicit business activities such as drug trafficking.
In the 1980s and 1990s, Ehrenfeld was one of the key figures promoting the term "narcoterrorism" to describe the purported alliance of leftists and drug traffickers—particularly in Cuba, Nicaragua, and Colombia. Since 9/11, Ehrenfeld has focused mostly on Islamic groups like Hamas and Hezbollah that thrive, she says, on income from international crime.
Ehrenfeld authored a 1988 report, Narco-Terrorism and the Cuban Connection, for the Cuban American National Foundation (CANF), a militant anti-Castro organization based in Miami. The report, which posited that Cuba and the Sandinista government in Nicaragua sponsored drug-trafficking operations, was used by policymakers and policy advocacy groups such as CANF to demonize the Cuban and Nicaraguan regimes and build congressional support for regime change strategies directed against the two nations. Not only had narcotics trafficking funded leftist governments and insurgencies, argued Ehrenfeld, it also had the strategic objective of debilitating the United States as part of the Cold War. According to Ehrenfeld, the Kremlin directed the grand strategy, while Havana supervised the regional implementation of the narcoterrorism plan.[13]
In 1991, Ehrenfeld told the news program Frontline that she believed Cuba was providing narcotics traffickers with "safe haven, with fuel, with radar, and everything else, and in return, the same boats will bring arms to the insurgencies, the communist insurgencies that the Cubans were supporting in Latin America."
According to Ehrenfeld, "The Sandinistas continue to use the drug-and-arms traffic not only to obtain badly needed foreign currency, but also to cut in-roads of undermining influence into neighboring Central American countries. Their principal method is that of providing cocaine at discount value as payment for support and services rendered to the Sandinistas."[14]
Ehrenfeld has contended that U.S. policy should treat leftist challenges in Latin America—whether it be the Cuban or Nicaraguan governments or the M-19 guerrillas in Colombia—as primarily criminal enterprises, an argument that she has subsequently made about Hezbollah in Lebanon.
On Latin America and the Monroe Doctrine
In 2000, Ehrenfeld joined Gordon Sumner, Lewis Tambs, John Foster, and Sol Sanders as a contributor to Latin America Today: Santa Fe IV Report. The first Santa Fe report on Latin America, produced by the militantly anticommunist Council for Inter-American Security, became a central building block in the construction of the first-term Reagan administration's foreign policy in Central America. The document argued that the United States was "engaged in World War III" and proposed that "in war there is no substitute for victory." Describing Central America as "the soft underbelly of the United States," the report called for the restoration of the Monroe Doctrine as the underpinning of U.S. foreign policy in the region. Several of the authors of the first Santa Fe report went on to join the first Reagan administration, including Tambs, Sumner, Roger Farlane, and Patrick Buchanan. Sumner and Tambs were the editors of Santa Fe IV, which like the other reports railed against the threat of totalitarianism and the missteps of the Democrats, namely presidents Jimmy Carter and Bill Clinton.[15]
The premise of all the Santa Fe reports, named after the New Mexico city where the authors first gathered in 1980, is that the main policy goal of the United States in Latin America should be the full implementation of the Monroe Doctrine, which asserts that the United States should be the only hegemonic power in the region. According to Santa Fe IV, narcoterrorists and communists directly threaten the United States by threatening the security of the U.S. backyard. The main external threat, according to Ehrenfeld and her co-contributors, is "Communist China," which, through its economic penetration is gaining control over Cuba, the Panama Canal, Venezuela, and other areas, "and in doing so has put at risk the solidarity of the entire southern flank of the United States."[16]
Since 9/11 and the launch of the "war on terror," Ehrenfeld has been on a campaign to have the "Triple Frontier," an isolated zone where Paraguay, Brazil, and Argentina meet, recognized as a center for terrorism financing and planning. In 2005, she appeared at a congressional briefing organized by the Jewish Institute for National Security Affairs(JINSA) alleging that groups such as Hamas, Hezbollah, al-Qaeda, and al-Jihad "are becoming increasingly more active" in Latin America. In her testimony, Ehrenfeld reiterated her belief that there is an increasingly close connection between narcotics trafficking and terrorism, claiming that Islamists have issued fatwas through the Internet instructing Muslims to use drug money to support Islamist terrorism. One solution to break the link between illegal narcotics and Islamic terrorism, Ehrenfeld told the JINSA briefing, would be spraying herbicides on poppy and coca production in South America.[17]
Without offering supporting evidence, Ehrenfeld told Bloomberg News in 2006 that Hezbollah is involved in drug trafficking through an agreement with the Revolutionary Armed Forces of Colombia (FARC) and makes counterfeit goods, including DVDs, in the tri-border area. In the same interview, Ehrenfeld maintained that Hezbollah receives a large part of its funding from Latin America. Neither Hezbollah nor the Palestinian group Hamas would be able to launch missiles, train people, or provide "the so-called social security to buy the loyalty of the population if they didn't have money," said Ehrenfeld. "If we were able to stop that money, this wouldn't happen."[18] In other writings, Ehrenfeld has claimed that Hezbollah "extorts 'donations' from Shi'ite Lebanese immigrants in South and North America under the threat of physical harm or death."[19]
But the evidence that the Triple Frontier is directly linked to international terrorism is circumstantial and indirect at best. When asked to provide some measure of proof for her assertions that the Arab, largely Lebanese, community in the Triple Frontier zone funds terrorist networks, Ehrenfeld has cited the "confidentiality" of her sources, saying that even her typist has requested to remain anonymous because of possible retaliation from terrorists.[20] Brazil's government has long denied that terrorism financing occurs in the region.[21]
In an exchange with Ehrenfeld in the New York Review of Books in March 1993, Michael Massing, who had reviewed her book Evil Money in 1992, wrote that she preferred "to take cover behind the claim of confidentiality—a lame excuse in any language."[22] Over the years, Ehrenfeld has also been accused of focusing her research only on groups and states that are regarded as enemies of the United States and Israel, while never looking at the links that exist between U.S. and Israeli government officials and drug traffickers.