Thomas McInerney
last updated: March 21, 2014
Please note: The Militarist Monitor neither represents nor endorses any of the individuals or groups profiled on this site.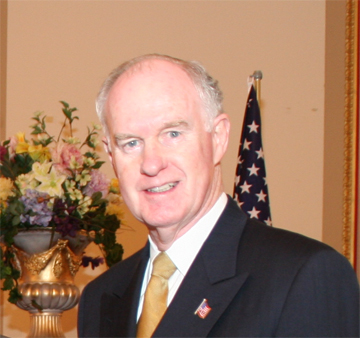 Affiliations
Iran Policy Committee: Chairman, Advisory Council; Member, Military Committee
American Center for Democracy: Advisory Board Member
Center for Security Policy: Member, Military Committee
Fox News: Military Analyst
2012 Mitt Romney Presidential Campaign: Member, Military Advisory Council
Intelligence Summit: Executive Council Member; Speaker (2007)
Business Executives for National Security: Former President and CEO (1996-2000)

Government
U.S. Air Force: Retired General; Former Vice Chief of Staff and Director of the Defense Performance Review

Business
Cobham PLC: Appointed Member, North American Board, June 2008
GRTT (Government Reform Through Technology):Founder
Nortel Government Solutions: Board Member
Ezenia, Inc.:Former Board Member
Loral Defense Systems-Eagan: Former Vice President
Signal Technology Corp.: Former Board Member
Pan American International Flight Academy: Former Board Member
EFederal: Former Board Member
Alloy Surfaces Company: Former Board Member

Education
U.S. Military Academy: B.S., 1959
George Washington University: M.S. in International Relations, 1972
Retired U.S. Air Force Lieutenant General Thomas McInerney is a Fox News contributor whose track record includes advising neoconservative advocacy groups like the Center for Security Policy and working as an executive in the defense industry, including at Loral Defense Systems and Signal Technology Corps.[i] Other distinctions include working as an adviser to the Mitt Romney/Paul Ryan 2012 presidential campaign, serving four tours of duty in Vietnam,[2] and supporting the discredited "Birther" movement, which questions whether President Barack Obama was born in the United States.[3]
A vocal proponent of the idea that the United States is in a global war with "radical Islam," McInerney has supported the work of a host of right-wing and "pro-Israel" groups that have advocated interventionist U.S. foreign policies. He has served on the advisory council of the Iran Policy Committee,[4] which is led by Raymond Tanter; on the advisory board of Rachel Ehrenfeld's American Center for Democracy[5]; and on the Executive Council of the Intelligence Summit.[6] In addition, McInerney has addressed conferences of the American Israel Public Affairs Committee (AIPAC) on Middle East strategic issues[7] and championed aggressive "war on terror" policies in neoconservative outlets, including the Wall Street Journal editorial page and William Kristol's Weekly Standard.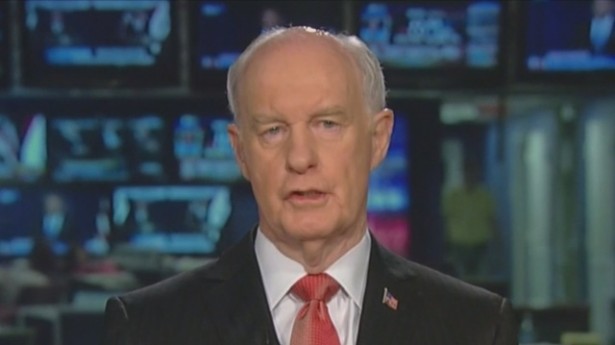 McInerney often promotes outlandish ideas about purported threats from Muslim countries. For instance, shortly after Malaysian Airlines Flight MH 370 went missing in early March 2014, McInerney began promoting on Fox News the theory that the plane could have been hijacked and sent to Pakistan, possibly to be loaded with conventional or nuclear weapons and used in a terrorist attack. Ridiculed by one commentator as a "Tom Clancy plot," McInerney's theory got picked up by a host of right-wing figures, including Rupert Murodch, who took to Twitter shortly after McInerney's appearance to claim that the plane had been "effectively hidden" and may have been stashed away in "Northern Pakistan, like Bin Laden."[8]
McInerney has also peddled the bizarre and thinly sourced theory, popularized by Frank Gaffney and other Islamophobic conspiracy theorists, that the Muslim Brotherhood has infiltrated the U.S. government in an effort to impose sharia law on the United States. In a January 2014 talk radio interview, McInerney declared, "We've got Muslim Brotherhood in the U.S. government today." Pressed to elaborate on the allegation, McInerney added, "I haven't got their names exactly but there's a list of them, at least 10 or 15 of them in the U.S. government." After echoing a thoroughly discredited charge against longtime Hillary Clinton aide Huma Abedin—insisting that "her parents are Muslim Brotherhood and "her intuitions are in that direction"—McInerney encouraged his hosts to consult Gaffney or likeminded conspiracy theorist Clare Lopez for further details.[9]
In a November 2012 book review for the right-wing Washington Times, McInerney used the release of a recent spy novel titled The Natanz Directive to warn about Iran and criticize the Obama administration's handling that country's alleged nuclear weapons program. He wrote: "The messianic ambitions of President Mahmoud Ahmadinejad and Ayatollah Ali Khamenei are on full display in The Natanz Directive. Because of [main character Jake Conlan's] stunning findings in Iran, the U.S. administration is forced to take military action. The war plan [that the author] calls 'Big George'—an operation involving hundreds of sorties of stealth bombers and strike aircraft—is, in fact, a viable plan I developed for a presentation to the Intelligence Summit based on my experiences in a real-world strike on terrorists in the 1980s. One can only hope a U.S. president never has to put Big George into operation. With the Obama administration, it may be as unlikely as ever."
Ideology and the Defense Industry
McInerney's connections to military contractors and role as a public proponent of militarist defense policies have repeatedly received attention in the media. For example, in October 2012, when Mitt Romney announced the creation of his presidential campaign's "Military Advisory Council," McInerney's membership on the board helped spur numerous comments about how it was chock-a-block with former military officers who had "left the government only to become highly paid consultants and board members to major weapons makers," as the blog boldprogressive.org put it. Others on the council included retired former commander of U.S. Strategic Command James O. Ellis, a Lockheed Martin board member; and retired air force General Ronald Fogleman, a proponent of missile defenses who has served on the on the boards of Alliant Techsystems, AAR Corporation, and Mesa Air Group.[10]
In early 2008 a New York Times investigative report identified McInerney as one of several dozen retired military officers—many of whom served as military analysts for various media outlets—who had received briefings by the Bush administration as part of a controversial and hitherto unknown Pentagon program to put positive spin on U.S. policies in the "war on terror."[11] According to the Times, the Pentagon program selected the officers, who also included Barry McCaffrey and Paul Vallely, because as retired military personnel they "often got more airtime than network reporters, and they were not merely explaining the capabilities of Apache helicopters. They were framing how viewers ought to interpret events. What is more, while the analysts were in the news media, they were not of the news media. They were military men, many of them ideologically in sync with the administration's neoconservative brain trust, many of them important players in a military industry anticipating large budget increases to pay for an Iraq war."[12] The Pentagon program, which began in 2002, ran until it was suspended in late April 2008, after the Times investigation broke.[13] Fox continued to use McInerney as an on-air analyst after the story's publication.
As participants in the Pentagon program, the military retirees had access to senior officials and decision-makers, and also were frequently "involved in the business of helping companies win military contracts," according to the Times. "Several held senior positions with contractors that gave them direct responsibility for winning new Pentagon business. … Still others held board positions with military firms that gave them responsibility for government business. General McInerney, the Fox analyst, for example, sits on the boards of several military contractors, including Nortel Government Solutions, a supplier of communication networks."[14] (Since the 2003 invasion of Iraq, Nortel has received millions of dollars worth of U.S. government contracts to create fiber optic networks in Iraq.)[15]
McInerney appears to have been responsive to the administration's message. In one memo obtained by the Times, McInerney responded in late 2006 to talking points he received from the Pentagon, saying, "Good work, we'll use it."[16] (The Times did not specify the issue McInerney was referring to.)
In another case, after a group of retired generals issued scathing critiques of then-Defense Secretary Donald Rumsfeld's performance and demanded his resignation in early 2006, the Pentagon sought to respond via its network of retired officers. On April 14, 2006, Pentagon officials helped McInerney and Vallely draft an op-ed piece, according to the Times.[17] After Vallely sent a note to the Pentagon saying that any help with the draft would "be much appreciated," Rumsfeld's office "quickly forwarded talking points and statistics to rebut the notion of a spreading revolt."[18] On April 17, the Wall Street Journal published "In Defense of Donald Rumsfeld," an op-ed by McInerney, Vallely, and two other retired generals. "In the end [Rumsfeld's] the man in charge and the buck stops with him," they wrote. "As long as he retains the confidence of the commander in chief he will make the important calls at the top of the department of defense. That's the way America works. So let's all breathe into a bag and get on with winning the global war against radical Islam."[19]
From 1996 to 2000, as president of Business Executives for National Security (BENS), McInerney promoted the idea that private companies have a responsibility to help the government improve security, and vice versa. In his role as BENS head, he stated, "We believe that the American business community of today not only has an interest in national security, but that it has a distinct role to play in cooperation with the federal government in preventing the spread and use of WMD."[20] In 2000, McInerney founded his own consulting firm, Government Reform Through Technology.
In his last role with the Air Force, McInerney was "director of the Defense Performance Review, reporting to the secretary of defense. In that capacity, he led the Pentagon's 'reinventing government' effort" that "focused on making the government perform better at less cost."[21] Despite those goals, the program backfired, according to the Project on Government Oversight, which reported, "Defense contractors are taking advantage of new opportunities to rip-off the federal government under policy reforms instituted by Clinton/Gore's Reinventing Government campaign and an industry-chummy Congress. Spare parts prices have ballooned by up to fifteen times (or 1,532%) by contractors like Boeing and AlliedSignal taking advantage of lax accounting and oversight under federal policy changes."[22]
Hawkish Advocacy
Since the election of President Barack Obama, McInerney has frequently lambasted the administration for its purported weakness on defense. In a July 2009 op-ed for Fox News, for example, McInerney criticized efforts to ax the controversial F-22 fighter jet program, described by many experts, including the secretary of defense, as too costly and serving no strategic purpose. McInerney opined to the contrary, arguing that the "nation can not afford [the] risk" of losing the F-22, which he described as the "the most capable fighter ever produced."[23]
In a September 2009 op-ed for the right-wing media group Stand Up America, McInerney and coauthor Paul Vallely argued that Obama and his advisers had refused to acknowledge that "we are in a Global War Against Radical Islam (GWARI)."[24] Alluding to misleading historical parallels often made by neoconservative ideologues, the authors wrote that "radical Islam" is "ideology that is as evil as Nazism, Fascism and Communism." To win this "war," they argued, the Obama administration must stop "appeasing" "Moderate Islam" and instead "hold them accountable for Radical Islam's conduct. … We will not defeat Radical Islam until Moderate Islam plays the key role in defeating this hideous evil ideology that bears no resemblance to a religion." McInerney and Vallely also worried that President Obama would not heed the recommendations of Gen. Stanley McChrystal, the head of NATO forces in Afghanistan, to increase troops levels in Afghanistan, which they argued could lead to defeat.[25]
In his appearances on Fox and in his writings for conservative outlets, McInerney has voiced extremely hawkish—and sometimes wildly conspiratorial—positions regarding America's purported enemies, including Russia, Iran, Syria, and North Korea. In a February 2006 television interview with Bill O'Reilly, McInerney claimed—without evidence—that Russia helped Saddam Hussein hide weapons of mass destruction in Syria.[26]
In a 2003 article for the Wall Street Journal, McInerney and coauthor James Woolsey, former CIA chief and a vocal hardliner with close links to several military contractors, discussed attacking North Korea over its nuclear weapons program. They argued that "the reflexive rejection in the public debate of the use of force against North Korea has begun to undermine U.S. ability both to influence China to act and to take the preparatory steps necessary for effectiveness if force should be needed.… It is not reasonable to limit the use of force to a surgical strike destroying Yongbyon [where a reprocessing facility is located]. … we must be prepared to win a war, not execute a strike."[27]
McInerney again proposed a preemptive attack as a counterproliferation solution in an April 2006 Weekly Standard article—this time targeting Iran weapons. In the piece, McInerney effusively described his idea of an "effective military response"— it would "consist of a powerful air campaign led by 60 stealth aircraft (B-2s, F-117s, F-22s) and more than 400 nonstealth strike aircraft, including B-52s, B-1s, F-15s, F-16s, Tornados, and F-18s. Roughly 150 refueling tankers and other support aircraft would be deployed, along with 100 unmanned aerial vehicles for intelligence, surveillance, and reconnaissance, and 500 cruise missiles … Among the weapons would be the new 28,000-pound bunker busters, 5,000-pound bunker penetrators, 2,000-pound bunker busters, 1,000-pound general purpose bombs, and 500-pound GP bombs. A B-2 bomber, to give one example, can drop 80 of these 500-pound bombs independently targeted at 80 different aim points."[28]
McInerney is author or coauthor of several books, including the September 2007 book published by the Iran Policy Committee, Baghdad Ablaze: How to Extinguish the Fires in Iraq, which was coauthored by McInerney, Tanter, Valley, and Bruce McColm. McInerney and Vallely cowrote Endgame: The Blueprint for Victory in the Iraq War (2004).