Herman Cain
last updated: December 10, 2011
Please note: The Militarist Monitor neither represents nor endorses any of the individuals or groups profiled on this site.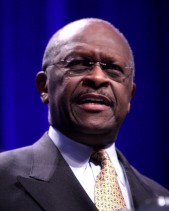 Affiliations
Americans for Prosperity: Spokesman for "Prosperity Expansion Project" (2005-2006)
National Restaurant Association: Former CEO
Business
Pillsbury Co.: Former CEO of Godfather's Pizza, Vice President of Burger King
Aquila, Inc.: Former board member
Nabisco: Former board member
Whirpool: Former board member
Reader's Digest: Former board member
AGCO: Former board member
Coca-Cola: Former systems analyst
Government
Federal Reserve Bank of Kansas City: Chairman (1995-1996), Deputy Chairman (1992-1994)
U.S. Navy: Former civilian ballistics analyst
Education
Purdue University: MS
Morehouse College: BS
Herman Cain is a former CEO of the Omaha, Nebraska-based Godfather's Pizza chain, as well as a former talk radio host, columnist, and chairman of the Federal Reserve Bank of Kansas City. During a brief spell in 2011, Cain was a leading candidate along with former Massachusetts Governor Mitt Romney and Rick Perry for the 2012 Republican presidential nomination.[1] Among his foreign policy advisers were several former aids to leading Republican hawks like Donald Rumsfeld and Rep. Ileana Ros-Lehtinen, including J.D. Gordon, an ersthwile fellow at the neoconservative Center for Security Policy and former Pentagon public affairs officer.
Cain centered his campaign on his business experience, his so-called "9-9-9" flat tax plan, and his folksy, "un-politician" demeanor. He often struggled, however, to articulate foreign policy positions and has, on occasion, demonstrated a certain contempt for such concerns. In a now-famous appearance on the Christian Broadcasting Network, an interviewer asked Cain whether he was "ready for the 'gotcha' questions that are coming from the media and others on foreign policy […] Like, who's the president of Uzbekistan?" Badly bungling the word "Uzbekistan," Cain replied, "[W]hen they ask me who is the president of Ubeki-beki-beki-beki-stan-stan, I'm going to say … how's that going to create one job?" He added, "Knowing who is the head of some of these small insignificant states around the world—I don't think that is something that is critical to focusing on national security and getting this economy going."
Observers pointed out that Uzbekistan's authoritarian president Islam Karimov, though a ruthless dictator, provided important logistical support to the U.S. mission in Afghanistan, making him hardly immaterial to U.S. foreign policy.[2] After that incident, Cain's staff reportedly given him a list of 20 world leaders to commit to memory.
On other occasions, Cain demonstrated uncertainty and ignorance about broader foreign policy questions. When asked by Fox News' Chris Wallace in May 2011 whether he supported a right of return for Palestinian refugees from Israel, Cain replied, "That's something that should be negotiated. … I don't think they have a big problem with people returning."[3] When numerous blogs pointed out this departure from the "pro-Likud script," his campaign reversed course, issuing a statement that said, "[I]s the 'right of return' a moral imperative? Is it something Israel must grant? Is it something the United States ought to encourage? The answer is no on every count."[4] In other instances, Cain has wrongly attributed the Bush-negotiated Iraq drawdown to President Obama[5] and incorrectly insisted that the United States currently officially recognizes the government of Taiwan.[6]
In what he dubs the "Cain Doctrine," Cain described his foreign policy as "an extension of the Reagan philosophy. … My philosophy is peace through strength and clarity. We need to clarify who our friends are, clarify who our enemies are, stop giving money to the enemies, and make sure that our enemies know who our friends are, that we are going to stand solidly behind."[7] Elsewhere, in his autobiography This Is Herman Cain!, Cain summed up the doctrine slightly differently, writing, "I can tell you what the Cain Doctrine would be: if you mess with Israel, you're messing with the United States of America. Is that clear?"[8]
Cain often demurred on more complicated foreign policy questions, particularly with regard to Iran, Afghanistan, and the broader Middle East, promising instead to consult with unnamed advisors. In a Meet the Press interview, for example, he limited his remarks on Afghanistan to a promise to listen to "the commanders on the ground." He added, "A lot of analysis needs to go into determining whether or not there is a definition of victory in Afghanistan."[9]
Still, he often sounded a hawkish note, telling Fox News contributor KT McFarland, "I don't think we can stop [Iran] from getting a nuclear weapon without some sort of pre-emptive strike," before adding, "I would have to talk to a lot of people before I would go so far as to say we should do a pre-emptive strike."[10] Cain has threatened military action against Iran on other occasions as well. "Option A," he said, "is, 'Folks, we are not going to allow [Iran] to attack Israel.' If they call my bluff, they already know—they will know—what Option B is." He called for placing U.S. weapons systems in the Persian Gulf, encouraging Iranian President Mahmoud Ahmadinejad to "make my day."
In other hawish moments, Cain said he would give the Palestinians "nothing" in any potential peace deal with Israel, criticized President Obama's "appeasement" of China, and called for an electrified "twenty-foot wall" along the U.S.-Mexico border, accompanied by a "moat" with "alligators."[11]
Perhaps exceeding even the rest of the Republican field, Cain also made strikingly anti-Islamic statements and warned of "creeping sharia." Echoing the admonitions of neoconservative Islamophobes like Frank Gaffney and David Yerushalmi, Cain warned that "some people would infuse Sharia law in our court system if we allow it."[12] Cain used the supposed threat of sharia to effectively ban Muslims from his cabinet[13] and to defend the right of local communities to prohibit the construction of mosques.[14] Though he later walked back these positions, he never disavowed his statements about Islam or sharia.[15]
When asked by host David Gregory on the Meet the Press if he would describe himself as a neoconservative, Cain replied that although he is "very conservative," he was "not familiar with the neoconservative movement." He did, however, list prominent neoconservatives John Bolton and KT McFarland among his most important foreign policy influences, along with the realist yet hawkish former Secretary of State Henry Kissinger. This led Think Progress to conclude, "Cain's foreign policy seems to clearly lean into the neoconservative camp—whether or not he understands or admits it."[16]
Because of Cain's inexperience in foreign policy, some observers endeavored to divine his views through the prism of his adviser J.D. Gordon, the former Pentagon aid whose lobbying firm has been linked to the Altantic Bridge influence-peddling scandal in the United Kingdom. On the basis of Gordon's op-eds and Fox News appearances, one writer claimed that "Cain is getting the same national security advice he would from Dick Cheney. Gordon's views are reflexively right-wing." The Nation's Ben Adler opined, "[Gordon's] views are not realist or idealist or subject to any such overarching approach or ideology. … Gordon's views could broadly be called conservative and hawkish but they are more accurately described as Republican. If Obama does something, even kill a terrorist, it is ipso facto the wrong choice. … There are some things one can safely assume Gordon is telling Cain—for example, that torture of terrorist suspects is justified and effective. But since the entirety of Gordon's policy assessment technique seems to be defending anything Bush did and attacking anything Obama does, it is impossible to guess how he or Cain would respond to future threats as they emerge. Looking at some of the belligerent extremists who have run for president as Republicans in recent times, such as John McCain and Rudy Giuliani, that uncertainty might seem comforting by comparison."
Neoconservatives were skeptical of Cain's seriousness on foreign policy. Jonathan Tobin, editor of the neoconservative Commentary magazine, concluded that Cain "hasn't done much to correct his lack of knowledge about war and peace issues which are, after all, a president's first responsibility." Referring to Cain's Meet the Press appearance, Tobin added, "that someone running for that office has not even heard the term [neoconservative] suggests Cain is not only bereft of foreign policy experience, he apparently has never even read much about it."[17] Max Boot, another Commentary contributor, commented similarly, "Being commander in chief is the most important role for any president, and Herman Cain just isn't credible in that role."[18]