Phyllis Kaminsky
last updated: April 5, 2012
Please note: The Militarist Monitor neither represents nor endorses any of the individuals or groups profiled on this site.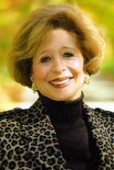 Affiliations
Committee on the Present Danger: Member
Jewish Institute for National Security Affairs: Former Member, Board of Advisers
Center for Security Policy: Former Member, National Security Advisory Council
International Republican Institute: Former Board Member
International Women's Forum: Former Member

Government
U.S. Commission for The Preservation of America's Heritage: Commissioner, appointed in 1996, reappointed in 2002
U.S. Delegation to the UN Human Rights Commission: Delegate, 2003
National Defense University: Board of Visitors, appointed 2002
U.N. Information Center: Director, 1983-1998
National Security Council: Staffer, 1981
U.S. Air Force Academy: Presidential Appointee to the Board of Visitors, 1989-1992

Business
Erdas Inc: Former Board Member
Kaba Mas Corporation: Former Board Member
Vedior N.V.: Former Board member
Pegasus Homeland Security LLC: Former Board member
Select Appointments PLC: Former Board member


Education
University of Michigan: B.A. Political Science
Columbia University: Graduate School of Public Law and Administration
Phyllis Kaminsky is a long-standing Republican party insider who has been associated with several rightist "pro-Israel" groups in the United States—including the Center for Security Policy, the Jewish Institute for National Security Affairs, and the Committee on the Present Danger—as well as several other conservative organizations like the International Republican Institute and the Independent Women's Forum. Her experience also includes serving in various posts in both the Ronald Reagan and George W. Bush administrations, and on numerous corporate boards, including Pegasus Homeland Security and Vedior N.V.
Kaminsky's last known activity was serving as the founder and principal of Kaminsky Associates, a consulting firm she established in 1989 "to provide services in international marketing and overseas business development, strategic planning, foreign political analysis, public affairs and communications strategy to major U.S. and foreign companies in the aerospace, defense, electronic, telecommunications and energy sectors."[1]
Kaminsky has argued that the United States should work to "destroy" radical Islamists while endeavoring to build relations with moderate Muslims. She is quoted on the Committee on the Present Danger (CPD) website stating: "As difficult and costly as it may be, the American people must remain steadfast and engaged in the battle to weaken and eventually destroy radical Islamist terrorist groups around the world. This challenge will last for decades and require strong support by the Western world for moderate elements in the Muslim world."[2]
Among her activities supporting CPD, Kaminsky added her name to a 2010 open letter sent by the committee to President Barack Obama as well as members of the House of Representatives and the Senate arguing that the Obama administration was endangering U.S. security by not pursing lavish missile defense programs. Other signatories to the letter included a erstwhile Cold War hardliners like Henry Cooper, Frank Gaffney, Max Kampelman, Edwin Meese, and William Van Cleave.[3]
Kaminsky was one of several hawks appointed by President George W. Bush to serve on the U.S. Delegation to the U.N. Human Rights Commission (now the Human Rights Council), which has long been a target of neoconservative and other "pro-Israel" groups such as UN Watch because of its criticism of Israel. Many Bush appointees, like neoconservative stalwart Jeane Kirkpatrick who led the delegation, used their delegation perches to repeatedly lambaste the commission. Speaking at the 59th Session of the commission in 2003, Kirkpatrick accused the UN body of contributing "to the sum total of hate in the world." Another member, Mark Falcoff, a scholar at the American Enterprise Institute, called for the United States to "walk away from the commission."
For her part, Kaminsky argued during her tenure on the U.S. delegation that the entire United Nations was "fatally flawed" and that the United States should consider building a new institution to replace it. In a 2003 presentation at the American Enterprise Institute, she said: "Reform of the UN is impossible. The UN and its agencies are fatally flawed. There are two alternatives to immediate American withdrawal from the UN: selective rather than full participation in UN activities, and targeted financial contributions. The United States should start considering the creation of an alternative world organization open exclusively to democracies."[4]