Kenneth Timmerman
last updated: November 21, 2014
Please note: The Militarist Monitor neither represents nor endorses any of the individuals or groups profiled on this site.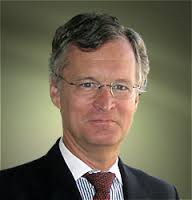 Affiliations
Foundation for Democracy in Iran: Executive Director
Jewish Institute for National Security Affairs: Former Advisory Board Member
Committee on the Present Danger: Member
Intelligence Summit: Former Speaker
Middle East Data Project: Director (1987- )
Simon Wiesenthal Center: Commissioned Report, 1992
Reader's Digest: Former Contributor
Front Page Magazine: Weekly Columnist
NewsMax: Correspondent
Government Service
House Foreign Affairs Committee:Staff, 1993
Education
Goddard College:B.A., 1973
Brown University:M.A., 1976
Kenneth Timmerman is a right-wing author and activist who directs the Foundation for Democracy in Iran (FDI), which he founded in 1995 with Joshua Muravchik and Peter Rodman to push hawkish U.S. policies on Iran. The National Endowment for Democracy provided the group's start-up funding.[1]
For many years a journalist with mainstream outlets like Time magazine and author of well-received books on global affairs, Timmerman appears to have eschewed traditional journalism in favor of ideological-driven activism by the early 1990s. According to his own telling, he was "fired by Time magazine for investigating the Clinton sell-off to Communist China of our national strategic technology, and it became increasingly difficult to get anything in the New York Times or Newsweek or Time or onto ABC, CNN, those types of places. Since then I've proudly waved my conservative banner."[2]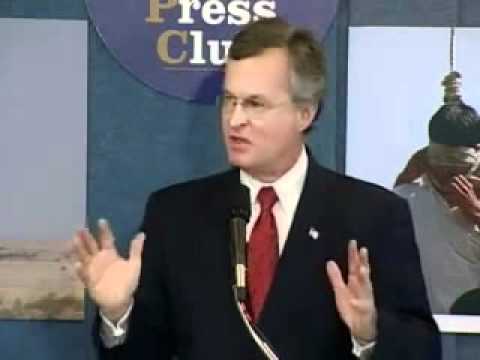 Timmerman has also been a member of a number of neoconservative-aligned pressure groups, including the Committee on the Present Danger and the Jewish Institute for National Security Affairs, both hardline "pro-Israel" organizations that have supported an expansive "war on terror" aimed at Islamic countries.
Timmerman describes himself as an "Investigative Reporter, NY Times Bestselling Author," and "Witness to the Persecuted Church," the latter description a reference to his 2011 book St. Peter's Bones, which Timmerman calls "the first war novel to come out of Operation Iraqi Freedom."[3] According to Timmerman's website, the book begs the questions, "Are St. Peter's Bones really in Iraq? Were parts of the Koran dictated by a Christian monk?" The site features positive reviews of the work from anti-Islam activist Robert Spencer, who praises the book for "encompassing … the scope and magnitude of today's jihad against the West," and neoconservative stalwart David Horowitz, who encourages visitors to "read it and to defend your freedom by doing so."[4]
In addition to his writings, Timmerman has been active in promoting a lawsuit by families of 9/11 victims alleging Iranian culpability for the attacks. "The only real effect of the case is to promote right-wing political myths about Iran," explains journalist Gareth Porter. "One of the peculiarities of such cases is that the witnesses are not subject to cross examination in court. The witnesses have every incentive, therefore to indulge in false testimony, knowing that there will be no one to challenge them."[5]
Porter singles out Timmerman for his role in the proceedings. "Playing a central role in weaving the tale of Iranian complicity in the 9/11 attacks for the court case was the right-wing author and anti-Iran activist Kenneth R. Timmerman," Porter writes.[6]
"According to the lawyers' brief on the case, it was Timmerman who sought out one of the attorneys, Timothy B. Fleming, and brought to his attention the three Iranian 'defectors' who claimed personal knowledge that Iran was involved in the planning of 9/11." Porter describes Timmerman as "linked with pro-Likud organizations" and "sympathetic to the hate-Islam movement."[7]
As a correspondent for the conservative Newsmax.com, Timmerman has been broadly critical of the Barack Obama administration.[8] In an interview with the New English Review, Timmerman summed up his view of the administration's Middle East policies: "I believe the common thread between Obama's response to the cries for freedom of the Iranian people and his enabling of the Muslim Brotherhood in Egypt is this: Obama likes radical Islamic rule."[9]
In 2014, Timmerman and running mate Charles Lollar finished third in Maryland's 2014 Republican gubernatorial primary.[10] Timmerman also ran an unsuccessful campaign in 2012 as the Republican nominee for U.S. Representative for Maryland's 8th congressional district, receiving 33 percent of the votes.[11] Timmerman previously sought the GOP nomination to challenge then-Sen. Paul Sarbanes (D-MD) in 2000, winning just under 10 percent of the vote.[12]
On Iran
Uncovering alleged threats from Iran has long been Timmerman's core obsession.
In his 2014 book, Dark Forces: The Truth About What Happened in Benghazi, Timmerman links the 2012 attack on an American compound in Benghazi, Libya, to Iran. Based on information gleaned from "two former Iranian intelligence officers" and "corroborated" with "multiple Western intelligence sources," Timmerman claims forces from the Iranian Revolutionary Guard's Qod's force "had been sent to carry out a terrorist attack against the United States."[13]
"In fact, my Iranian sources said, their orders were to kidnap or kill the U.S. ambassador to Libya, to send a message to the United States that they could act against them at will anywhere and at any time in the Middle East," Timmer claimed. "By mid-August 2012, planning for the attacks on the US diplomatic compound and the CIA intelligence base in Benghazi had been in the works for two months."[14]
Although the book was widely promoted by right-wing and neoconservative groups like Secure American Now, U.S. officials have said that there is no evidence tying Iran to the attacks. As Kirkus Reviews said of Timmerman's book, it "will please Hillary-bashers and provide timely fodder for the upcoming Republican-led Benghazi investigation."[15]
Timmerman has also been critical of the Obama administration's nuclear negotiations with Iran. A January 2014 post on the FDI website, presumably penned by Timmerman, accused Iran of using the 2013 interim nuclear agreement with the P5+1 group merely as "an excuse to get sanctions relief" because it has "no intention of scaling back its nuclear ambitions."[16]
A separate January 2014 piece on the FDI website expressed support for Sen. Robert Menendez's (D-N.J.) Nuclear Weapon Free Iran Act, which would place additional sanctions on Iran while negotiations are ongoing.[17] It was widely acknowledged that additional sanctions would scuttle the negotiating process, and President Obama threatened to veto the bill if it passed.[18]
As far back as 1998, when Iran was led by reformist President Mohammad Khatami, Timmerman has warned about the threat Iran poses to the United States, suggesting it could have been behind the bombings of two U.S. embassies in Africa.
In an August 1998 article for the Wall Street Journal editorial page titled "Who Bombed the Embassies?" Timmerman wrote: "No one should forget the Islamic Republic of Iran, whose rulers may not be so easily cowed as Libya's Col. Moammar Gadhafi. Iran has not felt the sting of U.S. retaliation since Mr. Reagan sank two-thirds of its navy in 1987 in response to Iranian attacks on civilian maritime traffic in the Persian Gulf. The Islamic regime still bears a grudge for the accidental U.S. shooting of an Iran Air jetliner over the Persian Gulf in 1988, which killed 200 Iranians. Tehran still believes the shooting was intentional. Despite the attention given to Iranian 'moderates' and a thawing of U.S.-Iranian relations, it is plausible that Iran could be behind a terrorist attack on U.S. targets. Indeed, the bombings may be a deliberate attempt by Iran's radical clerics to reverse the thaw started by President Mohammed Khatami."[19]
Shortly after the release in late 2007 of a U.S. National Intelligence Estimate (NIE) that concluded Iran had abandoned its nuclear weapons program in 2003, Timmerman said that unnamed sources in Iran told him the United States had been duped by "a deliberate disinformation campaign," which according to Timmerman had been "cooked up by the Revolutionary Guards, who laundered fake information and fed it to the United States through Revolutionary Guards intelligence officers posing as senior diplomats in Europe."[20]
Timmerman also alleged that the NIE had been written by "former State Department political and intelligence analysts—not by more seasoned members of the U.S. intelligence community."[21]
In January 2006, Timmerman advocated a naval blockade of Iran if it continued its nuclear program, along with Washington increasing support for Iranian opposition groups. "This regime is not going to change its behavior," wrote Timmerman, "so we must help Iranians to change the regime."[22]
Other Subjects
Timmerman's 2007 book, Shadow Warriors: The Untold Stories of Traitors, Saboteurs, and the Party of Surrender, is notable for its far-fetched, right-wing arguments. For example, according to the book's publisher, Random House, Shadow Warriors shows that "the CIA and State Department sabotaged the administration's Iraq War plans from the start—sparking the insurgency in the process," and that "pre-war intelligence on Iraq was cooked—not by the Bush administration, but by its opponents."[23]
In a BlogTalkRadio interview, Timmerman describes Shadow Warriors as being "about the insurgency within the U.S. government against George W. Bush."[24] He elaborated: "It's a phenomenon that really involves an underground resistance movement inside the U.S. government that was formed in the early days of the Bush administration which thrives on a visceral, personal hatred of George W. Bush, seeks partisan gains at the expense of our national security if need be, or even the lives of U.S. soldiers in Iraq. I argue in Shadow Warriors that one of the outcomes here was to transform the liberation of Iraq, which was the plan of the administration, into an occupation, and thereby spawn the insurgency. … Didn't have to be that way, wasn't the plan, but it was derailed by the 'shadow warriors.'"
Timmerman is the author of a number of other books, including Countdown to Crisis: The Coming Nuclear Showdown with Iran (2005), Preachers of Hate: Islam and the War against America (2003), and The French Betrayal of America (2004). Timmerman also contributed to War Footing: 10 Steps America Must Take to Prevail in the War for the Free World (Naval Institute, November 2005), a book edited by Frank Gaffney, founder and president of the Center for Security Policy. He also contributes frequently to the rightist Washington Times.
FDI Work
Timmerman's Foundation for Democracy in Iran (FDI) aims to "promote democracy and internationally recognized standards of human rights in Iran." According to Timmerman's website, FDI "has served as a rallying point for Iranian democrats seeking an end to brutal, clerical rule in Iran, and has helped keep Congress and the public informed of ongoing repression and support for terrorism." FDI has served as a conduit for individuals and groups criticizing what they see as the lack of U.S. initiative in taking aggressive action against Tehran.
A news blurb from May 4, 2006 posted on the FDI website quoted a Timmerman article published in the rightist, David Horowitz-edited FrontPageMag.com. Direct talks with the Tehran regime, wrote Timmerman, "are not just a bad idea. They are a monumentally bad idea, whose wrong-headedness has been proven time and again over the past 26 years."[25]
Another items that was once featured on the FDI website was an article written by Timmerman for FrontPageMag.com titled "How to Topple the Mullahs," which harshly criticized the Baker-Hamilton Study Group (aka the Iraq Study Group). Responding to the study group's conclusion that the United States should pursue negotiations with Iran and Syria to help stabilize Iraq, Timmerman wrote: "For now, the nutty recommendation of the Baker-Hamilton Iraq Study Group that the United States should engage in direct talks with Syria and Iran appears to have been mooted by events on the ground. U.S. military forces have caught Iran red-handed—twice—over the past few weeks in Iraq. No one can possibly doubt any longer what I and many others have been saying for some time: that Iran is involved on the ground in Iraq and is aiding both Sunni and Shia insurgents in an effort to blow that country apart. … It is regrettable and truly astonishing that President Bush has not applied to Iran and to Syria the same global vision he has so eloquently displayed in regards to Iraq and other fronts in the global war against the Islamic jihad. Because there is a clear alternative to the capitulation offered by Baker, Hamilton, and their advisers."[26]
Capitol Hill
Timmerman has experience working on Capitol Hill. According to Timmerman's bio on the website of the International Intelligence Summit, where Timmerman is listed as a former speaker: "In January 1993, Timmerman was approached by Democratic Congressman Tom Lantos of California, to head up a small investigative team at the House Foreign Affairs subcommittee on International Security, International Organizations, and Human Rights, to explore missile and nuclear proliferation. While on the Hill, Timmerman produced a staff report published by the Government Printing Office in October 1993, Iraq Rebuilds its Military Industries. He also prepared reports on Chinese missile proliferation, Iranian WMD programs, and was responsible for coining the term 'rogue regimes,' which has since become the term of art for referring to Iran, Iraq, Syria, Libya, and North Korea."[27]
In 1998 Timmerman offered testimony to the controversial Rumsfeld Missile Commission, addressing the issue of "Rogue States and Ballistic Missiles." In his testimony, Timmerman repeated his claim of coining the term "rogue state." He said: "I confess a modicum of responsibility for coining this term while working on the professional staff of the House Foreign Relations Committee in 1993, when we did a series of hearings on Iran (1), Iraq (2), and North Korea. Some have objected that the term 'rogue regime' is too lapidary, in that each of the five countries normally referred to (Iran, Iraq, North Korea, Libya, Cuba) present dramatically different realities. However, I still believe that from a proliferation standpoint, the term is useful because many of the problems non-proliferators face with these regimes are remarkably similar."[28]