Otto Reich
last updated: January 7, 2015
Please note: The Militarist Monitor neither represents nor endorses any of the individuals or groups profiled on this site.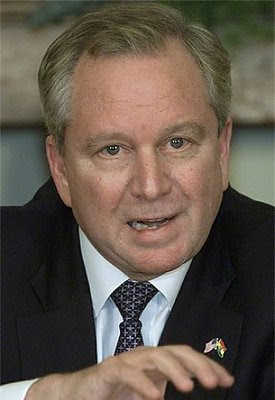 Affiliations
Worldwide Responsible Apparel Production: Former Vice-Chairman
Council of the Americas: Former Washington Director
Government
U.S. Department of State: Special Envoy to the Western Hemisphere (2002-2004); Assistant Secretary of State for Western Hemisphere Affairs (2001-2002); U.S. Ambassador to Venezuela (1986-1989); Office of Public Diplomacy for Latin America and the Caribbean (1983-1986)
Western Hemispheric Institute for Security Cooperation (formerly School of the Americas): Former Member, Board of Visitors
United Nations Human Rights Commission: Alternate U.S. Representative (1991-1992)
U.S. Agency for International Development: Assistant Administrator (1981-1983)
City of Miami, Florida: Former Community Development Coordinator
Florida Department of Commerce: Former International Representative
U.S. House of Representatives: Staff Assistant
U.S. Army: Lieutenant (1967-1969)
Business
OttoReich Associates: President
Brock Group: Partner (1989-2001)
Education
University of North Carolina: BA in International Studies
Georgetown University: MA in Latin American Studies
Otto Reich is a former U.S. diplomat associated with the right wing of the Republican Party who was closely involved in implementing U.S. Cold War policies in Latin America. Born in Cuba to anti-Castro parents who fled the country after its revolution, Reich is an outspoken opponent of "socialist" regimes in the Western hemisphere and a longtime supporter of U.S. intervention to stop them.
After leaving government in 2004, Reich founded a lobbying and consulting firm, taking right-wing governments from Latin America as clients and working on behalf of a host of business interests. An occasional political commentator, he also served as a foreign policy adviser to the Republican presidential campaigns of John McCain and Mitt Romney, helping inject a distinctly hawkish tenor into the campaigns' statements on Latin America.[1]
Government Track Record
Reich served in a variety of official capacities working on U.S.-Latin American policy for more than 30 years, starting in the early 1980s. In 1983, after serving stints in local, state, and federal development jobs, Reich joined the Reagan State Department as the head of the Office of Public Diplomacy for Latin America and the Caribbean, during which time he became embroiled in the Iran-Contra affair.
As the Reagan administration illegally funneled clandestine support to the "Contra" rebels in Nicaragua, Reich's office oversaw the publication of domestic propaganda supporting the rebels' cause, placing pro-Contra commentaries throughout the U.S. media without disclosing their connection to the U.S. government. A report by the U.S. Comptroller-General concluded that Reich's office had overseen "prohibited, covert propaganda activities" that were "beyond the range of acceptable agency public information activities."[2] Despite this censure, Reich subsequently served as a U.S. ambassador to Venezuela and later as a U.S. envoy to the United Nations Human Rights Commission in Geneva.
Reich resurfaced in the early years of the George W. Bush administration when he received a recess appointment to the Bush State Department, circumventing the opposition of members of Congress who had scrutinized his record from the Reagan era. "Like a disturbing dream from a not-so-distant past," lamented the San Antonio Express-News at the time, Reich "floats up out of a time when Ollie North was running guns to the Nicaraguan Contras and Robert McFarlane was bearing a key, a cake, and a Bible to stiff-necked Iranian ayatollahs."[3]
Reich was the Bush administration's assistant secretary of state for western hemisphere affairs when Venezuelan President Hugo Chavez was briefly toppled in an ultimately unsuccessful coup in 2001. (He denied any role for himself or the U.S. government in promoting the coup, and even claimed later to have informed Chavez of a plot against his life.)[4]
Reich served as assistant secretary of state until 2002, when he was tapped to serve Condoleezza Rice as special envoy for western hemisphere initiatives. Shortly thereafter, Reich was nominated to serve on the board of the Western Hemispheric Institute for Security Cooperation, better known as the School of the Americas—the U.S. Army's controversial training ground for Latin American military leaders, including Panama's Manuel Noriega and Argentina's Leopoldo Galtieri. "This only renews our conviction that this school of coups, torturers, and assassins must be closed down for good," said Father Roy Bourgeois, founder of School of the Americas Watch.[5]
Consulting Work and Political Commentary
Reich's business associations have long been the subject of critical scrutiny. "In recent years," reported Foreign Policy In Focus in 2001, Reich has "associated himself with some of America's least favorite industries: liquor, tobacco, and armaments. He's a lobbyist for Bacardi, British American Tobacco, and Lockheed Martin. But a new wrinkle has arisen in Otto Reich's suspect resume. He is the vice-chairman of Worldwide Responsible Apparel Production or WRAP, a clothing industry front founded in June 2000 to undermine the growing anti-sweatshop movement. Reich joined WRAP at its inception, associating himself with an operation that connects some of the unsavory elements of the Cold War with a new, PR-driven approach to sustaining non-union sweatshop production."[6]
Reich's background as a Latin America Cold Warrior continues to define his both is consulting work and his political commentary. In 2014, for example, Reich made headlines when his firm secured a contract to "improve the perception, reputation, and the understanding of the reality of Guatemala."[7] At the time the contract was awarded, Guatemala was receiving bad press in the United States after thousands of unaccompanied minors fleeing poverty and gang violence in Guatemala and other Central American countries were detained by U.S. immigration authorities. Guatemalan President Otto Perez Molina blamed the crisis on fallout from the drug war and U.S. Cold War policies, a message that some observers noted would sound quite strange coming from a firm led by Reich. "Given Pérez Molina's sharp criticism of the United States' history in the region," wrote Mother Jones' Ian Gordon, "his choice—former Reagan official and noted Cold War propagandist Otto Reich—was a shocker."[8]
Reich also vehemently criticized the Obama administration's December 2014 announcement that the United States would seek to normalize ties with Cuba. In an interview with the conservative Newsmax, Reich stated: "The left-wing Obama is coming out now that he's been unshackled from any political requirements. He doesn't have to run anymore, he's lost control of the Congress, and he's not going to get any legislation through the Congress. So he's using his executive authority to reshape the world in the way that he wanted to do it, but couldn't do it before."[9]
He then added: "This president looked around and looked at the list of the six years of this administration and saw that he has zero foreign policy successes. He figured, where can he give away the store and look to the leftist side of the world [like] a hero?"[10]
Reich once described the late Venezuelan President Hugo Chavez, a controversial but democratically elected leader who launched a program of "twenty-first-century socialism" in Venezuela, as "an anti-American despot who is allied with Cuba's Castro brothers and Iran's Mahmoud Ahmadinejad" and as "a hooligan who will see any wavering on the part of the U.S. as a sign of weakness."[11]
In 2014, as polls in El Salvador forecast a likely victory for the center-left FMLN in the country's upcoming presidential election, Reich penned an op-ed in the conservative National Review attacking the party's presidential candidate, linking the country's government to Venezuela, and predicting that if the left won the election, "Castro's Cubans will arrive, establishing control of national-security agencies, strategic communications, passport control, the electoral registry, and lists of potential enemies."[12] In remarks to a right-wing El Salvadoran outlet, Reich added, "We have to take care that the left, which was a terrorist group that committed crimes, doesn't use democratic elements to come to power and do what Chávez did in Venezuela or Castro in Cuba or Morales in Bolivia and eliminate democracy hours after taking power."[13]
Critics have suggested that Reich's harsh criticism of the FMLN was linked to his business interests. According to a pro-FMLN outlet in the United States, Reich had a lobbying contract with Pacific Rim, a Canadian mining company that sued the El Salvadoran government after it was prohibited from mining gold along the Lempa River, which supplies over half the country's drinking water. "With the FMLN supporting legislation to ban metallic mining in El Salvador," it reported, "Pacific Rim has a vested interest in ensuring the party does not win a second term in power in 2014."[14]
In 2009, Reich was among the key early allies of the right-wing junta in Honduras, which had deposed the left-leaning, democratically elected president Manuel Zelaya. Though the Obama administration criticized the coup, the New York Times reported that Honduras' new government had "drawn support from several former high-ranking officials" such as "Otto Reich, Roger Noriega, and Daniel W. Fisk," who "view Honduras as the principal battleground in a proxy fight with Cuba and Venezuela, which they characterize as threats to stability in the region in language similar to that once used to describe the designs of the Soviet Union." Reich told the Times that "he had used his connections to push the agenda of the de facto government, led by Roberto Micheletti, because he believed that the Obama administration had made a mistake" in opposing the coup.[15]
Not long before the coup, Zelaya had threatened to sue Reich for defamation for accusing Zelaya of being involved with corrupt dealings in Honduras' state-run telecommunications firm. Zelaya said at the time that Reich was reacting out of bitterness over the cancellation of a communications contract with a Honduran business with which he was associated.[16]