Thomas White
last updated: January 8, 2013
Please note: The Militarist Monitor neither represents nor endorses any of the individuals or groups profiled on this site.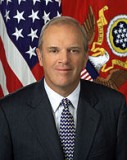 Affiliations
Jewish Institute for National Security Affairs(JINSA): Recipient of JINSA's 2001 Henry "Scoop" Jackson Distinguished Service Award (along with the other service secretaries, Gordon England and James Roche); Member of JINSA-sponsored junket to Israel, 1997

Government
Former Secretary of the Army, 2001-2003
U.S. Army: Highest rank was Brigadier General, 1967-1990

Business
Enron: Former vice chairman/senior executive, 1990-2001

Education
West Point
United States Army War College
Naval Postgraduate School: Degree in operations, 1974
Thomas White is a former Enron executive and Secretary of the Army. His brief yet tumultuous tenure in the Bush Pentagon, where he served from 2001 to 2003, was marked by public scrutiny into his business dealings and by conflicts with Defense Secretary Donald Rumsfeld over Iraq planning and force modernization issues.
White left the U.S. army in 1990 after a 23-year career that saw him reach the rank of brigadier general, becoming a vice chairman of energy services at an eponymous subsidiary of the Enron Corporation. White actively leveraged his military connections to secure government contracts for Enron during his 11-year tenure there.[1]
White apparently preserved his connections at Enron after his Department of the Army appointment in 2001, promising to escalate the use of such contracts even as he retained millions of dollars worth of holdings in his former employer.[2] His dealings attracted widespread scrutiny and created the impression of a conflict of interest, leading to congressional hearings into his Enron connections.[3]
Although Defense Secretary Donald Rumsfeld, who apparently required his appointees to have corporate experience, publicly backed White over his Enron connections, the two butted heads over other issues. In one instance, White circulated a list of talking points among members of Congress supporting the implementation of a weapons system that Rumsfeld wanted to cut. In another, White refused to rebuke a subordinate—General Eric Shinseki—for publicly warning that a U.S. invasion and occupation of Iraq would require "several hundred thousand" troops, a politically unappetizing estimate opposed by war planners like Rumsfeld and his deputy Paul Wolfowitz. The cumulative effect of these tensions, amid ongoing revelations about White's ties to Enron, led Rumsfeld to demand White's resignation in April 2003.[4]
After leaving the administration, White openly criticized the Defense Department's decision-making in Iraq, arguing in a 2003 book entitled Reconstructing Eden (which White coauthored with three economists), "It is quite clear in the immediate aftermath of hostilities that the plan for winning the peace is totally inadequate. Clearly the view that the war to 'liberate' Iraq would instantly produce a pro-United States citizenry ready for economic and political rebirth ignored harsh realities on the ground."[5]
In 2001, prior to his falling out with Rumsfeld, White was courted by the Jewish Institute for National Security Affairs, a neoconservative-linked group that promotes ties between U.S. and Israeli military officials. In 1997, White and his wife attended one of the group's junkets to Israel, and in 2001 it awarded him its Scoop Jackson Distinguished Service Award. Accepting the award, White praised JINSA's "interest in keeping America strong" and warned that "our enemies will attack if they perceive our weakness, physical or moral."